It was ages since I had visited Amritsar- the city of Golden Temple, around 15 years back when I started my professional career. After a long time, I decided to visit Amritsar again with my team mates.
The city hadn't lost a bit of its character, liveliness which was wonderful to see. The warm, helpful nature of the local people and the loud conversations which 'Punjabis' (people from North India / Punjab) are known for, fascinates me even now. There is a certain sense of sweetness and camaraderie that you would love in these conversations.
Despite a packed schedule with back to back meetings, I was eager to explore the panoramic beauty of Amritsar. Over a sumptuous breakfast, I wrapped up my important meetings and put on my travel gear to head towards the Holy shrine of Golden temple. The crowning glory of the city and one of the most famous religious landmarks of the country, Golden temple gives you that instant divine feeling the moment you step in. The magnificent architecture and gold covered dome is a feast for the eyes. It sums up the culture & values in its peaceful aura. Popular belief says that the most iconic places help you understand history & mindset of the people like none other. And here I was like many admirers of the Golden temple, immersed in its tranquility.
As I entered the shrine known as 'Har Mandir Sahib Complex', the sense of 'Sewa' or 'Serving' was evident at every step. In traditional Hindu or Sikh culture, you enter a Holy shrine with head covered. Volunteers were offering bandanas, both outside & inside the shrine, which was a blessing in disguise since I missed carrying a stole being in cargos and a tee. It's usually with me, so felt a bit awkward. At the main entrance there is a Victorian Clock tower or in local terms 'Ghanta Ghar' and a small area to wash your feet before entering the holy area. Part of the holy tradition!
Inside the shrine, the atmosphere was divine, vibes so positive bringing peace to my soul. I could feel every heart beat as my head bowed down for a quiet prayer.
'Amrit Sarovar' or 'Pool of Nectar' is the highlight reflecting the temples' mirage in water. Male devotee's bathe in the holy water of the pool while others sprinkle on their heads as a mark of blessings. Devotees from different cultures, local & global, can be seen in abundance.
Golden temple looks spectacular at night. The lights sparkle up and mesmerize you with its beauty. I just couldn't miss this experience!
The remarkable 'Seva Bhav' (serving mankind) that is displayed by small kids & adults is heartwarming. 'Sevaks' are seen offering water across the corners of the temple, cleaning and feeding devotees with utmost pride and willingness.
It was time to head back to the hotel as I was really hungry. Suddenly a 'Sevak' turns & tells me "Langar zaroor khake jaana beta" (don't leave without eating the langar or food). I was fortunate not to miss it as its one of the best parts of visiting the temple. The spiritual experience wouldn't have been complete without it!
Before leaving, I had a casual conversation with one of the Sevaks who shared some astonishing facts. Langars' serving upto 100,000 people in day or during auspicious ones, Dining hall seating up to 5000 people at one time, 90% of the staff are volunteers, who do everything from cleaning to cooking to serving minimum 5 times a day. My respect for the sevaks went up even further.
I left the shrine with a sense of fulfillment!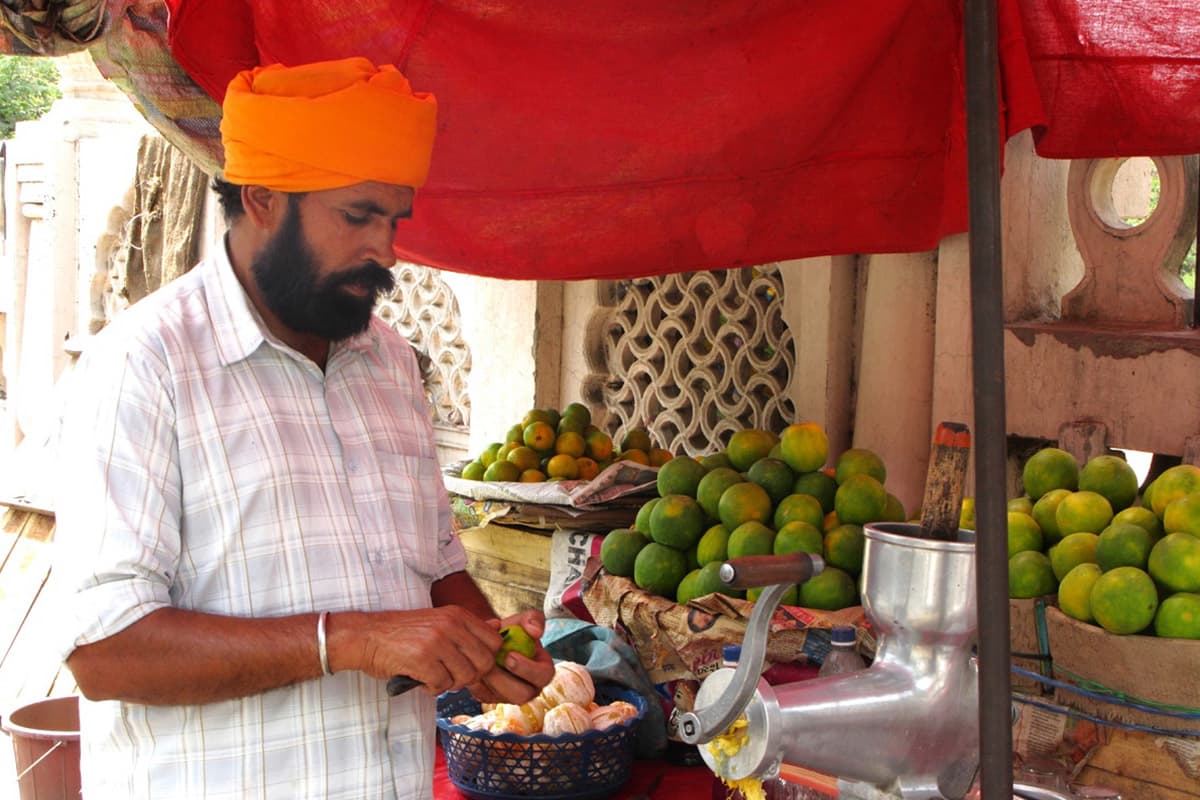 As I stepped out of the temple, my taste buds got excited for a glass of fresh orange juice. While sipping, the juice seller told me about Jallianwala Bagh in detail and guided me on the route. Conversing with him made me realize I was there for a reason. 'Seva' or 'Serving' for Sikhs is following the path of their Gurus. They don't believe in idol worship but follow principles defining spirituality as pious & pure.
Feeding the poor, treating all religions as one and equality are three main pillars of good practice. 'Vand Chako'(Sharing), 'Kirat Karo'(honest living) and 'Naam Japna'(remembering almighty) were the directions of Guru Nanak.
Being a travel explorer, I firmly believe that people, culture and place improve your wisdom, making you a better human being. I was thankful for that jovial juice seller for enlightening my soul further as I moved on to my next destination.
What a 360 degree change it was- from the rich, divine experience of the Golden Temple to the nerve-wracking Jallianwala Bagh, famous for the 1919 Massacre. Tragedy is evident in every nook and corner of the place. The place keeps reminding of the atrocity committed on the innocent lives that day. I was consumed by a sense of regret, silence and remembrance while moving around the historic place.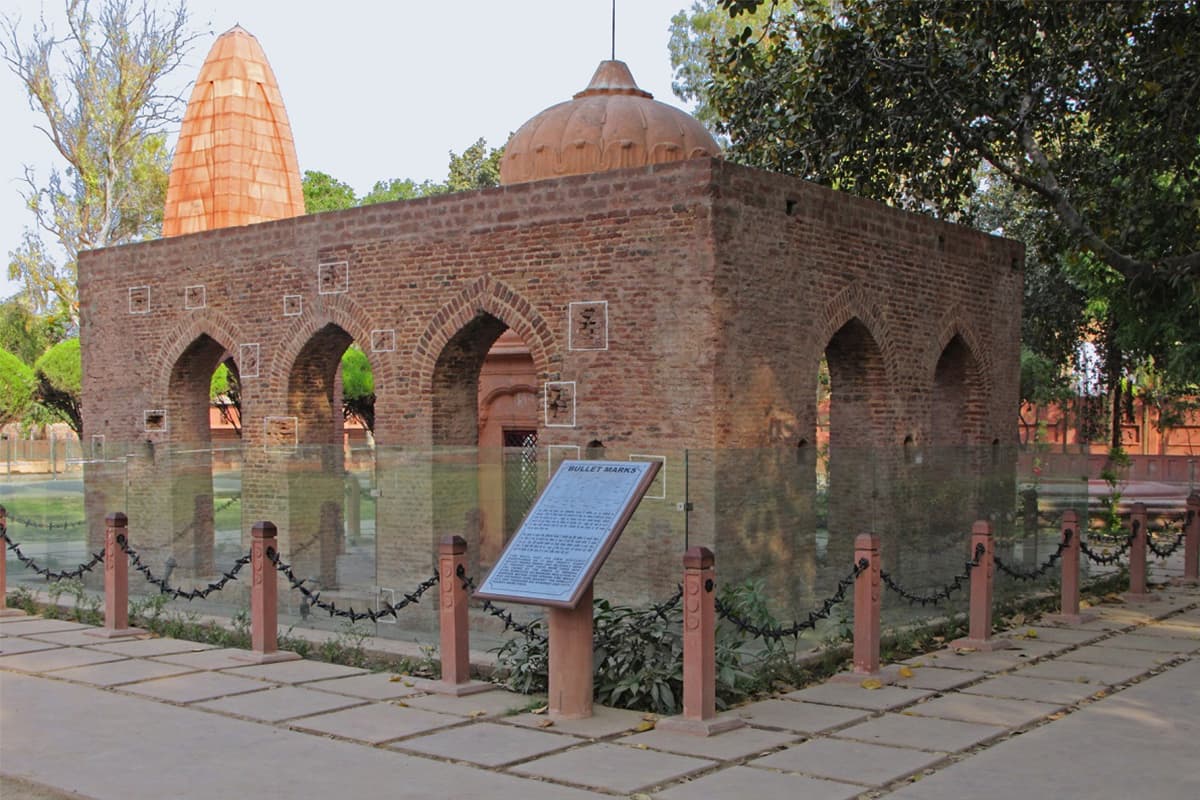 Bullet marks and plaques on the walls narrate the horror of the day. Tomb stones placed at locations where people were gunned down. Moments of history that you had read in books were in front of your eyes. I had goosebumps all over thinking about the day.
Martyrs Well from where 120 bodies were recovered.
The memorial site is one of the main stops to pay homage to the martyrs. A minute of silence was my way of showing respect to those lives as I moved back to Amritsar.
My trip wouldn't have been complete without some local shopping from the nearby market area. Beautiful collection of phulkari dupattas and suits for women was my instant pick for self and family. Local spices, also known as "Warian" is another specialty if you want to taste some spicy home-cooked curry. Other popular products comprise of swords, daggers, karas (metallic bangles) which symbolize Sikh religion and culture.
Before reaching the hotel, a night-view of the Golden temple was a must see followed by the most delicious food cooked & served by the Guru Sevadars with compassion. I left the temple with a plethora of blessings and fond memories.
An enriching couple of days in Amritsar got me closer to Alms-giving realizing that nothing is more fulfilling than service to mankind.
I signed off my visit with a deep thought:
"Alms giving are not just about few occasions in Life." It's about making it a part of our life that will take us closer to God."