The World of "Pushkar"
Sipping a cup of coffee in my living room and digital nomading on my IPAD, I noticed the schedule of the Pushkar Fair 2016 and my instincts told me I was heading there. I have fond memories of visiting Pushkar during my childhood and it was sheer nostalgia looking at the opportunity to visit the iconic festival after ages, this time with my little gypsy traveller and relive the magical world of colours, tribal life, art & culture and of course, the stately royalty of camels.
So here we were as "Two Gypsy Souls" ready to explore our rustic, wanderlust desires.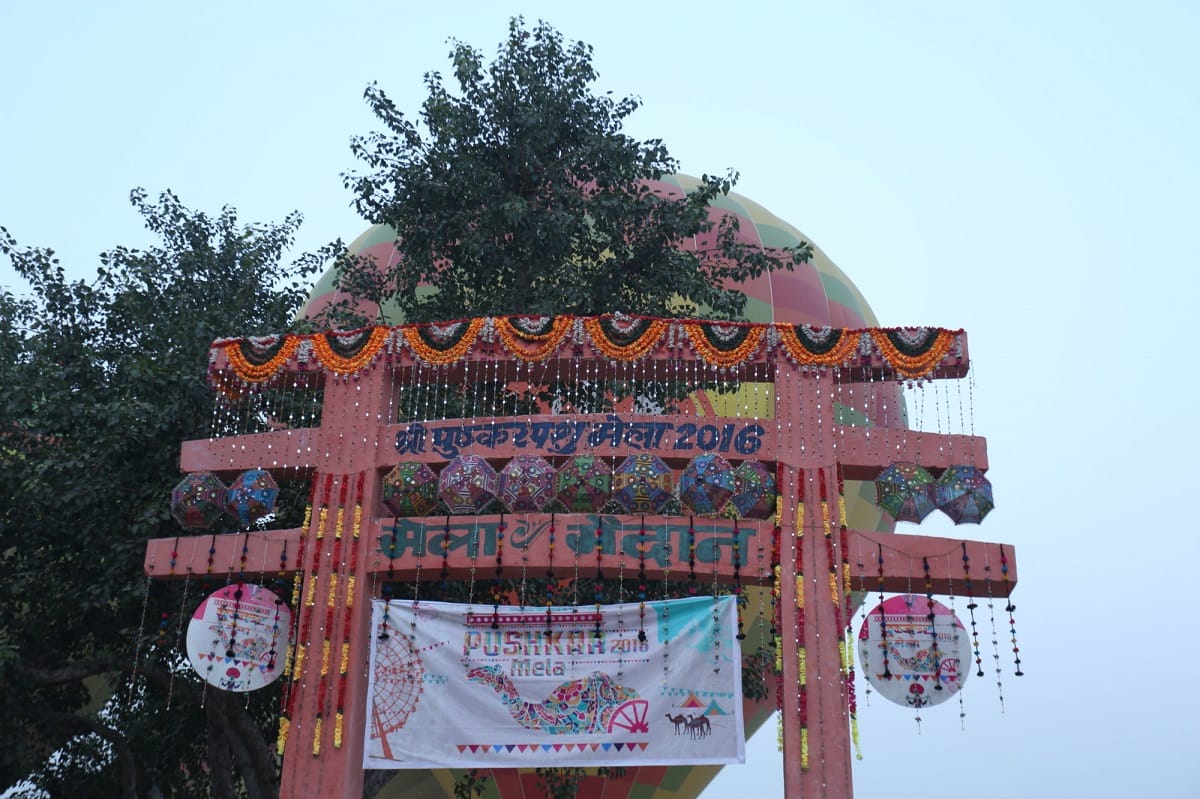 Held every November during Kartik Poornima or the Full moon, Pushkar Mela is considered to be the World's largest Camel fair offering a magnificent display of the rustic tribal life of this small but vibrant town of Rajasthan to visitors from India & across the globe.
Having shifted my base to Mumbai 4 years back, my emotional connect with Gurgaon (Haryana) always brought me back to the city at least twice a year. Coincidentally, my recent visit was close to the Puskhar fair dates. Being around a 6-7 hour drive from my home town, the traveler in me decided to seize the moment, pack my bags and set out with my crew on a road trip at the wee hours. With the odd pit stop, we went around exploring the scenic, mystic and vibrancy en-route to Pushkar, arriving at our destination early evening.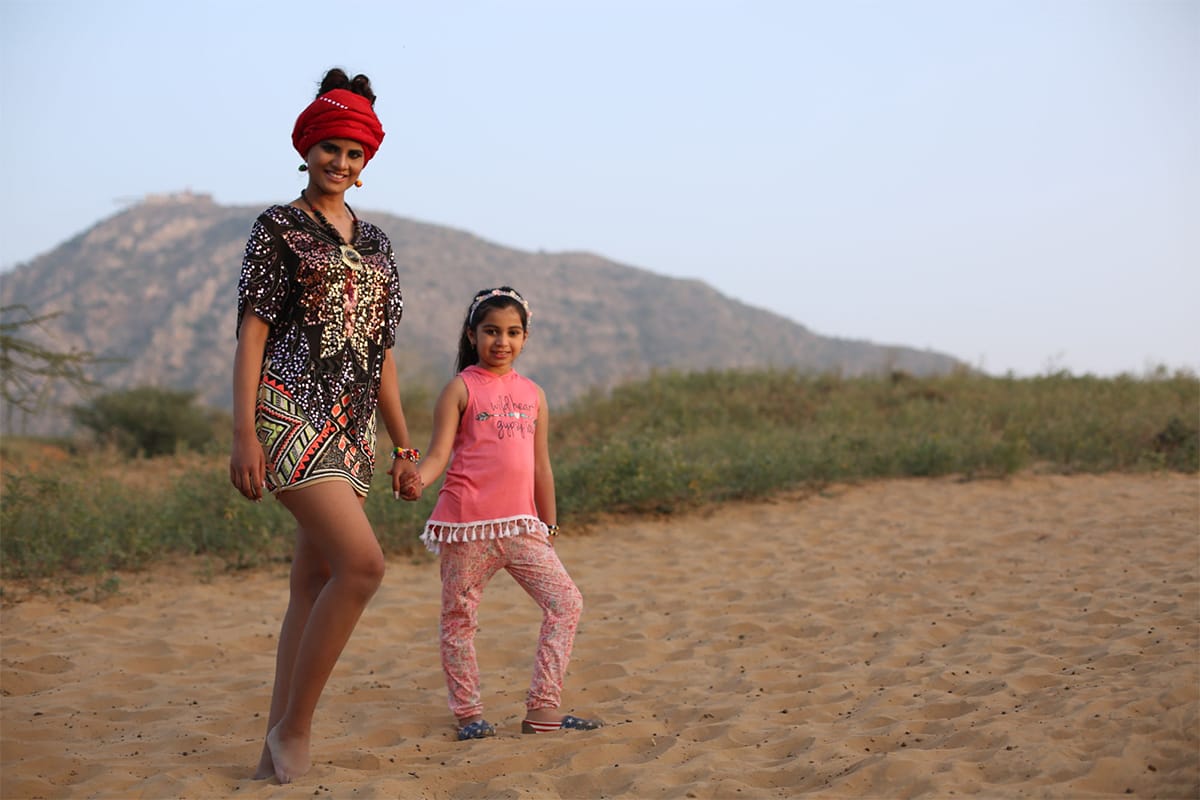 Adjoining the Thar Desert, Pushkar is one oldest existing Indian cities, situated in the north eastern state of Rajasthan.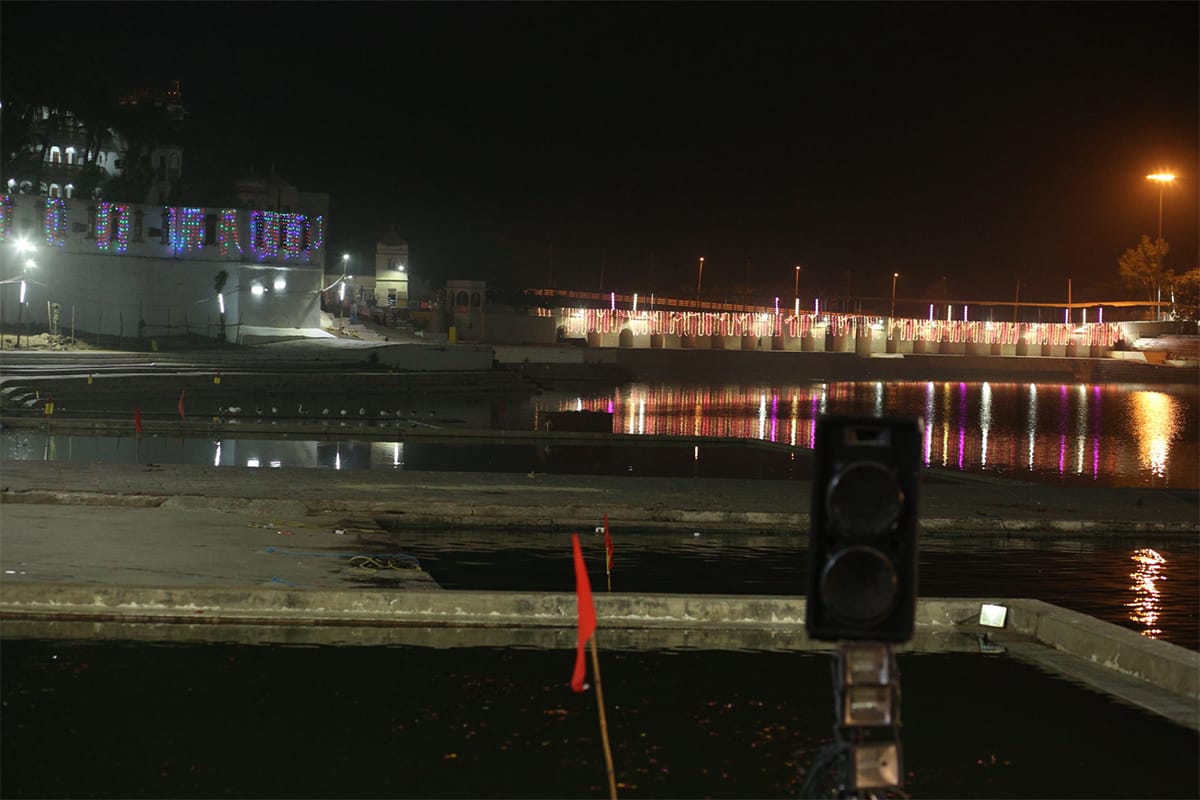 The famous "Puskhar Lake" is one of the five most sacred, holy destinations in India, formed by Lord Brahma, the 'God of Creation', by throwing a Lotus flower deep down the realms of 5 Pataals forcing the water to splurge up (Pataal denotes the subterranean realms of the universe- which are located beneath the earth. 'Patala' is often known as netherworld)
The lake has 4 main Kund's, namely, Narayana Kund, Vishnu Kund, Mahesh kund and Brahma Kund.
(As told by Pandari (Priest) Keshav Tiwari, Pushkar Sarovar temple)
The day I arrived in Pushkar was coincidentally the night of Kartik Poornima (full moon), as told to me by the locals, which is considered to be most auspicious. Popular belief is that taking a dip in the Pushkar Lake nullifies all your sins in this life time. While I couldn't manage the dip, I prayed graciously to Lord Brahma for the prosperity of my family.
The lake has 52 bathing ghats (with stone staircases) and a staggering 500 temples around its banks. Sounded unbelievable! Infact, during all my interactions with the local people, the count seemed to be more than 500. The water of Pushkar Lake is considered to be 'Divine' with medicinal powers.
It was a lucky day for me & my crew as we could witness the 'Maha aarti' on Kartik Poornima and capture the mystical & divine visuals of Pushkar Lake.
It was refreshing to see the local kids fully involved in the prayers & divine proceedings contrary to the fast changing trends of the digital world where IPADs and smartphones are the new buddies or toys of kids today. A sigh of relief was my real emotion by seeing these kids taking pride in the religious ceremonies- a virtue I want my daughter to imbibe always!
During my conversation with the 'Mahant' (local priest), he mentioned that most of the local kids attend the traditional 'Gurukul' which imparts academic and cultural knowledge featuring traditional dance forms and native music.
No wonder, the real talent comes from the rustic, small towns & villages of the country!
Right next to the Pushkar Lake is a dazzling market selling amazing artefacts, traditional jewelry, home décor products, etc. Amidst the hustle & bustle, there are food joints offering local delicacies, tattoo zones and much more, making the surroundings extremely colorful & lively.
On display is a potent fusion of traditional rajasthani culture and bohemian art in most products on sale, which is a popular attraction for several international tourists visiting Pushkar every year as part of their Rajasthani soujourn, moving onto adjoining cities like Jaipur, Ajmer, Jodhpur.
(Some pieces are highly priced don't forget to bargain a bit)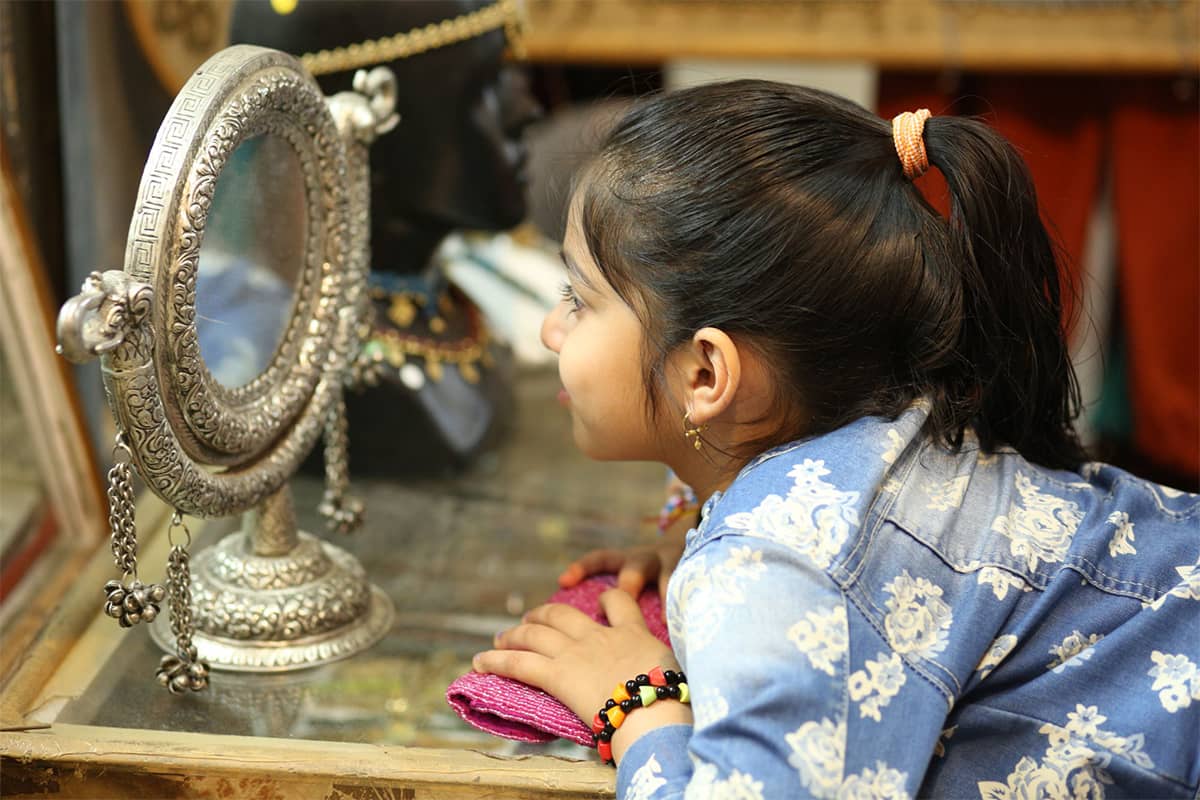 I have a penchant for traditional & artistic jewelry and couldn't resist picking few earrings, necklaces during my visit. What's more- I was amazed to see my younger one- a true, blue Disney fan, exploring some pieces for her.
Incredible India!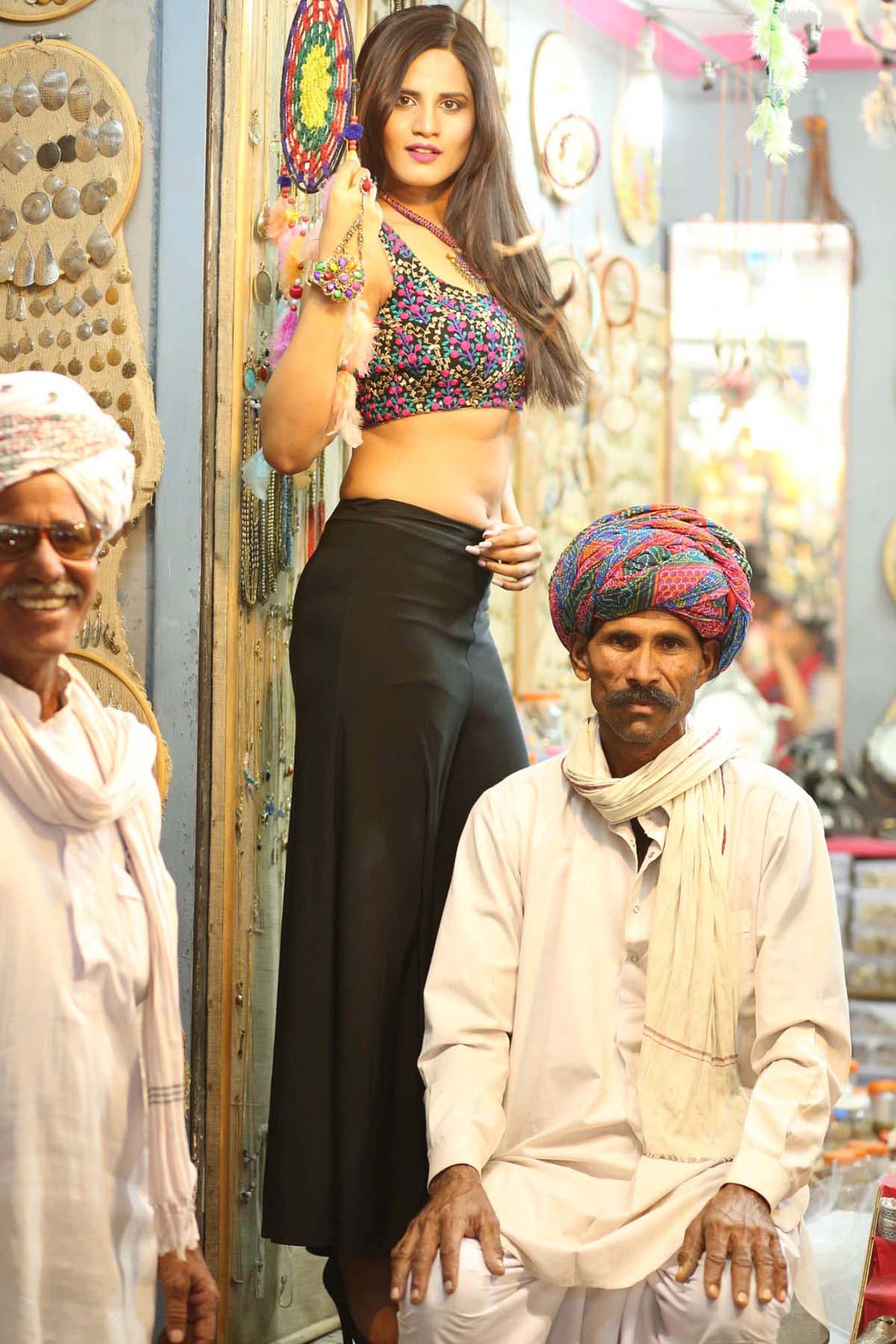 The scale, grandeur and vibrancy of the local celebrations merged with the rustic flavor offers a spectacular experience for tourists from India and across the globe.
And yes, you have a great chance of overspending, so keep a check on your wallets.
The little girls dressed like goddesses showering their blessings were enchanting.
The cornucopia of local artists & talent is widespread in the lanes of Pushkar. Far from the media glare of the urban metros, some of the artisans are hesitant to share their piece of art on media. The brilliant works of art on display is worth every penny and deserve to be showcased in big art festivals or exhibitions.
Finally, we called it a day following up with a sumptuous dinner at a swanky roof-top restaurant painted by art all over, enjoying a feast of local delicacies.
We set the ball rolling at dawn next day, excited to watch the Hot Air Balloon at the fair ground. A lot has changed over the years at Pushkar with new attractions added to the local culture & traditions to appeal to a wider, global audience. I must admit, the Hot Air balloon ride was a well-managed affair and a visual treat for the on-lookers. It was a hazy day with unclear sky and dust all around, one you can expect in the desert state, but it didn't dampen the spirit of the visitors who had flocked in the wee hours to watch the show.
Pushkar
Once the Air balloons took off in the sky, we decided to head back to the hotel, but there was something that stuck me instantly- It was a local magic show consisting of young boys, a monkey and a guinea pig which was fun & hilarious taking me back in time.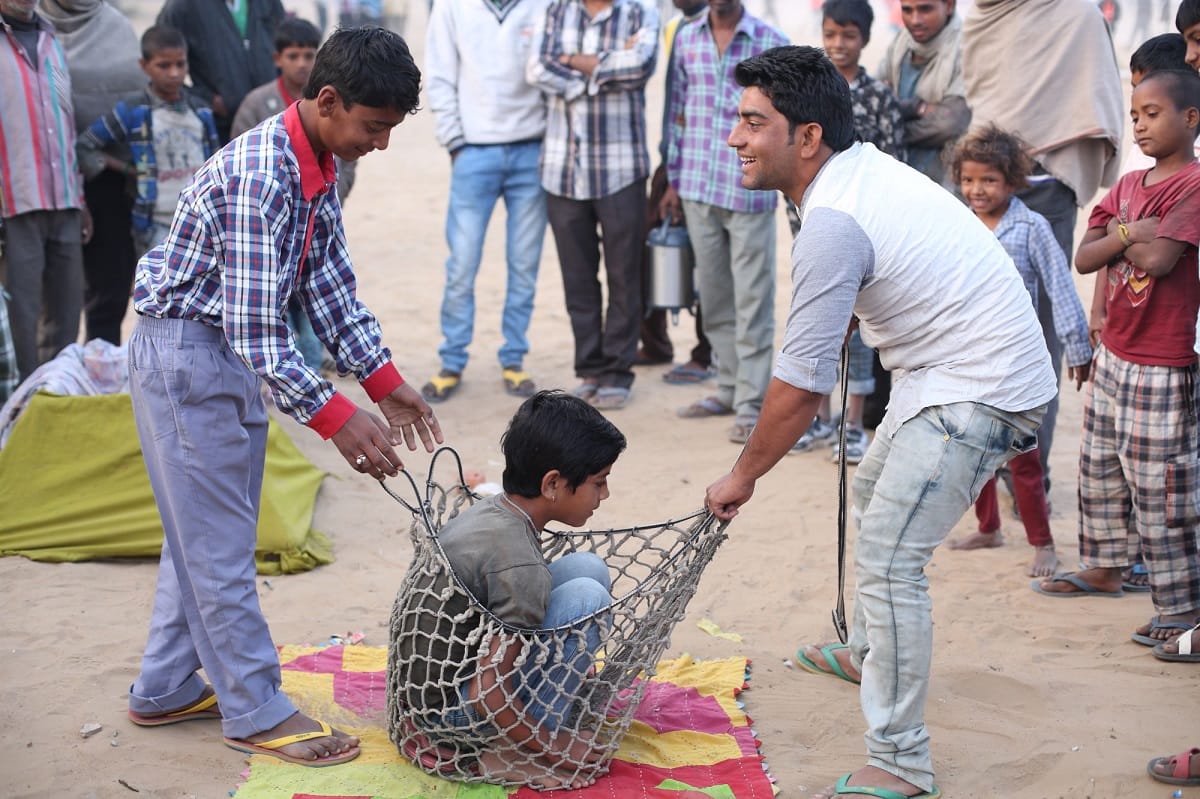 I had seen many of these magic shows all my life, but yet there was something different and rustic about this one. It touched my emotions for sure and time went by in a jiffy.
What's more- I reach the hotel and see my little Gypsy traveler (daughter) being friends already, with a group of international visitors putting up in the same hotel. She had found more company than I had during the visit.
Over breakfast, fun conversations, camaraderie and sharing mutual experiences were on display. It was heartening to see these kids bonding and enjoying each other's company. Great to see different cultures smiling together!
After a quick shower, we headed back to the fair ground for some random shots of my daughter. While she posed with excitement, I participated in the Mandala competition with some local artists.
Wow! It was an amazing experience.
The entire day-wise programe schedule of Pushkar Fair is available online. It's extremely helpful if you're short on time & need to plan a quick trip. Selecting events as per your taste makes it easy and convenient for you to organize your travel plan.
I was fortunate to add my flavor & touch in Mandala Art by Anita Devi from Jhajjar Village in Haryana.
Pushkar fair for me was all about camel races/rides, food, shopping, etc. It was an eye opener to see competitions like Throw Ball, Bride & Groom competitions, Rope walking, camel decoration and many other eventful activities between locals and visitors being added to the fair in all these years.
Truly, my perception of Pushkar had changed forever!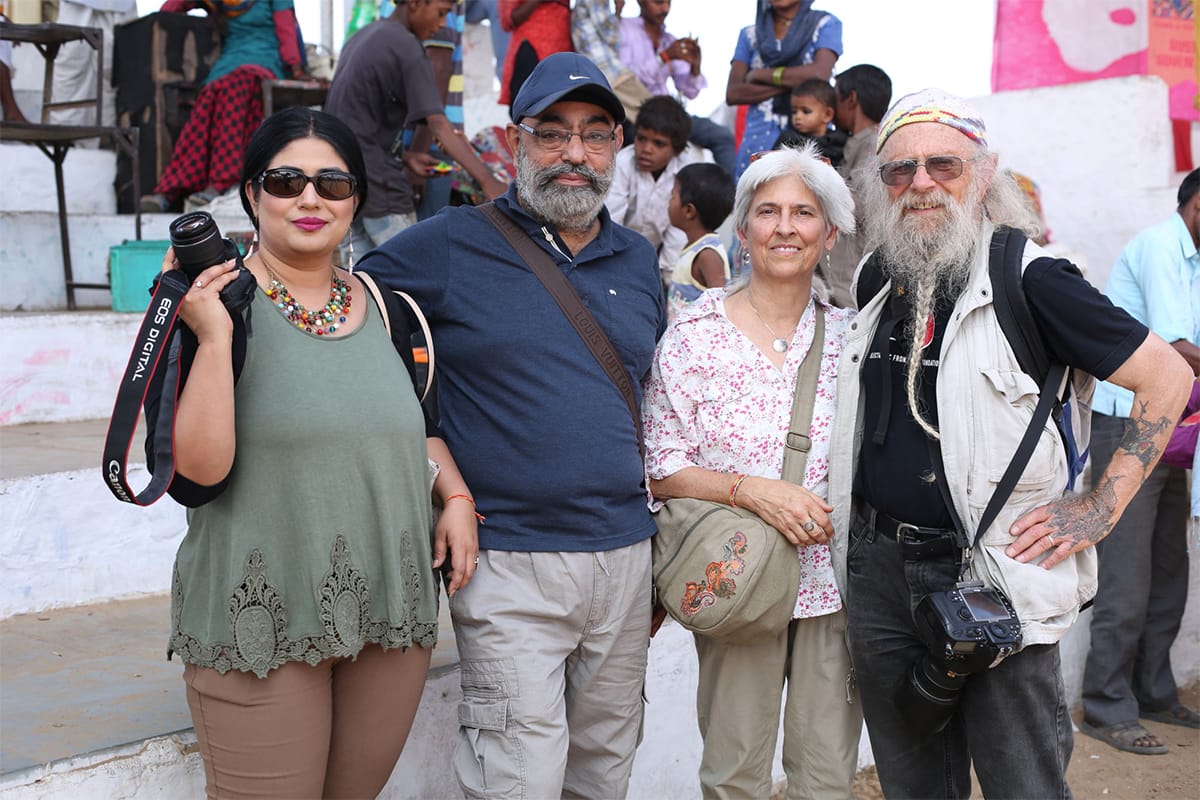 While locals and tourists bonded in plenty at the fair, I & my friend Paramjit Chawla (Renowned Fashion & lifestyle photographer) also found buddies in Fletcher Oakes and his lovely wife from California. We had an interesting and inspiring chat about travel, photography, art realizing that it was common passion for all of us.
For me, it was like art finding solace in art.
And look at this now!
Kids simply surprise you today! This little girl was interacting with a local musician and even asked him for the instrument to try her hands on it.
Tribal women from Pushkar are known for their colourful dances. They have performed in Italy, Spain and many other countries.
Indeed, India is a hub of cultural talent.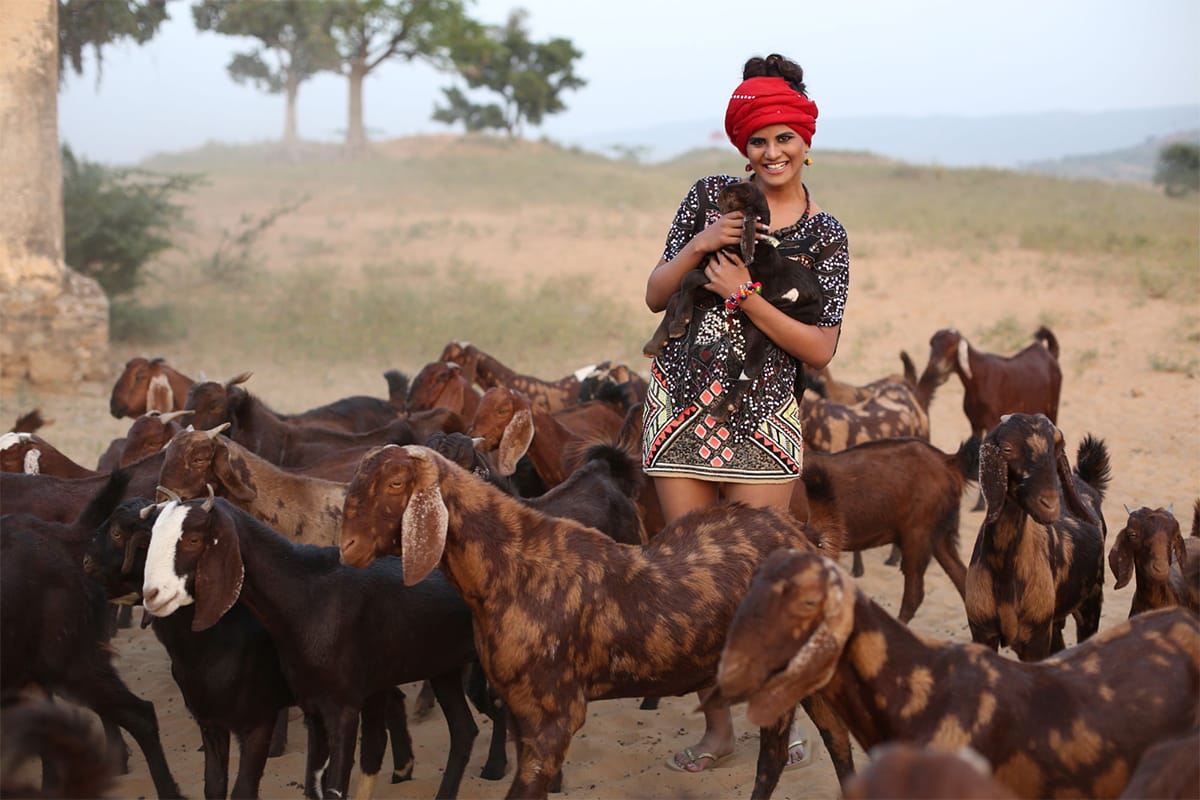 There is something magical & mesmerizing about this place. My two young gypsy travelers were busy pampering the flock of cattle that was retiring home.
It was also time for us to retire back with the dusk of the day looking beautiful & serene.
Two Gypsy travelers
Beneath the celestial ador.
Where the wild flowers grow in the melody of life.
Look for tranquillity of mind, drink wild air, and dance in moonlight…
Wander in search of mysteries of life!
ARRIVING AT PUSHKAR:
a) BY AIR:
There are two airports nearest to Pushkar:
– Sanganeer Airport (Jaipur) – 127 kms away to Pushkar. – Jodhpur Airport (Jodhpur)- 158 kms to Pushkar.
b) BY TRAIN / ROAD:
Pushkar does not have a train station.
Nearest option is Ajmer Junction.
Pushkar– 10 km away
Ajmer Junction (AII), Ajmer, Rajasthan, Pushkar.
– Hire a cab or self-drive to Pushkar from Delhi or Jaipur. – Delhi to Ajmer is 389 kms and Ajmer to Pushkar is 11 kms.
ACCOMODATION AT PUSHKAR:
Pushkar offers many options ranging from small, budget hotels to premium hotels on the price band of Rs.2000/- to 15,000/- per night. If you want to be closer to nature and be more adventurous, there are air-conditioned cabana tents, luxurious resorts and royal retreats.
Various attractions in Pushkar are: Pushkar Lake, Brahma's Temple, Varaha Temple, Merta, Aptaeshwar Temple, Pushkar Cattle Fair, Rangji Temple, Camel Safari, Savitri Temple, Para gliding, Desert safari etc.
The Best time to visit Pushkar is October- March.