I grew up in a god loving family with a very strong belief and faith that god shelters and protects us always.
As time progressed, life got entangled with complexities and conflicts. Things started to look vague and wavering. I doubted my own faith and beliefs since answers to my problems seemed far away.
It was one of those off-sites or management meetings that I was attending where the session was on "corporate spirituality". The mentor of the session talked about how we have time to crib, gossip, fear, criticize and lament but we don't have few seconds to pray and heal our mind and soul. All of that sounded petty and small but it carried immense weight.
Dreams, Miracles, Divine signs or Coincidences all are indications of God's hand print in our lives. Sometimes we forget to notice that most of our genuine and honest prayers have been answered in life. Prayers are the most strong connection and bond between mortal lives and God.
Post the session, I realized that it was probably God's sign of reinstating my faith and pulling me back on the path I was meant to be.
It's not easy to walk on a calm and composed path, it's rather tough. I tried to put in an effort to tame my sensibilities, habitual to materialism that surrounds us and makes us slaves of the world that's so unreal. But gradually, I learnt how much peaceful it is to walk the divine path that brings you closer to God.
It reinstated the three basic principles of Life; Love, Faith and Patience. "Fear nothing…for fears are scared of strong prayers." Prayers bring you closer to upper consciousness- the enlighten living.
"Shri Sachidanand Sadguru Sai Nath"; the name itself is infinite in its own self.
"He is always with you, sometimes loud and clear, shouting and screaming in your inner conscience, warning you of what's coming your way and sometimes silent and dormant just watching you over."
I believe we all need gurus and mentors in our lives as our souls are not strong enough to an enlighten living.
Shirdi to me is like an alma mater where my spiritual guru, my mentor resides and going back every year gives me stamina to face life's new challenges and fears.
For the past 4 years, it's become a family ritual to visit Shirdi every year to pay our gratitude and devotion to Shri Sadguru Sai Nath and inculcate the culture of his teachings in our next generation.
Shirdi: On a Divine Sojourn
Shirdi, the heavenly abode of Shri Sai Nath Maharaj is nestled in Ahmednagar in Maharashtra.
One can reach Shirdi from Mumbai by road covering a distance of about 236 kms in approx 4-5 hours with 1-2 stop over's.
The road via Thane-Ghoti on Mumbai-Nasik Expressway is smooth and comfortable. Baba seems to be omnipresent throughout the whole journey in people and nature around. On my way I spotted several troops of people walking barefoot to Shirdi wearing saffron clothes and carrying baba's idols in small buggies on their shoulders as mark of their respect and gratitude for different personal reasons. Reasons may have been different but what is noteworthy is that the practice is not compulsory or a ritual placed by saints or clergies of temple but pure and pious straight from the heart.
Alive encounters with Pastoral Beauty en-route to Shirdi.
In most of the road trip endeavors, I have tried to keep myself away from gadgets except my lens. I feel its disrespecting nature by being oblivion to its presence.
I suggest one should try putting in an effort and also encourage kids to explore nature and its pastoral beauty with naked eyes.
The route to Shirdi offers plethora of rural beauty, natural habitation, untouched, unadulterated of city mannerisms. Something we often miss in modern day living.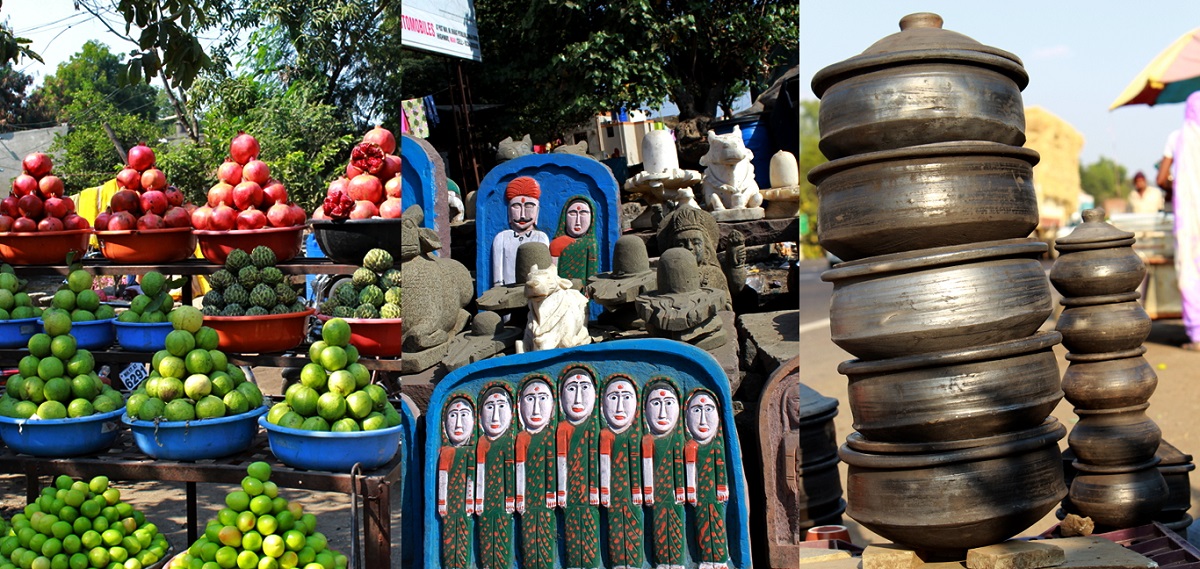 There are kiosks selling fresh, juicy and mouth-watering fruits. Local Mud art is another feature to keep one's eyes on. Heaps of earthen kitchenware is on display too on roads. Don't miss out on buying few, environment friendly & non toxic earthen pots.
Shirdi's Sadguru Sai Nath Maharaj.
I am too small a soul to describe who Sai is but for the sake of those who know less about Sai Nath, here's a brief introduction to the spiritual Guru-Mentor, my lord and my guardian saint.
Sai Baba of Shirdi was a spiritual saint considered as an incarnation of God. He taught a path of love, faith and perseverance.
Celestial Shirdi: Must visit spots
I normally plan an overnight trip to Shirdi. It's the best way to wash away your mind toxins and enlighten your soul.
One can take a short stroll around the by lanes near the temple and actually spend some time just being with Sai in Dwarka Mai Temple and Shree Chavadi.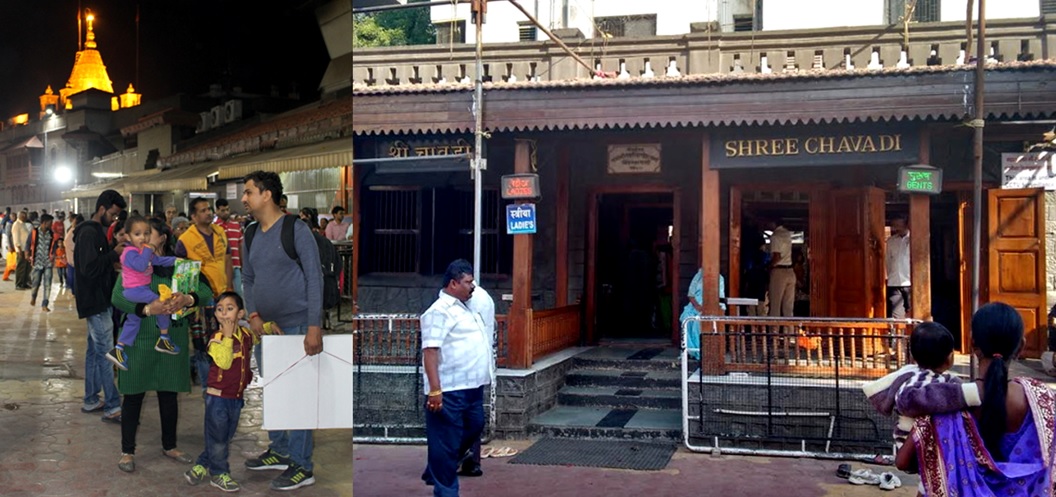 I prefer spending time at Dwarka Mai just to transcend my mortal vibes with the celestial world. It is relaxing and soothing for tired mind and soul. The time spent is peaceful and satisfying as one avoids the chaos of morning rush hours with huge rows of devotees waiting for darshans.
There is a lot of hustle-bustle around the temple as vendors are busy selling Sai Baba's idols, holy threads, books and local handmade handicrafts. There is a huge assortment of things in case you are looking at carrying few back home.
A number of premium and budget hotel options are available around the Sai Temple. One can select basis ones pocket and convenience.
My preference is mostly based on proximity to temple and local eating joints. Few eateries near the temple are simply great as food is hygienic and tastes like home.
Don't forget to enjoy a cup of tea at the local stalls near the temple. They make the best in the vicinity- a perfect concoction of ginger-green cardamom is unbeatable.
It's best to pay an early morning visit to the Samadhi temple, the very next day. As they say, prayers should be the key to unlock your mornings and begin the day on a positive note.
One can spot a series of shops selling Garlands, Prasad, and Chaddars etc. for Pooja (items used for Prayers inside the Samadhi Temple).
Walking the steps up and down inside the temple while chanting Baba's name in a soft tone is the most satisfying feeling. The Idol of Sai Baba is well adorned with fresh flowers and garlands, thus, looking divine and mystical.
As I moved closer to Sai Baba's Idol and bowed my head down in gratitude, my blood ran cold. I could feel the power of the celestial presence as if Baba is there smiling and discoursing his epigrams:
"Allah Malik" and "Sabka Malik Ek".