The older we get, the Adrenalin levels do down. We tend to forget our wanderlust desires and adventures which take a back seat against life's realities.
Wonder if it's the right way to live life. Small adventures…taking a journey back into childhood is not a bad idea.
It was one those regular mornings when my little gypsy traveler walked up to me and asked, "Mom, what is that one thing that you are not able to do but wish to do." I spontaneously replied "I wish I could be in your shoes to enjoy life and just chill".
Next, I realized the both dad & daughter had already planned a weekend getaway around Mumbai with some family friends. And it was all set for grownup kids to explore the adventure side at Ad labs Imagica!
My daughter was super excited and kept telling her friends how they are going to make this experience, a real adventure even for the adults.
It was so heartening to see and I realized that we while we often teach them all about life, our children in turn teach us what life is all about.
Ad labs Imagica Theme Park is situated near Khapoli on the Mumbai-Pune Expressway, covering 90 Kms from Mumbai over a 1 hour & half drive. An International standard theme park with over 25 rides and attractions, loads of food stalls to pick and choose as per your choice, it's one of the highlights of the state of Maharashtra; India.
I have been to innumerable theme parks overseas but I proudly state that Imagica is no less than most.
Here's a glimpse of what the adults did on their 'Staying Young Adventure' with little gypsy travelers.
Imagica has a plethora of Rides and activities to keep your adrenaline rush going.
Rides are categorized as Family, Kids and Thrill.
Our Kids were all set to take us on the Topsy turvy world of childhood and we began our fun with few family rides.
First to be kicked off was some River Adventure with Dinosaurs, enjoyed a vintage car experience. Interestingly, kids of today are observant and smarter. Since the adult group was all gearing up for their childhood encounters, kids decided to play anchor and plan our day's explorations from subtle rides to wild adventures.
Smart move! Kids know it all!!
Now it was time for the most thrilling experience of our lives, the two big thrilling adventures of Imagica:
Dare to Drop –the ride was indeed heart thumping.
Scream Machine– One gigantic rotating pendulum ride. Be prepared to scream and shout your lungs out.
Golden Rush Express at Wild West County too was quite an adventure with kids. It is a Family Roller Coaster that drives you crazy with the twists and turns.
Rajasauraus River Adventure was the highlight of our first innings. Don't forget to carry an extra pair of clothing as some of rides including this can be quite a wet experience.
Though quite steady and enjoyable, the moment the boat sets for the free fall, its nerve wracking.
What's interesting is even if one is scared or not very adventurous; one tends to get ecstatic as it gives you the chance of being a kid once again.
So we all decided to sit back and have a blast with the thrill and chills of the rides.
It was time for some fun together now with the kids, so we headed to watch Cinema360-Prince of Dark Waters.
Enchanting larger than life animated film on mermaids in a dome like structure spanning 31000 sq ft with a giant screen was a sheer delight.
Splash Ahoy was another fun activity for kids as they drenched themselves, splashing away to glory.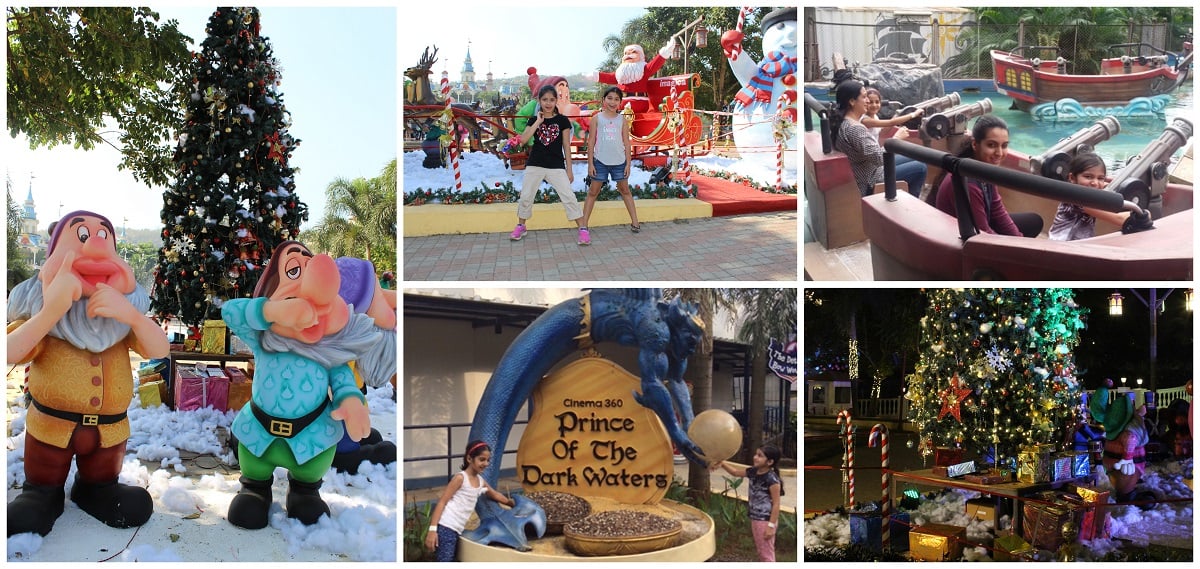 Christmas was another reason for kids to be happy and excited. After all it was time to sparkle and sizzle especially when the ambiance around the park was so holly-jolly Christmas.
The more we were venturing in these fun activities, the younger we felt. Kids have such a contagious effect on you and trust me for good.
Nothing sounds great on an empty stomach. After half a day of adventure, we decided to treat ourselves with some local and continental delicacies. There are quite a number of food joints to choose from.
Our favorites were the Roberto food Court to suit everyone's appetite and Armada for the sake of juicy, grilled non vegetarian snacks.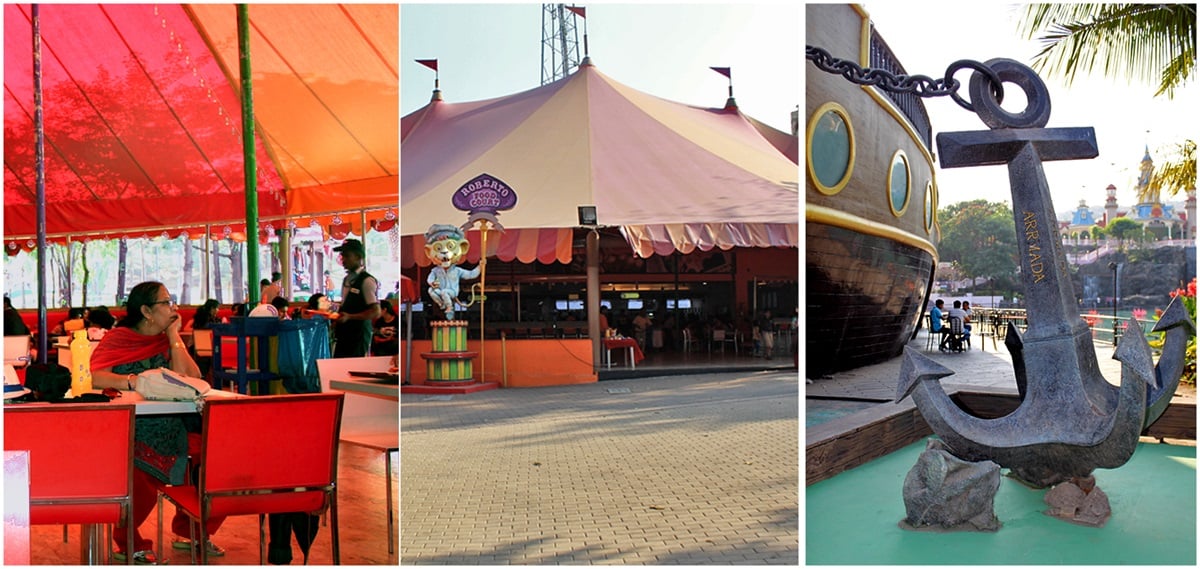 Melancholy of life is that most often we learn to play the game of LIFE in reality but forget what it is to live, to laugh together, play monopoly, watch a scary movie and our day at Imagica just gave us all emotions of life in one day.
We laughed on Mambo Chai Chama, froze in Haunted Salimgarh, felt filthy rich in Ali Baba Chalish Chor caves and thoroughly enjoyed the thrills of life with the immersive motion simulation technology that lends an absolutely new way of experiencing Mr. India's contemporary adventure.
I have had innumerable trips with family, friends and kids. Though each travel experience gives you a new learning, a new dimension but this trip of mine is special and most memorable one.
Especially, because I saw grownups revisiting their childhood, I saw couples exploring and appreciating each other's childhood skills, families spending quality time with kids. For once, we all were taken down the memory lane of just "Being Kids", enjoying, getting upset, making pinkie promises and in the end, patching up.
It was dusk and we were descending towards the end of the day and what feels like an end is often a beginning.
Beginning to a new realization of "Never grow up"!