Concoction of History, Food, Culture and Spiritual Abodes.
Jammu, popularly known as a city of temples, is not just a spiritual abode. It's a destination that offers much more in terms of culture, heritage, food, shopping and history.
Talking about history, the name itself was derived from the ruler and founder of Jammu, Raja Jambulochan. Historically, the roots of Jammu go way back in 14th century B.C.
I have a natural fascination for Jammu & Kashmir's culture and tradition. What's most known about Jammu is the fact that it's a city of temples, the summer capital of Kashmir and the biggest Hindu shrine of Goddess Vaishno Devi is in Jammu.
Most visitors & tourists to this city consider halting in Jammu and then progressing with their onward journey to Maa Vaishno Devi Shrine.
Now that's like not acknowledging the city at all.
Hence, my intent to cover this destination was very clear; unveil the lesser known facts about the city. Talkfest the place, so next time you're there, keep a few days dedicated for this humble and beautiful city. And trust me, you will be fascinated with the hospitality that is tough to find in today's high paced virtual world.
Flying to Jammu is always a sheer delight; with breath-taking views of green pastures and snow clad peaks that one can spot on flights, that first land in Kashmir and finally descends in Jammu.
The city showers simplicity, serenity and solitude in abundance. It is believed that once when hunting on banks of River Tawi, Raja Jambulochan was awe struck to witness a Lion & a Goat drinking water together and later departing on their own ways.
He dropped the idea of hunting, came back to his companions and said that a place where animals lived in harmony and peace was blessed enough to build a palace. This led to origin of the place earlier known as Jambu–Nagar, later Jammu.
One can witness peace, music and ecstasy of nature that's missing in a city's hustle and bustle. It's beautiful to just sit by the banks of River Tawi and meditate with nature, it refreshes your soul and brings tranquillity of mind.
The place is bestowed with natural walking trails up and down hill along with banks of River Tawi that are just so perfect for a healthy morning onset.
Jammu
1. Family encounters with Nature
Bahu Fort & Garden referred as Bagh-E Bahu is situated uphill rock face left to the bank of River Tawi. It's an old fort in the city constructed by Raja Bahulochan about 300 years ago. There is a temple of Goddess Kali also known as Bave Wali Mata along with beautiful gardens, which is now 'Fort Garden' for public. One can spot beautiful greenery, overlooking the city. There is a Public Aquarium for kids, numbers of waterfalls and rock statues in the compound.
2. Shopping & Eateries
Not many know that Jammu is a shopper's paradise. One can find best of woollen wears and apparels, diverse food platters, dry fruits, Indian spices and many other items.
The famous "Raghunath Bazaar" is very popular among the tourists/pilgrims, named after the famous Raghunath temple right next to it.
The market is famous for Snack items, Red kidney beans, Indian spices, Dry fruits, Chocolate Barfi, Sund Panjeeree (Indian Sweets) etc. amongst the locals and even with tourists.
Amritsarian Di Hatti at Raghunath Bazaar and Pahalwan Di Hatti at Gole Market, Gandhi Nagar are popular places to relish these sweet delicacies.
People of Jammu have a sweet tooth and are fond of eating quick bite snacks which is why one can spot food in plenty to savour your taste buds. And trust me some of the finger food is a culinary delight without doubt.
The other popular shopping destination in Jammu is Gole Market which is across Tawi River in Gandhi Nagar locality.
This market is famous for modern shopping including electronics, garments, footwear and other modern accessories.
Delicacies which shouldn't be missed are:
Ram Laddoo or Gul Gule made of healthy chickpeas served with Grated Raddish & Mint Chutney.
Red Kidney Beans & white steam Rice.
Aloo, Chole & Poori from Rawal Pindi Halwai in Jain Bazaar.
Kaladi Kulcha popularly known as Maish Krej (in Kashmir). It is an authentic dogra Cuisine and tastes like Mozzarella.
3. Old City Charm
Sometimes I feel, its best that some things don't change with time, after all it defines our culture and heritage. And some of the old fashioned things like stillness of time, fresh air are hard to beat. Jammu is a perfect case in history offering old charm aura around the city. You can spot places that offer fresh air, sunshine and greenery to rejuvenate your senses; one can also find conventional practices of barbers, tailors, fruit vendors and others. Seeing them so involved in their craft, untouched by technology, excites me enough to try my hands at them to relive history.
The sight of rustic old city charm fascinates me each time and for more than obvious reasons!
In an era of fast-paced city life where everyone is struggling; it's good to take a break and adopt pace of nature whose secret is patience and solitude. And Jammu is a perfect answer to that.
4. Heavenly Abode
Jammu is popularly known as a valley of temples. But what's lesser known is that Jammu breathes harmony in cultures and nourishes them each day.
The place is an abode to number of spiritual places with few major ones being:
a) Raghunath Temple
Situated in the heart of the city, 130 years old the temple was established by Maharaja Gulab singh, founder of J&K and completed later by his son Maharaja Ranbir Singh in 1860 A.D. The temple has no. of saligrams and is dedicated to various deities connected with epic Ramayan. The temple has 7 shrines and a tower each. The main sanctuary is dedicated to Lord Vishnu the eight incarnation of Lord Rama.
b) Gurudwara Shri Guru Nanak Dev Ji
One of the historic gurudwara of Jammu situated in Prem Nagar, Old Heritage City. The Sanctum sanctorum of the gurudwara houses a 3-feet long, white coloured marble statue of Guru Nanak Dev Ji which locals believe that Maharaja Pratap Singh had installed. During Singh Sabah Movement, the statues were removed from gurudwara's, however this one got missed out and thus, remains. The gurudwara was built as a mark of respect to the visit of Guru Nanak sahib. It is said that Guru Sahib stayed here while returning to Punjab via Kashmir.
c) Peer Khao cave Temple
The temple has a Shiva lingam and it's believed that Jamvant (the bear god) from epic Ramayana meditated here.
One can spot lots of monkeys outside the temple.
d) Peer Baba Ki Dargah
Dedicated to Islam Saint Peer Budhan Ali Shah, Peer baba is most popular with tourists and locals. The legends says the grave belongs to the saint who survived 500 years only on milk. It is said tendering flowers and chaddhar on Thursdays at this place helps in fulfilling ones wishes and desires.
5. MATA VAISHNO DEVI SHRINE
So much is known and written about the shrine that my few lines wouldn't make a difference. So I rather chose to share the divine bliss and celestial pleasure, I experienced that made my belief in the supreme energy more secure and hearty.
The Call of Mata Vaishno (Goddess Vaishno)
"Chalo Bulawa aaya hai; Mata ne bulaya hai…..Zor se bolo Jai Mata Di, Saare Bolo Jai Mata Di…"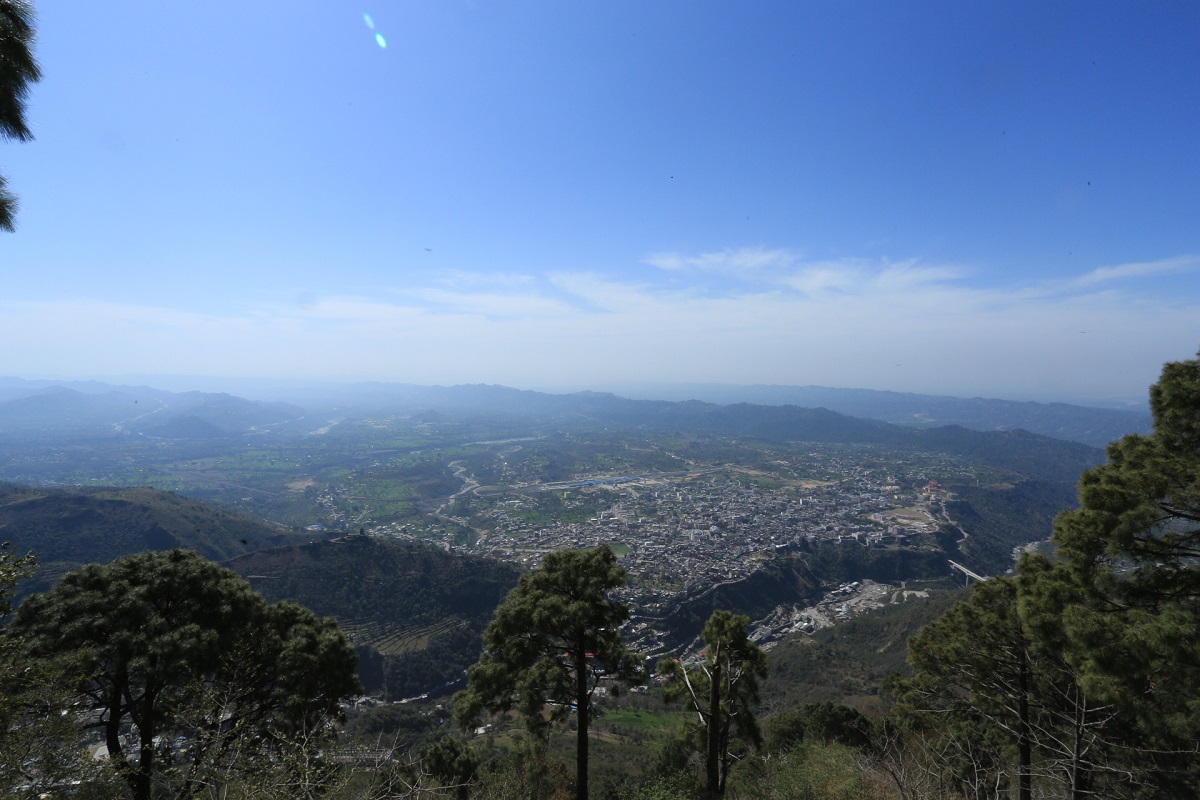 Its's often said that one cannot visit Goddess Ambe or famously known as Mata Vaishno Devi till the time the will of the Goddess is there.
I grew up with this saying but never understood or probably felt the impact till recently. I finally got to visit the shrine after 15 years since my last visit and 4 years of futile plans that eventually got 'Mata's' blessings.
They say that people visit when they are either blessed, or they get married or probably their wishes come true. Mine was no less; my humble prayer had been answered and I had pledged that when it does I would pay my gratitude to Goddess. But circumstances didn't permit me to make it to the shrine.
I waited in vain for almost 4 years till finally Goddess answered my prayer and I was blessed to visit her Darbar.
It was then I realised what the phrase meant and the power behind it.
Quick Facts for Pilgrams
How to Reach Katra
For those who haven't been to the shrine or it's been long due, here are few quick facts to plan.
Jammu to Katra is about 50 kms by road. One can reach Katra by car, train or local buses.
Katra to Ardh Kuari-7 K.M
Ardh Kuari to Shrine: 6 K.M.
Shrine to Bhairo Baba Temple – 1.5 K.M.
The total distance is about 14.5 Kms
Shrine Location
Katra is situated at 2500 ft above sea level and Shrine is based at an altitude of 5200 feet above sea level in the hilly terrains of Trikuta Mountains.
Registration
One needs to register with Yatra Registration counter (YRC) near Bus Stand Katra. A picture, name and the place you hail from is taken by the authorities. It is ideal to carry your Identity Cards and be fully prepared for any checks and adherence to rules.
Photography
Photography is not permitted inside the shrine-hence you would have to excuse me for not providing pics. Best is to carry your cameras and phones which can be safely kept in lockers provided before entering the shrine.
Online Services
The shrine board offers sufficient information for Yatris to plan their visit.
Where there is a will, there is a way….
The Journey starts from Darshaani Darwzaa; one can have a full view of Trikuta mountains. Though my earlier journeys have been on foot both sides, I decided to try if I could still manage it.
I personally believe, "When mind begins to age, physical endurance starts to fall;" for me I am mentally strong and was not willing to give up so I started to walk.
For those who plan to visit the shrine; the Journey till Ardhkuari is steep and dizzy. It's good to see that there are medical check points for assistance, F&B counters to energise you through the journey.
If covering distance by foot is not something you can manage then there are facilities like Ponies, Porters called 'Pithhus' who offer service to either carry luggage or small child. There are buggies or Palkis which are carried by people on their shoulders. The charges are all authorised and even checked with pilgrims at end of their journey to avoid being fleeced.
I was accompanied by my dear buddy and my counterpart who is a photography virtuoso. I was quite impressed with his will as he had just recovered few days from a surgery and was asked to avoid elevation and stress for few weeks.
Walking quite a distance; I started to give up as the roads got narrower, steeper and the elevation started to get on to me. I was feeling surprised and helpless as the route wasn't new to me but few health issues were restricting this. While my friend too was exhausted for obvious reasons but there wasn't a single grin on his face.
I felt dizzy and my mind started to convince me that I wouldn't be able to do this, the whole thought looked dim and I eventually felt tragic. From somewhere, this pony man came and offered to give me a ride. Though I was in no mood to take it, I finally did for the first time in my life. And I am glad I did; we reached Ardhkuari in an hour and the ride was quite breezy and refreshing. I got down and realised that Mata stood with me and strengthened me as the descend had finally begun.
Someone rightly said that the genuine will of a person has that power that it can move things in ones favor. It's not that I could have not hired a pony myself but the fact that I didn't even when the exhaustion was taking toll on me and things had started to look dim with that my mind completely going blank.
There are two diversions, one is the old track about 6.5 Kms long and the other is the new one about 6 Kms, all leading to the bhawan. The new track also offers automotive services from Ardhkuari to Bhawan.
But I decided to walk the distance, though it's not steep as the earlier part but the elevation does make it a bit difficult. I am glad I was able to make it.
From Ardhkuari, the next two main spots are Himkoti and Sanjhiichaat.
Like I said before, one can spot a number of beverage counters but no eateries on this route. So take a break and eat at Ardhkuari.
On this journey, I interestingly noticed these sevaks who offer to put their hand behind your back and push you to walk, offering support to your spine. This truly happens in India only.
Himkoti is another important point in the journey upto the Bhawan that offers beautiful and scenic views of the journey while Sanjhichaat is also popular for Helicopter services. The Helipad is based from here and a prior booking needs to be done as there is an extensive waiting period.
The journey till Bhawan was exhausting, so I decided to freshen up before depositing my equipment's. There are bathrooms for a quick shower and food eateries too.
Food wasn't on mind as I just wanted to seek blessings of the divine 'Goddess'. I freshened up and lined up in the long queue leading to the shrine. The sheer look of the long que made me gloomy as I was due to return back the same day and it was already evening and in hour or so temple would close for almost 2 hours.
While in the queue, with no clue of what was in store for me, I saw a man walking straight up to me and offering me his keys for locker since he was already over with his Darshan. Without wasting any more time, I thanked him and rushed to grab few bags of Prasad in name of friends and family. It was while walking the trail up, I realised that when you can't put prayers into words, God hears your heart.
Mata indeed had been with me throughout my journey; I had experienced her celestial bliss. And finally my moment had arrived I was right at the beginning of the marbled platform in front of the cave (man-made one).
All that tiredness, exhaustion seem to just vanish as soon as I was in front of the altar. My friend too felt the same.
Internet Source
Finally, we both were in front of goddess, in form of three Holy Pindies manifesting Maa in three forms of Maa Lakshmi; Maa Sara Swati and Maa Kali.
Just few seconds of this glimpse, energized my soul and we came out of the cave.
When I thought finally our journey was blessed, my friend told me that he wasn't satisfied and wanted to meet Maa once more. The task looked not possible to me owing to security reasons and army arrangements. But Like I said where there is a strong and earnest will; Maa is always there. And yes to my surprise, we took a reverse turn in line, went and requested the security personnel and were taken aback to hear a 'Yes'.
Their Yes, reinforced my belief that Maa is omnipresent throughout your journey, watches you and your intent.
No matter who you're, No matter what you've done, No matter where you're, Goddess wants us to come home to her someday, some time in our life because mother never turns her back on children.
On my way back I had tears in my eyes as I understood that mother never turns her back on her children and the only time she does that is for them to hop on.