Life is so different at Beaches. The music of tides, footprints in sand, the colorful sunsets in sky and silver lining on the sea all brings tranquility of mind body and soul. I have been a beachy girl all throughout my life and can't do away with them.
For me given a chance every day should be a beach day. A simple walk bare foot in the sand hearing to sound of tides is like music to my ears.
Over years just sitting and watching sunsets and sun rises on the beach has taught me so much, every sea shell you see has a story. The piece of that land that you stay on makes you feel warm and cosy yet tides in life makes life meaningful. For me I keep going back to the sea for my heart yearns for a sea and a little cottage just to be.
My next weekend getaway was a yet another beachy affair at Dapoli a small town in Ratnagiri Maharashtra about 250 Kms from Mumbai. Dapoli has far reaching stretch of beach right from Dabhol in the south and kelshi in the north.
Here's a perfect sketch of the place and what all it has in store for you to make it a part of your Weekend getaways bucket list.
TOP 5 KICKOFF REASONS FOR A BEACHY AFFAIR AT DAPOLI, RATNAGIRI, MAHARSHTRA
1. Looking for some cosy romantic weekend breaks
Its important to keep romance fresh in a relationship. In today's age and time what's missing in a relationship is quality time together. Taking short romanticescapdes helps bond couples better. Do some fun together on beaches, have meaningful conversations watching sunsets and express your love like crazy in warm and cosy resorts by the sea. A perfect concocation for rejuvenating romance in life.
Dapoli offers just that a fine white sand cover and wild breeze. Most popular beaches In Dapoli are from the stretch starting from Murud Harnai to Ladghar.
For sake of romance my pick would be Kolthare Beach, one of the most secluded beaches in Dapoli. They have small resorts to offer accommodation.
And for those who like people around the corner Murud Harnai to Ladghar stretch is popular with tourists. There are some of the best resorts and hotels around the same. If you are looking for some beach front resorts then Murud Harnai to Karde is what you should search for.
2. Short family weekend getaways
Weekend escapades with family & friends create wonderful memories for life.
Be it a sandcastle building competition, chasing the waves or running after baby crabs that come to shores with the waves.
Ladghar Rocky Beach
A bit of sunbathing and exploring rocks on the beach; a wet and wild walk along the coastal path or a playful sport like badminton –Throw ball on the beach.There is something for the whole family.
The sunsets points at Dapoli are something worth visiting.

3. Sea Adventures
Dapoli offers watersports and boat rides to arouse your thrilling instincts. You can feel the breeze chasing wild as you parasail in waters with your spouse/ buddies for that wild and wet experience.
One can enjoy thrilling Banana boat ride. Nothing can be more exciting than riding against currents on an inflatable boat along with your friends for that joyous ride.
Jet Ski rides and other popular water rides like bumper rides are available in Dapoli.
Amongst the water sports another rip roaring activity is the Dolphin watching in mid waters. It can cost between 250-1500 Rs for an exclusive ride. Spotting a dolphin is a matter of chance and chances are better early in the March-May season.
4. Architecture is a visual art with stories to be told.
Walking through old monuments often make me feel, old places have soul. There is story there to be told. Unfolding history often makes you richer in your thoughts and beliefs.
Dapoli offers few worth interesting sites to be explored.
Dapoli is abode to some revered temples and forts of Konkan. Popularlised as the Parashuram Bhumi, Dapoli houses a temple of Parashuram at Ade.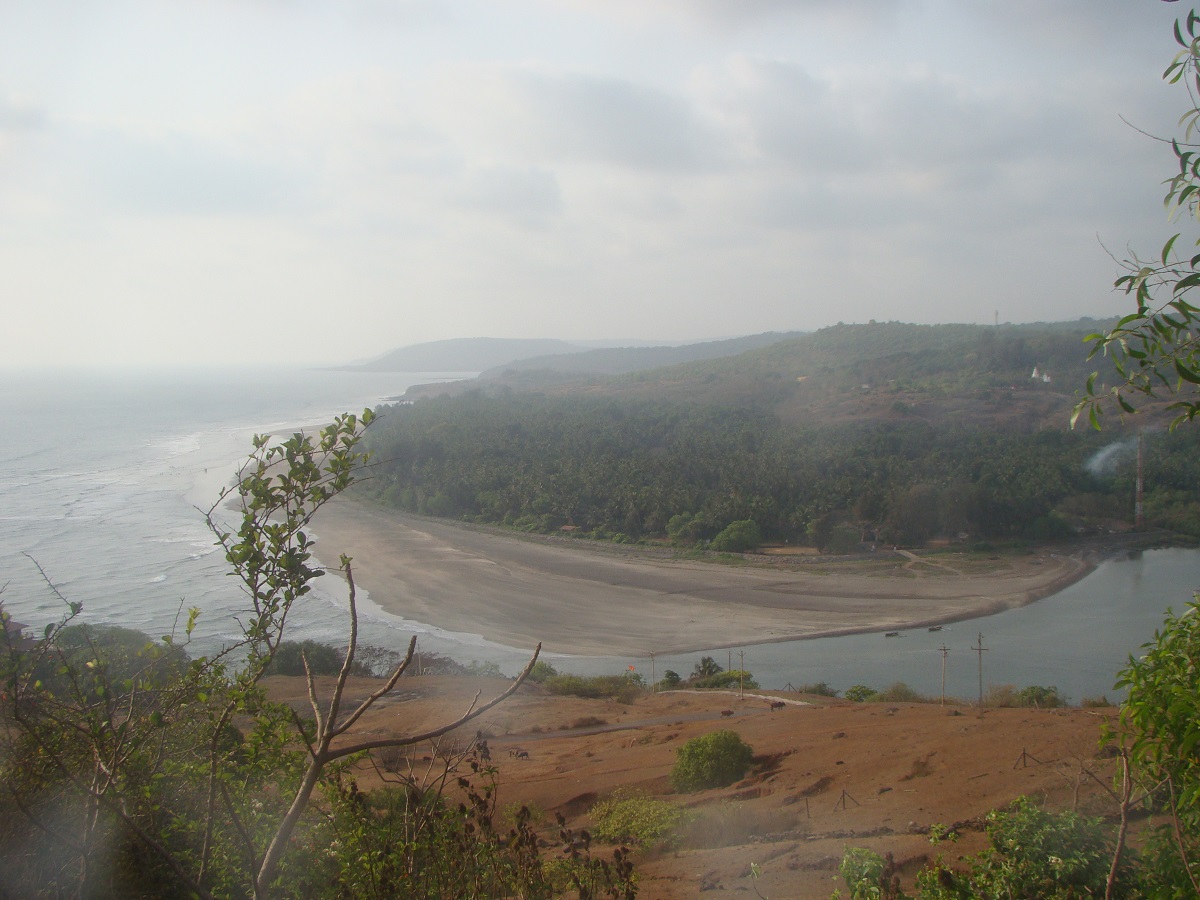 Picturesque view of Kadyavarcha Ganpati Temple in Anjarle from a hill top.
Durga Devi temple in Harnai which is one of the most visited temple other than Kadyavarcha Ganpati Temple located in Anjarle.
Ganesh Temple in AnjarleGanesh Temple in Anjarle
Kadyavarcha Ganpati Or Ganesh temple is built on a hill top. The diety "Ujwya Sondecha Ganpati is a wondereous idol with its trunk turned towards its right side. The temple is located in Anjarle ahead of Harnai about 25 kms from dapoli at home turf position offering panoramic view of the surroundings.
Keshavraj Temple
Other temples worth visiting are Keshavraj and Vyaghreshwar temples located in Asud.
Few other historical spots like Panhalekaji Caves discovered in 1970 are filled with exquisite art and impeccable craftsmanship. There are 28-29 budhist caves with inscriptions in Brahmi & Devanagari. Panhalekaji is about 30 Kms from Dapoli
Panhalekaji Caves
Kanakdurga Fort near the Harnai port is t in ruins, spread over half an acre there is Lighthouse there. Another fascinating fort is Suvarnadurg Fort on a rocky island about 8 acres. It's interesting to find the main gate of the fort with carved figures of a tiger, eagle and elephants. There are 15 old guns in the fort. There are Fishing boats available from Harnai port.
5. Conversations with Nature…(Nature walks) and fruits of nature

In all my expeditions one things I never amiss is a good healthy nature walk; for I believe that nature has so much wisdom to offer and restore peace within. And its so well put together by someone that "In every nature walk, one receives more than one seeks". That's one thing one should never miss in their soujourns conversations with nature are much more rewarding then our usual conversations with gadgets that are dominating the sad scene today.
Dapoli offers plenty of lush green surrounding by the sea and around for you to just take a troll together with your loved ones or alone.
I spotted no. of Mango fruit orchards and just couldn't resist plucking few to try the taste of nature. Naturally divine and satifying was my experience. Unadulterated or artificially modified these Alphonso mangoes were to die for. Just like a small child I found myself in my natural candy land relishing my love for mangoes.
"Fruit is but of course nature's candy" . Dapoli , Ratnagiri is hub to world famous alphonoso mangoes for the season.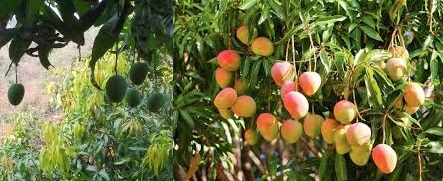 Mangoes here are nurtured with utmost care and deep down knowledge by the people in the trade for generations now. The process is followed with deep down knowledge and nurturing nature with utmost care and love. No wonder why Ratnagiri Mangoes are world class.
Must carry a box of Pure Alphonoes Mangoes from Ratnagiri.