Aerial View of Mirasol Resort, Daman
One of my foodie escapades took me to this exotic resort by the name Mirasol Resort in Nani Daman, UT of Daman & Diu.
I was there to bake a foodie story and be a part of the food trials that were going on for the launch of the new menu of their restaurant. Little gypsy was there too, to promote resort as family friendly resort. It was exciting to see her getting an opportunity to be a part of Menu Reviews. Must say she wasn't liberal in giving scores, rather took the task quite seriously. In amidst of all this what caught my fancy was the story of the resort's conception.
I must own up the fact that story was indeed inspiring. It was then that I decided do to a property review then just a foodie story on one of their restaurants.
Though I prefer doing my property reviews crisp & short stating mostly the take away's of the place for my readers, this is one is for sure is going to be different.
Room Division Manager Rhishabh Kansara, who facilitated the tour of the resort with enthusiasm matching our inquisitiveness.
Resort Review
Happy ever after starts here…@Mirasol Resorts, Daman
Are you getting married? Or On look out for a perfect location to plan your pre- wedding shoot, Bachelors-Hen party?
Planning celebrations around wedding is undoubtedly a giant task and selecting a venue is no less.
Gypsyescapade recommends Mirasol Resorts, Daman.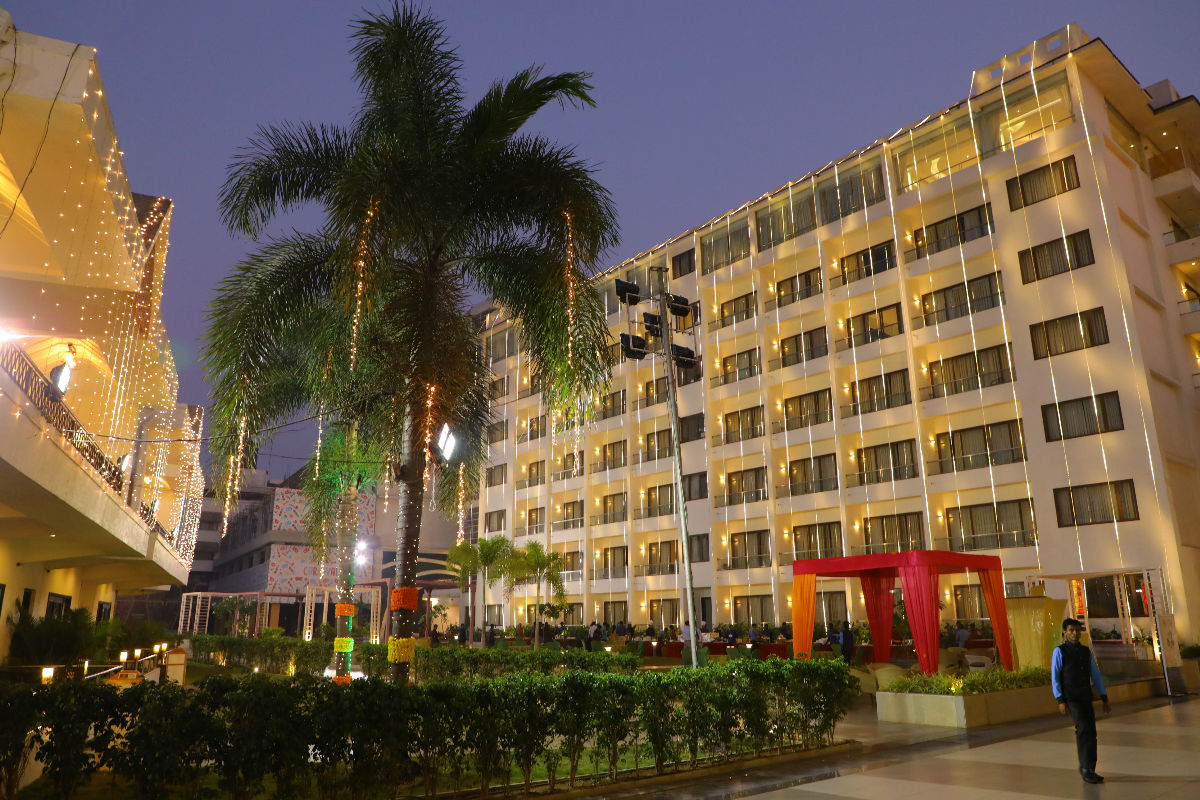 222 rooms resort nestled amongst lush green flora & fauna. With 10 acres of natural lake encircling the resort and an adjoining waterpark to keep guests and kids entertained.
The place is widespread to shape up for Indoor-Outdoor wedding set ups, massive guest Stay INS, musical nights and regal cuisine as per one's beliefs and preferences.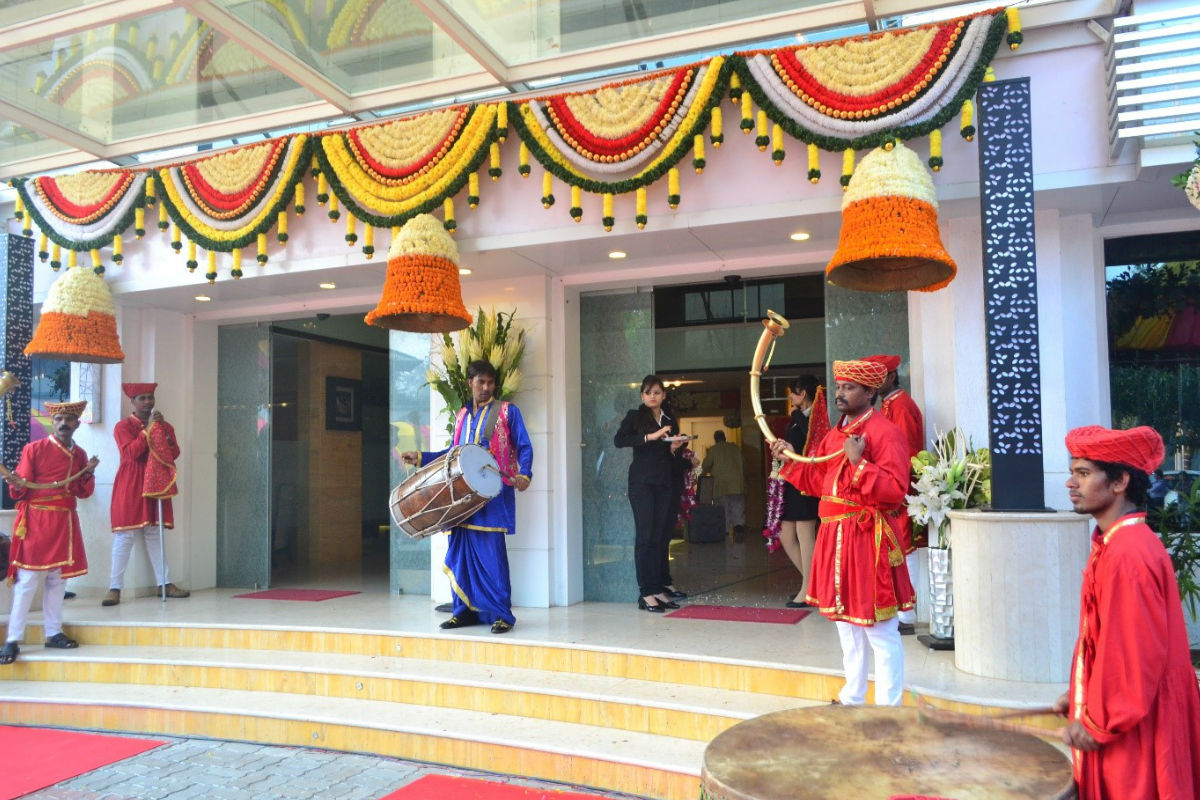 It also offers space and surroundings to razzle- dazzle your wedding decors. Your guests for sure are going to be mesmerised and enticed experiencing a wholesome celebration.
Mirasol Resorts is your place for an incredibly romantic-contemporary –traditional celebrations of all times.
Weekend Vacay & Festivities with Family & Friends
Have you come across anyone who does not look forward to a weekend? Well exceptions excluded. Reality check says it's really hard to find someone who doesn't. For most of us be it a long weekend, holiday break or celebrating cultural festivals together, family time is the best time.
Most of us struggle to find a place that can accommodate preferences of all family members without much of moving in and out of resort for excursions. Well this resort offers just that. One doesn't need to step out of resort for anything required on a relaxed holiday.
Let's take a look on what makes Mirasol Resort a perfect holiday home for family.
#Littlegypsy recommends #familytime at Mirasol Resorts.
Kids Entertainment- Reviewed by our Child Blogger #littlegypsy
Rooms are equipped with channels offering kids entertainment.
Swimming Pools and open lawns- Ideal for outdoor sports like Cricket, Football, Badminton.
There are indoor games available too- Table Tennis, dartboards etc.
Gaming Arcade- Mix of Video Games, Inflated Jumping castle, Bungee Jumping.
Toy Train Ride– Train goes around the lake (adults & children).
Boating- Pedal boats & family boats and motor boats available.
Little gypsy in conversation with Mirasol Water Park Guest.
Cute Little chat session at Water Park is in Hindi (Indian language).
(For sake of our viewers we have added highlights in English subtitles in the film)
What's in for Grown -ups.
While kids have enough to keep them busy, Grown ups can enjoy the Spa facility, Pool side drinks, Lake Restaurant & Bar side chat sessions. Morning's can be healthy taking a refreshing jog or playing a sport boosting your adrenalin levels in the lush green lawns.
And who says one needs to grow up, Water Parks and Boating's are always in season.
Last but not the least, one can dance the night away at the resort's discotheque.
Addressing a MICE Customer-
In today's high competitive environment the challenges that majorly effect the MICE business is that of Space (Indoor-Outdoor), Technology Edge, Flexibility & Cuisine Development. The need of the hour is adaptability & focus to the fast changing business requirements.
Team at Mirasol came across to me as quick fix crisis managers, looking for improvements and keen on making customer experience a testimony of their facility & amenities.
So whether you are planning a national-level sales event, a direct selling conference, an auto dealers meet, an international science program, or a rewards and recognition program for your star employees, the place caters to most of your pre requisites and also offers a value for money custom made package.
FOOD & STAY
Mirasol edge over others is primarily the humongous space that it has.
Stay A total inventory of 222 rooms comprising of Family Villas (duplex rooms), Executive rooms, and Standard rooms. Fully functional rooms with amenities such as wardrobe, TV, AC, Fridge, writing desks etc. Sound and sleep quality is very good. On scale of 5 and 5 being highest, I would rate a score of 4 for cleanliness not only in the rooms but in and around the resort. Round the clock service and friendly staff.
Food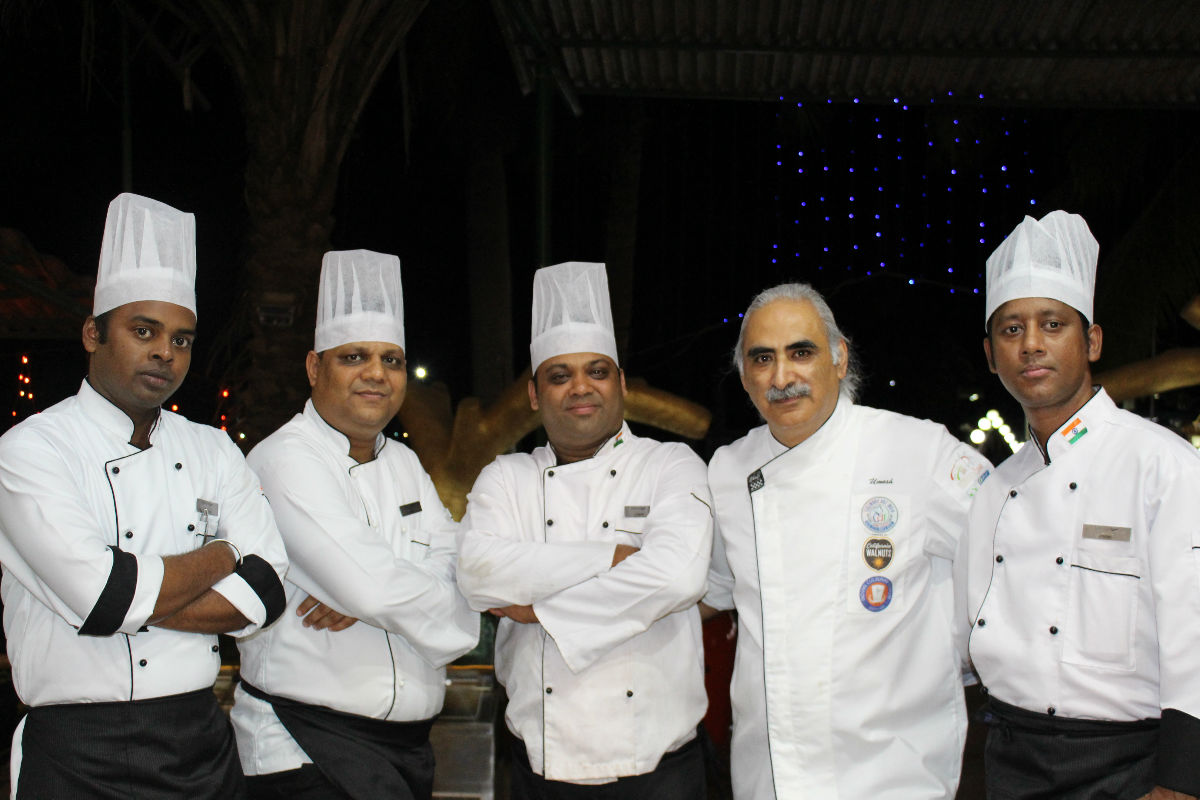 "Nothing brings people together like good food".
That's the mantra of Chef Team at Mirasol Resort.
Chef Mentor Umesh Mattoo at Mirasol Resorts
The management team believes that food is essential part of their business and its improvisation in food menu is the key to their success.
Menu trials are held regularly. Mentor Chef Umesh Mattoo is at the helm of formulating SOP's for Kitchen and Menu's for their restaurants. This Season's fresh menu is all set for you all to try.
Recommended for fresh menu and newly revamped lakeside restaurant.
Restaurants in the Resort
Pakwan Pure Vegetarian Fine Dining Restaurant (Indian & Continental Cuisine)
Amalfi Terrace Garden Restaurant- (Great Buffet Breakfast Spreads, Kids friendly foodspreads.)
Lakeview Restaurant– (Mexican, Chinese, Italian & Indian Cuisine)
In Room Dining.
#Littlegypsy recommends Terrace Garden Restaurant #kidsfriendlyfoodspread
Visionary…Dreamer…Go Getter….Game Changer….
– Shri Gopalbhai Tandel, Director Mirasol Resort.
Sometimes in life one comes across people who have come a long way to be where they are today. One such man is Shri Gopalbhai Tandel who shunned all that came in between his dreams and kept moving forward.
From a small bar outlet in Nani Daman to two prime properties namely Hotel Miramar & Mirasol Resorts. He indeed has come a long way with his go getter attitude, focussed vision and dream of building a hospitality business with all modern amenities and infrastructure in small place like Daman. His perseverance and hard work paid no heeds to the challenges that came his way. From being a night guard on his own resort to be available at odd hours to resolve hurdles and even losing a leg in a mishap. This man never gave up upon his dream.
In Conversation with Shri.Gopal Bhai Tandel, Director Mirasol Resorts.
(We are glad Shri Tandel opted to take this interview in his native language Hindi).
Highlights in English language has been added in the film for convenience of our readers.