Food is lens to one's country's culture. It is said very often that to know a place better, one must try its cuisine.
Phuket, one of the popular islands of Thailand was once primarily known to be a commercial hub that eventually led to invasion of multiple cultures and hence richness in its cuisine.
I was invited for yet another culinary extravaganza at Old Town Phuket by A Chef Tours. Though I am pro at reviewing food but then I do have some dietary limitations. What impressed me the most was the design planning of the tour that takes care of your dietary requests and limitations.
Pema Juanjenkit was our group's Culinary Guide. Just like Cook brings soul to a recipe, she brings in soul to the tours she conducts. She is a complete walking human library with so much information to offer about food and culture both. I have reviewed so many food tours but what's really amazing is to feel her passion, energy and knowledge about history of place, culture and the food. The tour indeed is worth every penny spent as not only do you get to experience the dishes but those small details about ingredients, origin, history itself makes it worth indulging in.
Our Group had these two lovely ladies from Sydney, mom daughter duo and they were such good sport throughout the tour. This one tour taught me so much about people and culture that I am glad I did take this invitation.
Coming to the Food what makes this foodie experience interesting is the choice of places and the people behind the show. We had some interactive sessions with Restaurateur's and chefs. Stories not just about food but about culture too.
The tour is said to be for about 4 hours but Pema tends to evaluate the interest levels of her group and is generous enough in letting the group enjoy each session. Our Tour turned out to be 6 hours session. Not that I am complaining.
What Does A Chef Tour Phuket Old Town Tour Offers.
The Phuketian food tour starts from Wet market in old town, one can see varied variety of fruits and vegetables, meat and local delicacies. Great food and contentment on people's face's selling their produce is humbling.
Next on the card was Backstreet Burmese Tea House serving some rich Burmese Beef Curry, Wood Fired nans, samosas and tea. Oh! that reminds me of our Desi Nan, samosa back home.
Learning about Zee Kwet (Owl Pairs) in Myanmar culture was so enriching.
Knom Jee nam Ya Ba – Bowl with herbal Kanom Jeen Noodles with vegetable Jungle curry was another interesting meal. Flavours of mild herbs and greens so well blended that it indeed is a relaxing and an energising bowl.
Phuketian Sticky Rice- This is not just the local speciality but has a great history behind it. Rice is so well marinated with meat and nuts that each bite lets you relish the flavours so well.
Hokkein Noodles –These silky noodles are so different than the regular noodles. Such gastronomy tours are indeed a must they open you up to so many unknown facts about food.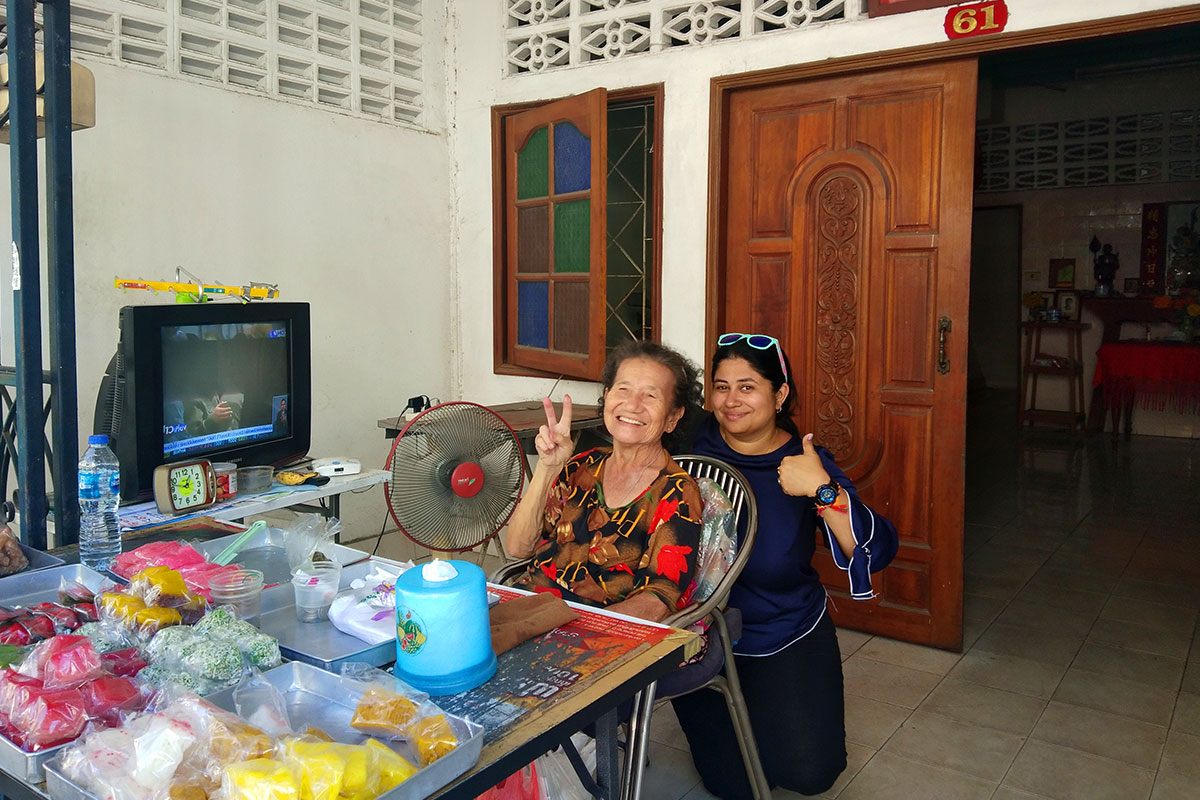 3rd Generation Sweets
After long day of spice around it was time to treat our sweet tooth with Thai Sweets prepared by 3rd generation family. It was a delight to watch this 3rd generation lady speak such profoundly about her passion of preparing these sweets. Variety on her table for us to taste. And what made this tasting session memorable was the dollop of her generosity showered on us when she handed us our favourite picks as giveaways. Such heart-warming hospitality is often hard to find.
Fresh Exotic Juices
These are juice's being sold right in middle of the Old town green market. Fresh fruits around to choose from and the lady quickly churns them to offer you thirst quenchers.
Handmade Spring Rolls & Satay Chicken
Unlike Spring Rolls that we are accustomed too. It was a sight to see them live preparing the roll sheets and then the fillings. The inside filling is of Thai greens and meat can be pork, chicken to one's preference with dab of sauces to add flavours.
Satay Chicken; Popular dish of Thailand usually served with peanut sauce. The Chicken is tender and soft with well mix of spices.
Iced Dessert: Quite similar to Indian Ice Gola, the only difference is this iced dessert has pieces of traditional sweets at bottom. Simple and Sweet looking Lady busy making icy dessert from her small cart in one of the by lanes in Phuket Old Town is definitely a must try.
Crispy Roti & Southern Coffee
The last meal for tasting and the most interesting of the all was a giant mug of frothy Southern Coffee & Crispy Roti at Arun, a local Muslim Restaurant. The action is in watching the way coffee is made don't forget to go to the kitchen and watch how it is made.
Coffees at this place are mind blowing. Must Try.
The place is also known for some amazing Crispy Roti served with beef curry.
This food tour was not just about the dishes that you will savour walking down the alleys of Old Town but witnessing history on roads, wall murals , and a short visit to Blue Elephant Cooking School which was the surprise element for our over enthusiastic group.
I would rate 4/5 stars for this tour and 0.5 for Pema Extra Efforts to make this tour an eye popping experience. Oops! Apologies… Effort Nah! Passion Yeah. Pema really loves doing what she does and she is awesome at that.
Must Do A Chef Tours- Phuket Old Town Food Tour. Book Now.
https://achefstour.com/tour/phuket-old-town-food-tour
Review also available on TripAdvisor. Follow Lady Gypsy Sal @Tripadvisor