On Eve of National Meat Ball Day, Gypsy escapade brings you flavor's of Meat Ball preparations from the state of J&K, India.
Recipe Courtesy by Saal Flavours.
| | |
| --- | --- |
| Ingredients | |
| Ground Lamb/Goat | ½ kg or 1 lb. |
| Turmeric Powder | ¼ tsp. |
| Red chilli powder | 1 ½ tsp. |
| Ginger Powder | 1 ½ |
| Fennel Powder | 1 ½ |
| Cinnamon Powder or crushed 2 cinnamon sticks | ½ tsp. |
| Crushed Cloves | 2 |
| Crushed Black Cardamom | 3 |
| Green Cardamom | 2 |
| Pinch of Asafoetida | – |
| Plain Yogurt | 1 tbsp |
| Vegetable Cooking Oil. | 2 tbsp. |
| Cumin Seeds | 1 ½ tsp. |
| Salt to taste | – |
| Cup of Water | 1 |
Process
Place ground meat in a mixing bowl.
Add ½ tsp. Ginger Powder, Fennel Powder, Crushed cumin seeds, Red chili powder, 2 Black cardamoms and little salt to meat in a bowl and mix well.
Wet your hands with oil or water to avoid meat sticking to your palms.
Take small portion of meat say about50 gms. and make a meat ball typically in roll form and keep it on side of plate. Repeat the same till the minced meat finishes.
Heat oil in a pan.
Add a pinch of Asafoetida & cumin seeds at low flame to sauté.
Add Red chili powder, cinnamon, crushed laung and yogurt to oil.
Sauté chili until you see no whiteness of yogurt.
Add 1 cup of water, Haldi, ginger powder, black cardamom ,crushed green cardamom
And bring to boil.
Add rolls/balls to spicy boiling water mixture in pan.
Cover Pan and cook approx. for 25 minutes or until balls absorbs all liquid. Check for water consistency while boiling might need to add little water.
Sprinkle ground cumin seeds and green cardamom and cover the pan.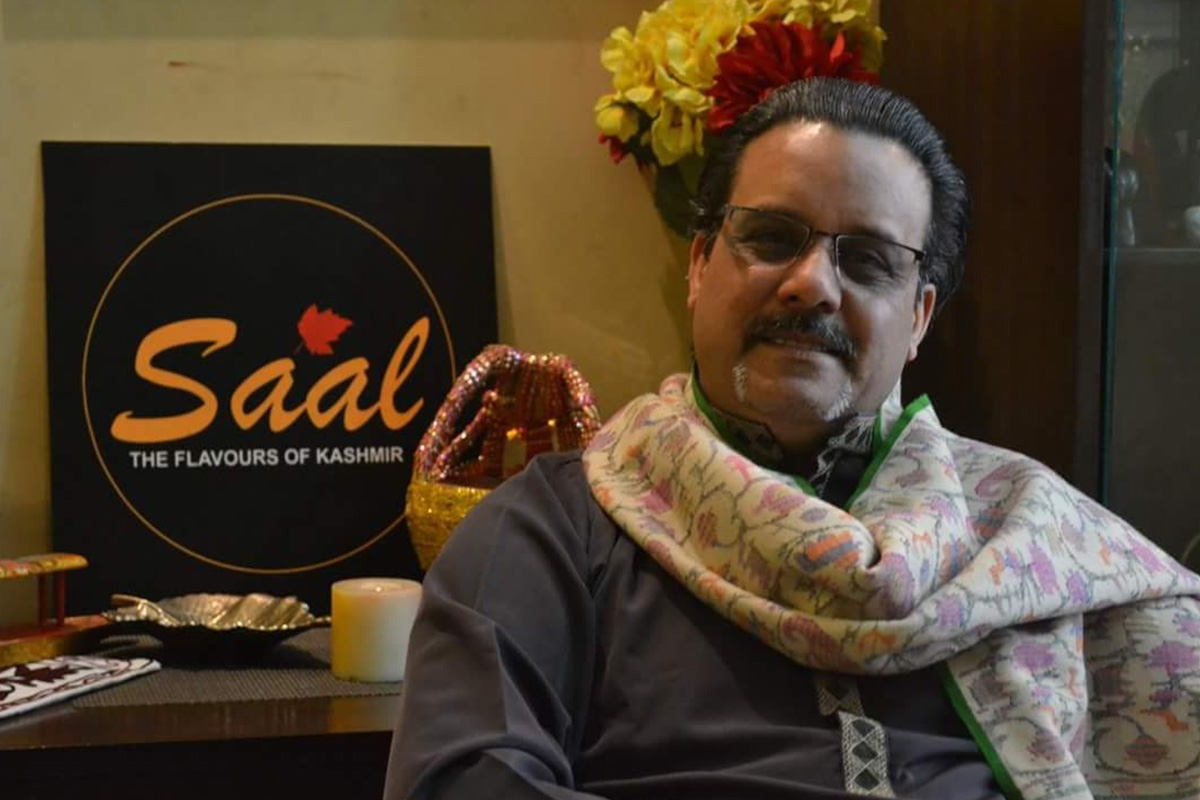 About Sunil Tickoo & Saal Flavours
Sunil Tickoo is Curator & Director of Saal Flavours- a JG Hospitality on a roll promoting Kashmiri Cusine. Saal Flavours is managed and helmed by an extremely talented lady Mrs. Alka Tikoo. Saal flavours brings to table authentic Kashmiri Meal traditionally cooked by Wazas (Kashmiri Cooks) from the valley.
Some of the ace dishes from their oven are Roganjosh, Yakhni, Kaliya, Dum aloo, Haakh, Tamatar Chaman, Phirni , last but not the least Kahwa Tea. Saal Flavours is well equipped to handle Vegetarian & Non vegetarian Menu's and can sew packages to suit your requirements.
Recommended for services like Wedding Feast, Home Deliveries, Kashmiri Food festivals-at hotels, Restaurants, Events-Al Carte Menu and Caterings.