If Las Vegas is the sin city, Pattaya is a bearhug from Lucifier himself. How many of us have heard this anecdote on Pattaya? I am sure most of us. Well when we spell Pattaya what comes to our minds most is it is the "Sin City of South East Asia".
Not that you are wrong but do you know Pattaya is not just that. Sharing close proximity with Bangkok about 147 kms and offering value for money tourism; it's one of the favorite destinations for Corporates for Mice events.
Pattaya is on verge of becoming new world class MICE City for Thailand and the whole world. Authorities are working on their ambitious project of making "New Pattaya, the World Class Greenovative Tourism City" with a "green and clean" environment for tourists and locals.
Let's take a look at what makes Pattaya a perfect concoction of Leisure, Lust, Luxury, Lackadaisical…. I can keep adding more L's to my list. In short, the takeaways are endless and all this for a pocket friendly budget.

The Leela Resort & Spa, Pattaya- Recommended for Family & Group Stays.
Stays'
From Beach Side Resorts, Apartments, Family Hotels, City Centers, Romantic Hotels & Luxury Hotels, Pattaya has it all. Ideal areas to choose your holiday haven are Jomtien, Central Pattaya, Pattaya Beach Road, South Pattaya.
Islands Near Pattaya (Day Trips from Pattaya)
While there are quite few islands to explore from Pattaya such as Koh Samet, Monkey Island, Koh Si Chang, Koh Khram, Koh Rin, Koh Phai, Koh Krok, Koh Sak, Koh Larn; the most popular one being Koh Samet and Coral island (Koh Larn).
Koh Samet
This is a small island off Rayong (south of Pattaya). One can find tall cliffs along west coast and pleasing beaches along the east coast. This beach is quite popular among st locals of Bangkok & Pattaya especially the youth as it holds there an annual Thai Pop & rock music festival . Koh Samet has good line of hotels and resorts. The sea's favorite thrills are scuba diving, swimming, snorkeling etc.
Koh Larn (Coral Island)
Coral Island is the largest island near Pattaya. One can access it from Bali Hai Pier. The island has around 6 main beaches. One can opt for a long tail boat or a speed boat for accessing this island. Island has got white sand and warm turquoise waters. Plenty of water sports like banana boat, jet ski, speed boat thrills and others. And for those who love to turn hermit for some time, this is a beautiful place to be in that state of mind. I love going in and out of hermit zone and rejuvenating my five senses at those beautiful abandoned spots in the island. The other leeway of enjoying this solidarity is that you get to spot some extraordinary Instagram able spots.
Pattaya Attractions
1)Pattaya for Kids
Upside Down Museum
Upside Down Museum Pattaya is like any other trick museums though what's unique about this place is huge compound dedicated to this perplexed structure that leaves you completely disoriented once inside the premises. The structure offers various unbalanced interiors that can sway off your feet and offer amazing bewildered trick photography pictures. I would suggest scan and take a look at few trick photography pics before visiting this place so you can make most of it.
Photography services are available inside too. To add more to this topsy-turvy world the place is open for couple and newlywed photo sessions. Now this definitely is an amazing and quite eye drop experience to enjoy some comic and intelligent wedding photography at this place.
Recommended for those who find normal boring.
Underworld World Pattaya
Underwater World Pattaya, the only aquarium in Pattaya City. The place is much more than an aquarium as it offers interactive activities with aquatic creatures. One can feed Koi Fish, Turtles and enjoy the Touch Zone pools where one can actually experience marine animals by touching them.
And that's not all the highlight of the place is the Sleep Over with Sharks and Rays Camp designed especially for the School Kids. This program me is one of its kind.
The place as a lot of marine creatures and colorful corals. There are beautiful acrylic tunnels about 105 meters long with 180 degrees coverage that gives it a real underwater experience.
Not a regular aquarium. Must Do.
Sriracha Tiger Zoo
Great Place for Kids to explore wildlife in such close proximity. Activities offered are Crocodile feeding; Big Tiger feeding- food scumble, Nang Phong Scorpio- Trained lady with 100 scorpions on her dress-dare to do the same; Play with scouts (baby tiger cubs), feeding Koi fish, Park -Zoo has plenty of beautiful landscaping that offers amazing photo backdrops;
One can click pictures feeding baby tiger cubs or big size tigers. While we do all of this it would be nice if we show compassion and love towards animals while we interact with them and they put up at some amazing shows for us.
Ramayana Water Park
Biggest Water Park in Thailand. Rated 1st in Thailand, 2nd in Asia & 12th in the world by Trip advisor. With more than 50 attractions, 350 trained staff and 100 lifeguards. This place should definitely on your bucket list. Need I say more. Speaking about what different at this Water park, crystal clear water used in the rides are safe enough to drink sourced from the underground wells. More than 20 rides are unique and have no comparison in Asia.
Art in Paradise
Watch the video to decide if this one is for you.
Ripley's Believe it or Not
"Believe it or not" is a choice to open up to unknown. USA's most popular tourist attraction. Be it amazing facts, darker side of life or thrills that give you shaking chills. This place for sure keeps you on toes.
Check the link below to see if this is for you.
2) Attractions
Sanctuary of Truth
History is tale of wonders and marvels. If you too are fascinated with history and love to explore cultural heritages then this is one place you shouldn't miss. One of most iconic sites in Pattaya. Intricately carved in teak wood this is an outstanding example of Thai Craftsmanship. Elaborated and marvelous carvings of elephants, people and picture stories of Thai Mythology. The piece of cultural art depicted on the walls is a tribute to Ancient vision of Earth, Knowledge & philosophy.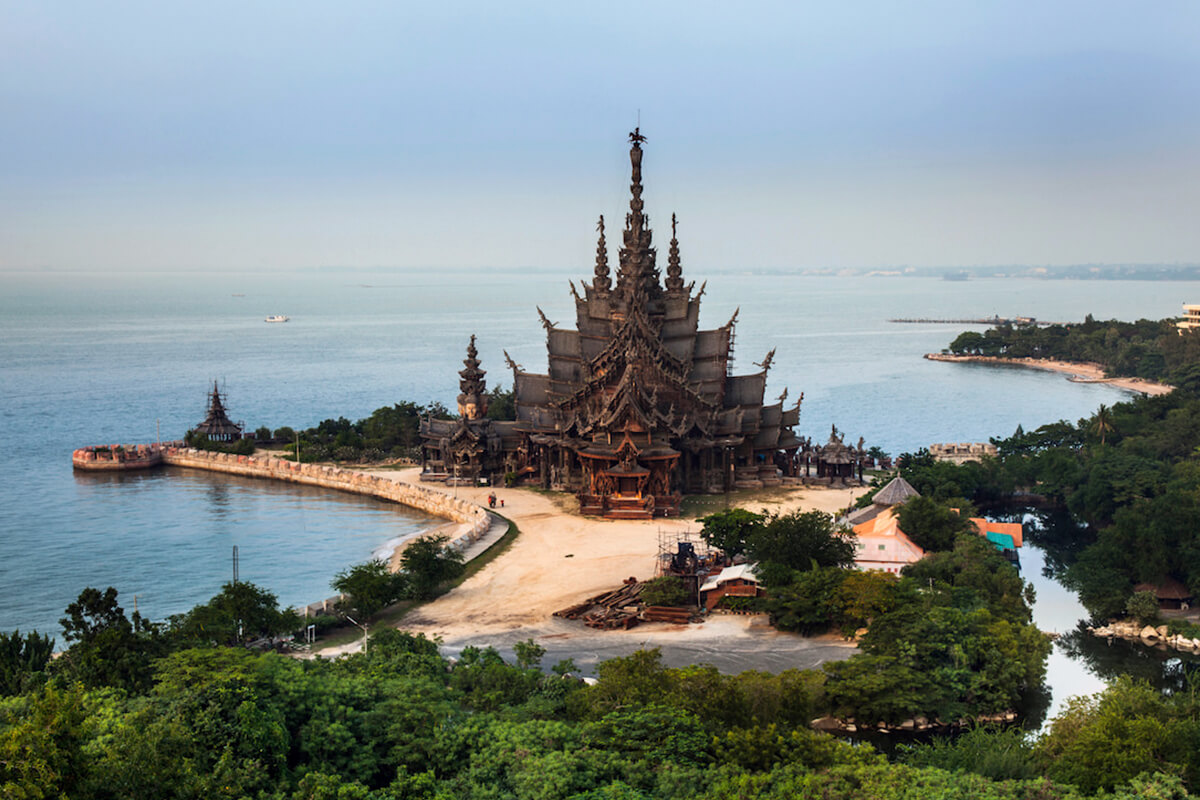 It's interesting to know that the construction that began in 1981, is an ongoing and never ending one. One should definitely visit the tall hall to its north alongside the beach. It's not only offers picturesque views of the temple but is simply breathtaking.
Pattaya Floating Market
Spread across an area of about 100,000 sqm, the market is forked into 4 sections displaying and selling items from North, south, central and northeast part of Thailand. One can savor eateries, fruits kiosks, art galleries. There is a cultural display every afternoon put up by the local folk artists. For floating experience one can opt for boat ride and witness the serene ambience around the riverside with a scoop of Thai culture.
Pattaya View Point
Pattaya Viewpoint on Pratumnak Hill is a striking viewpoint of crescent shaped bay. The view is peaceful and tranquil. Simply qualifies to be one of the Instagram able sites.
Nong Nooch Tropical Garden
Bewitching Tropical Garden is set in 2.4 sq.km; well-manicured landscape; this botanical garden is an inspiration from 17th century French gardens, Stonehenge and European Renaissance era. Plants like cactus, succulents, orchid nurseries, tropical palms, bonsai and topiary garden is what makes this place a nature's paradise.
To explore the garden fully one should hire a bicycle and take a nature troll at leisure. Orchid nursery is one of my favorites. Garden also features spectacular Thai Dance -Music shows in Thai Cultural Hall. There are Paddle boats and cycling available too. I would recommend this for sure, smitten away by the nature at its best.
Love Art Park
Love-lust is in this park for sure. Located in south of Pattaya close to Ocean Marina Yacht club, this 49,000 sq.mts park is a display of erotic human -animal sculptures. With artistic display of sex be it fairy winged woman, chicken -hen family, Male genitals displayed by vegetables.
This place is high on erotic drama. Not recommended for families the sex humor quotient is definitely high here. Evenings are illuminated, sunsets views are striking. If looking for illuminated displays- that's not put up every evening it is advised to check with Park officials before visiting.
Mountain Buddha
This is one of my preferred places to visit in Pattaya. The very sight of artistically carved Buddha sitting cross legged with one hand resting on his knee and other in lap engraved in the northern face of Khao Chi Chan hill is alluring.
Serenity that encompasses this place is so infectious; it awakens your eyes to a beautiful life and your heart to natural serenity that lies within you. Talking about the mountain imagery it was carved in gold on this solitary limestone hill in 1996 to commemorate the Supreme patriarch.
Beaches in Pattaya
Jomtien Beach
6 km straight stretch of sand much of quieter place as compared to livewire north. Sandy shore, cleaner sea, mouthwatering seafood snacks across the shore.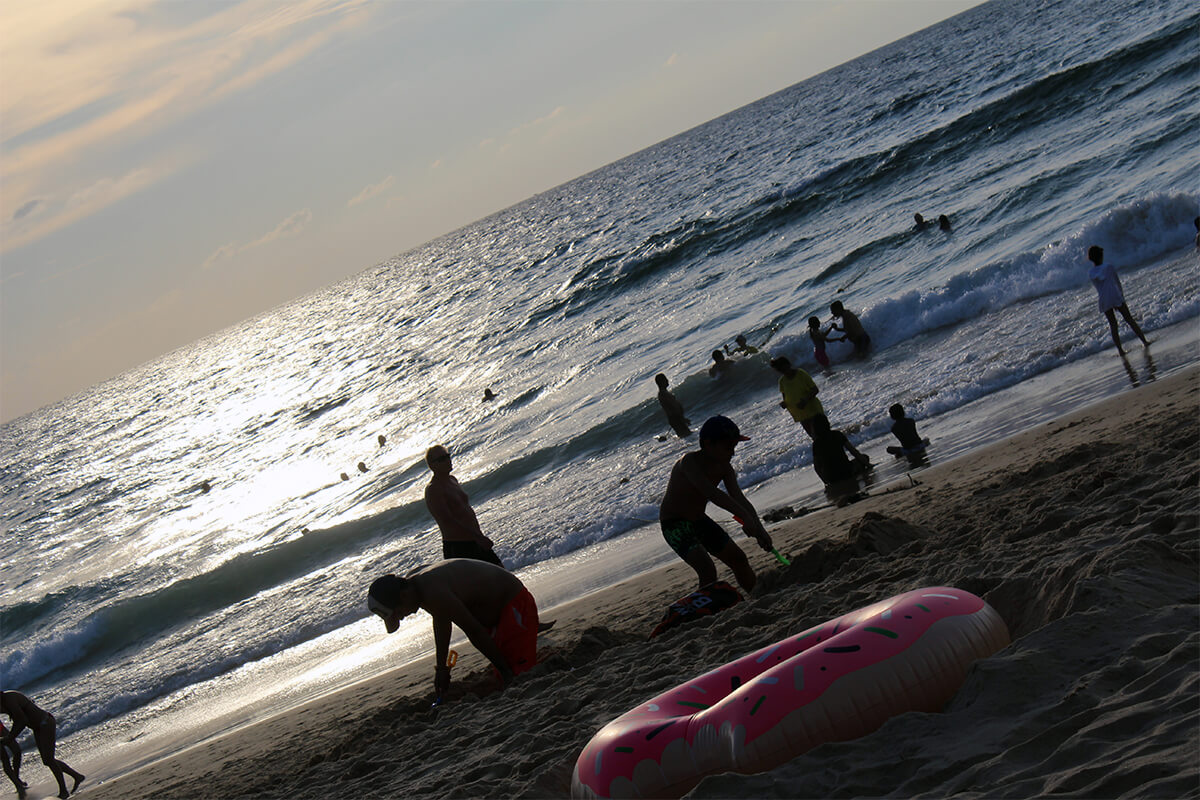 Pattaya Beach
Pattaya Beach is a 4 Km crescent coastline than just sea and sand. With huge no. of speedboats, parasails, Jet Skis, diving boats and floating restaurants. Pattaya Beach Road is a line of Palm Trees away from the shore. Between Pattaya North and Pattaya South there are large gamut of activities to keep you engaged and thrilled.
NIGHT LIFE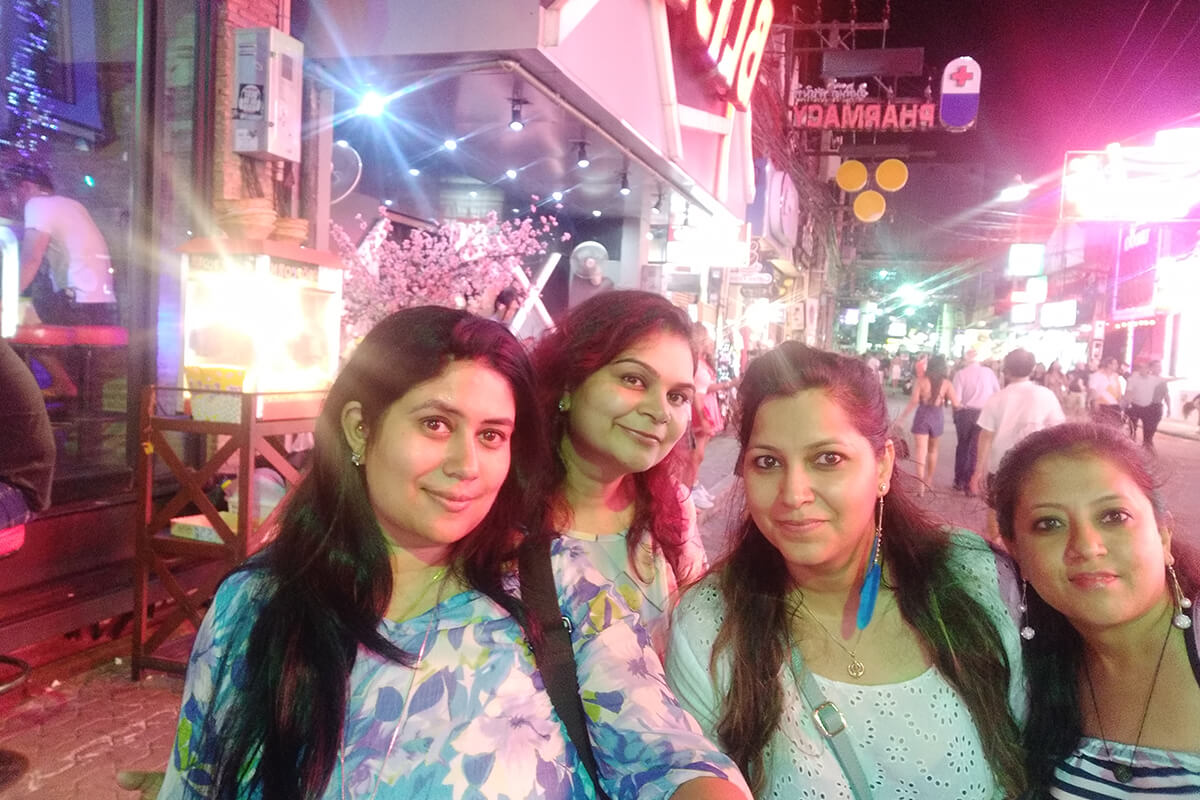 Girls Trip #Walking Street
Walking Street is one of the busiest spots in Pattaya. A Kilometer stretch of high live entertainment. From Night Clubs, to Go Go bars, Beer Bar Restaurants, eateries and shopping. The street is a high voltage erotic entertainment catering to various preferences.
What makes this street electrifying is that its so densely spread with adult entertainment that you may find yourself exploring new places each evening.
Hey but that's not all place is perfectly safe for family visitors ideally adults. Enjoy little drama while having Turkish Ice-cream and also shop at one of those street shops selling apparels, shoes, lingerie's, plenty to street eateries to enjoy. And for those who are not interested in exploring adult entertainment just a stroll on this neon lit street is a titillating experience.
Big Eye Show Pattaya
This is an 18 +adult show and takes approximately 1 hour to view. Photography is strictly not allowed and if someone is caught doing so, penalties are heavy. The show is a nude display of acts performed by Lady Boys.
The Show timings start from 6:00 Pm in evening till 10:30 in the night. Its an ongoing show so one can join anytime in between the time band mentioned above. Seats are as what available at time of your entry.
-Alcazar Cabaret Show
The show started way back in 1981. There used to be 100 performers and staff and the theatre had capacity of 350 seats only. As the show gained popularity globally, the presentation of show was modernized with technology, new performers were added, conceptual changes were done.
Today it is one of the sorted after transvestite shows with super colossal use of costumes- make up, cultural storytelling and musical display to can sweep away your hearts.
Must Watch. Kids are allowed.
Shopping
Pattaya Night Market
Covered airconditioned Thai street Market; popular amongst tourists. The place is good to shop souvenirs and summer outfits. Good variety of Beach wear especially outfits in crochet. Open markets with narrow gaps in stalls and humid heat can spoil your shopping experience that's why Pattaya Night market is much needed retail refix. Enjoy your retail therapy in much ventilated and structured ambience.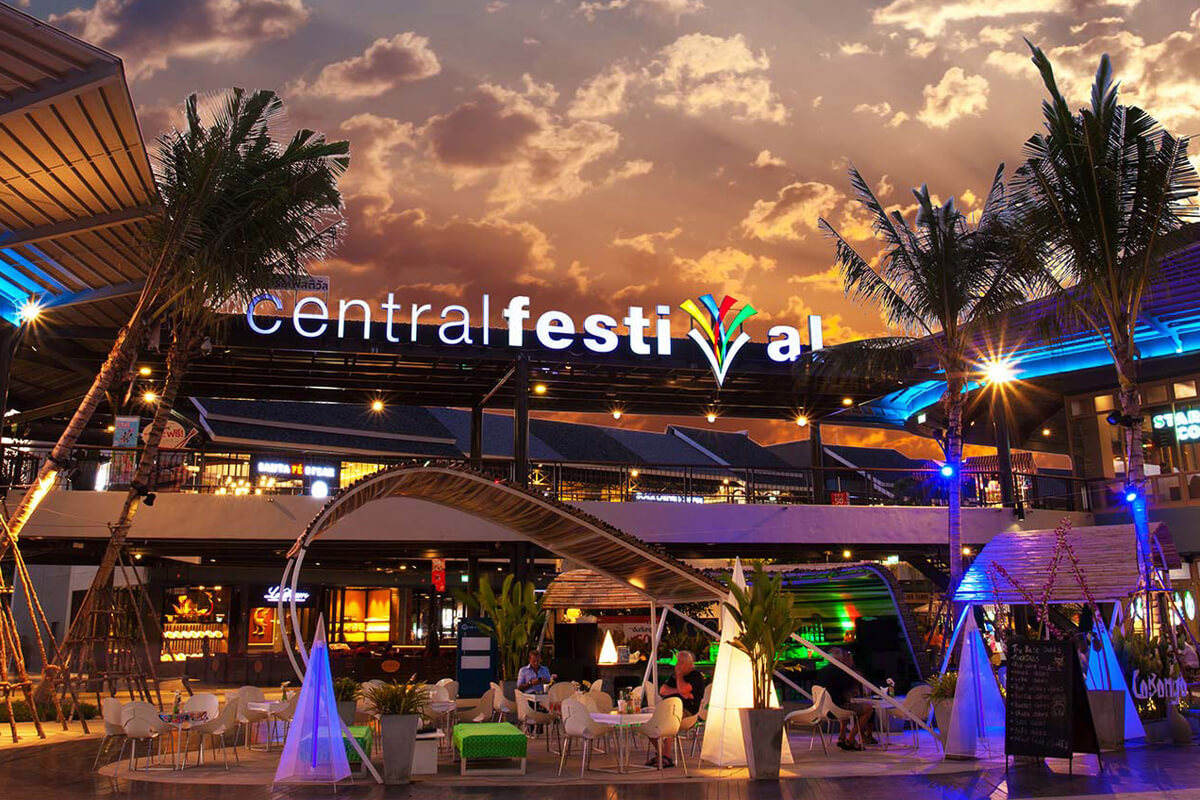 Central Festival Mall
Central Festival Mall is one of the premier malls in Pattaya. With over 300 shops its home to Numero Uno brands like H&M, Zara, Calvin Klein, Spencer etc. Lavish spread of eating points. From Middle Eastern to Italian and western cuisines. There is an electronic mart with brands like Samsung and Canon. Entertainment zone for families to watch cinema or play bowling.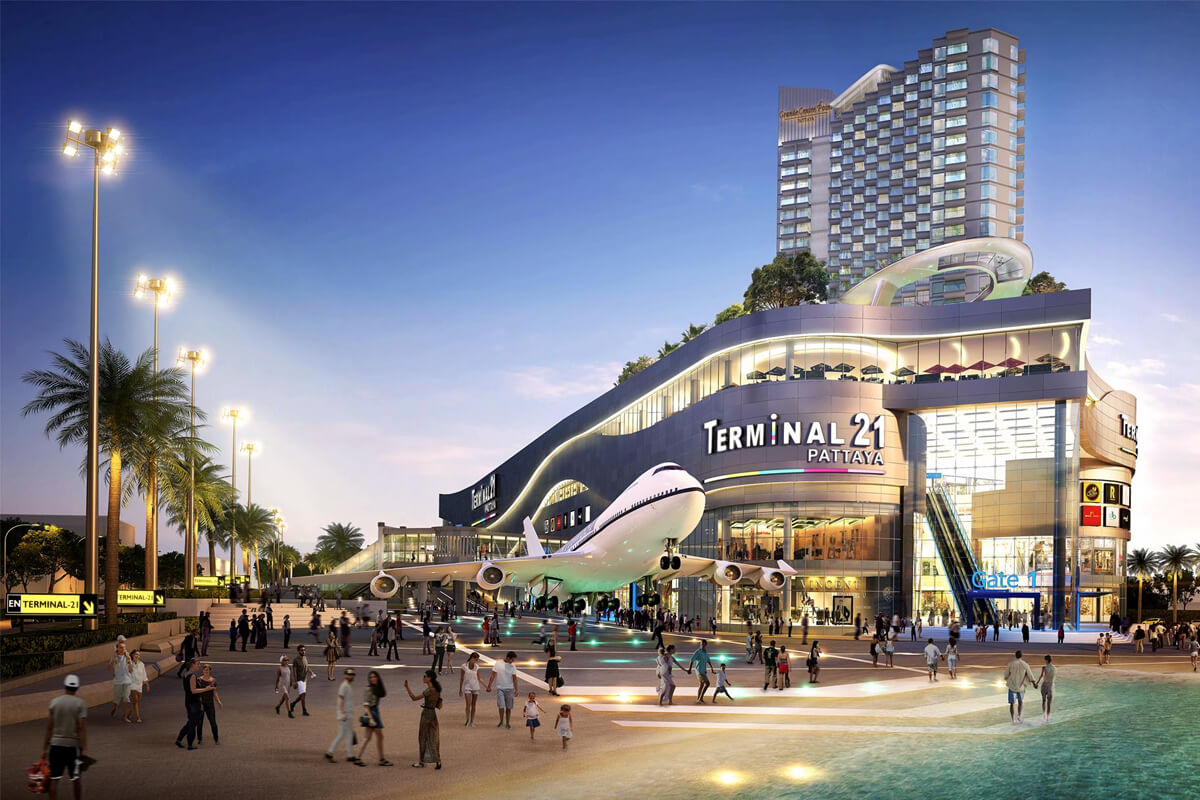 Terminal 21, Pattaya
It's shop 'o'clock around the world. This place is planned like a sleek shopping airport. 6 world class shopping cities connecting each other on different levels. What sets this place apart from any other shopping mall is one of course the different countries thematic look on each floor and the longest escalator with spectacular plane on runway about 250 meters long next to a replica of a beach.
Must Visit
Food
Cabbages & Condoms Restaurant
While it's my endeavor to promote local, sustainable and responsible tourism. I do speak about places, items and services that are popular or fall in must do list but I always prefer to keep a distance between mentions and recommendations.
So here's a big thumbs up to one of the restaurants that I recommend. Cabbages & Condoms is a restaurant with a mission to educate people on issues like health, education, HIV, environment & water. A restaurant that started as a vegetable kiosk in Bangkok selling vegetables along with Lace panties, T-shirts, Condoms and Oral Contraceptives. As the Kiosk gained popularity and the name drew curiosity amongst people. In seventies a small outdoor restaurant was added and the cuisine serving specialties like Spicy Chicken Salad, Dried shrimp, Chicken curry with potato, deep fried coconut etc. became popular with masses.
The Restaurant is thematically laid out with décor items made using colored condoms. The furniture, lantern and furnishing give rustic ambience. There are witty and informational quotes all around about sex and condoms. From wishing well to condom tree and quite few of life satirical anecdotes. The place seems to entice you to spend your time in for sure.
The Beach side view of restaurant is captivating. Extensive menu reasonably priced just look out for taxes as with that it tends to get expensive. Menu spread consists of Local cuisine, Seafood, European, Asian, Thai, Vegetarian Friendly.
One of the Award-winning restaurants in Thailand. Operating in Thailand, England & Japan it attracts diners from all across the world. Definitely worth visiting.
To know more about their social work visit www.pda.or.th