First Timers Travel Guide to Phuket, Thailand.
Thailand is blessed with beaches and is popularly known as Tropical Paradise. One of its most stunning beach destinations is Phuket. Also known as Gastronomical City by UNESCO. The place is a haven for all kind of travelers; be it a budget or a luxury travel. Phuket is adorned with pristine beaches, buzzing town, delicious International cuisines, entertaining nightlife and an amazing architecture.
Local Thai people are friendly and extend a warm hospitality to your love and affection. Personally speaking, I have heard of few people complaining that they have encountered rude and indifferent behavior extended by Thai Locals especially to Indians. However without being judgmental towards anybody, I would like to express that its the language of love that cuts barriers across boundaries.
I have traveled to various countries and trust me when I say this that no matter what vernaculars one speaks in, the first bond is always created with language of love, respect and admiration towards one another.
Watch out the video below to see how well we bonded with our cab driver especially over Bollywood songs.
Here's My Top 10 Things to do In Phuket on your first visit.
1. Where to Stay: Areas convenient and accessible from a a traveler's point of view are Karon, Patong, Phuket Town, Kata, Kamala and Bangtao. One can opt for budget as well as luxury stays at hotels, service apartments , resorts at any of the above locations.
2. Travelling with Kids: This can be tricky at times. While most places offer Zoo's and Aquarium; today's millennial kids are not just happy with this alone and rather prefer not having this as part of their itinerary.
I recommend places like Surf House Phuket, Phuket Elephant Trekking near Big Buddha Temple; Baan Telanka (Upside Down Museum); Trickeye Museum, Kids Sole Flying Trapeze, Dolphin & Crocodile Show. These places do not offer conventional amusement.
Explore Elephant Trek at Big Buddha, Phuket
They are interactive, thrilling and adventurous and keep children engaged and sugar rushes in control. But hey who said sugar rushes need to be in control on a holiday so to raise them again an activity which most of us love "Making an Ice Cream on streets of Phuket".
Watch the video below #GypsyFamily trying their hands on making an Ice Cream on streets of Phuket. Must Do for kids and adults.
3. Instagram able Viewpoints of Phuket: In today's day and era; when life is circumnavigating on social media its obligatory to click pictures at places that are worth to be broadcast ed on Instagram. Some of the viewpoints that I would recommend are.
Karon (Kata ) View Point: located on road between Kata & Nai Harn. It gives a panoramic view of three beaches Kata Noi, Kata Yai & Karon beaches which is why locals call it as Khao Saam Haad (Three Beaches Hills).
Promthep Cape is the most photographed and one the sorted locations of Phuket. The place offers mesmerizing sunsets.
Phuket's Big Buddha is not only one the landmarks to be visited on island but also offers 360-degree views of the island. The viewpoint offers seascape views of Phuket Town, Kata, Karon, Chalong Bay and more.
While there are more viewpoints to this island some of them difficult to get to. I hope these spots leave you with some amazing memories to carry back home.
4. Must Do Beaches: I definitely believe that life needs more of beaches, bon fires, sun kissed skin, toes in sand and waves hitting your feet . While Phuket is haven of beaches.
Most popular ones being Patong Beach, Karon Beach, Kata Beach and few others. Beaches have their own language, some are overcrowded, some rocky and some serene. What thrills me most is to explore lesser known beaches of any destination. Especially when photography is what I am obsessed about. One such Beach that I fell in love with was Paradise Beach.
5. Paradise Beach is located about 5 kms southwest of Patong Beach Road to Amari Phuket. Interestingly the Full Moon Festival or Phuket Biggest Beach Party is held at this beach.
Every Month on full moon popular DJ's, Locals, expats and tourists rock at this beach to party and dance all night long. Tickets are available with most travel agents. Must Do on your bucket list if you happen to be in Phuket on a full moon night.
6. Phuket offers so much on your activity platter that sometimes it becomes difficult to choose what to do for the time you have in hand. My escapades generally are a mix of everything. With my greed to see the world and the life span that's unpredictable; I normally tend to try to grab most from the places I visit.
Phuket or for that matter Thailand's most destinations offer something across age groups. Speaking about Phuket- here's my pick of Top 7 activities one must choose to do.
James Bond Island Tour -Gem of Phang Nga by Speedboat.
Sunrise Cruise from Khaolak
Phuket Old Town Tour
Phuket Fantasea Cultural Show
Phuket Street Food Tour by A Chef Tours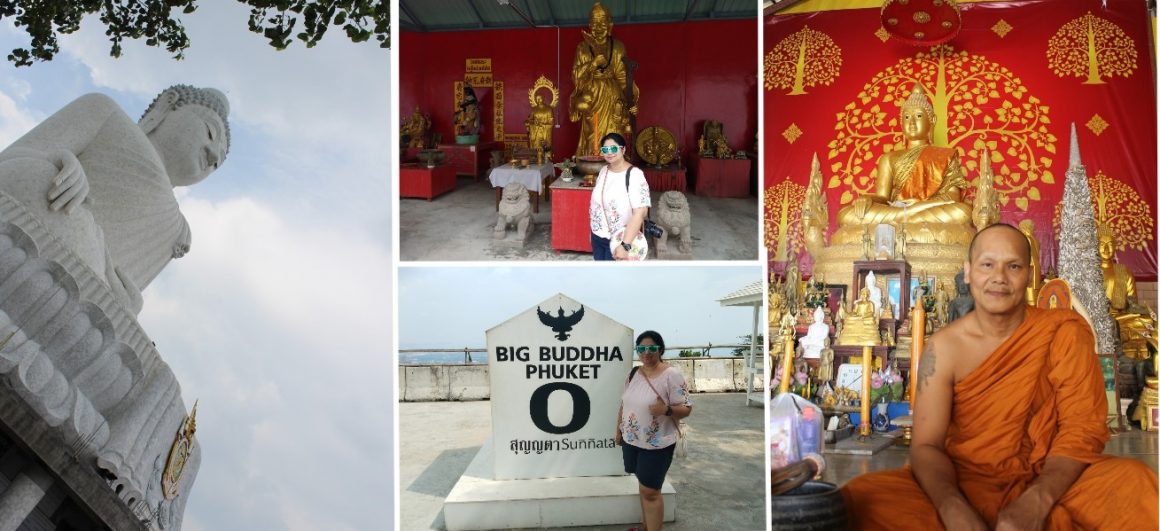 Real Phuket Sightseeing Tour with Rum Tasting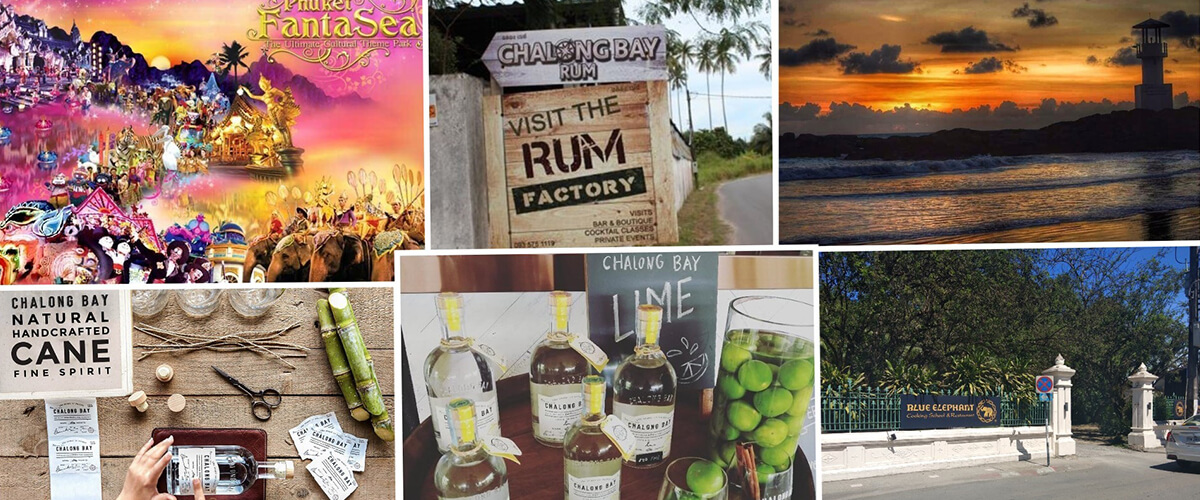 Blue Elephant half day Cooking Course
Make sure you ask for these while deciding your itinerary. They are available with most Travel partners.
Adult Entertainment
Phuket offers varied options for adult entertainment. There are Girlie Bars, Go Go Bars, Lady Boy Shows and of course Live shows. Bangla Street Near Patong Beach is the hub to this exotic and wild entertainment. While Thailand is quite popular when it comes to adult entertainment; one should adhere to basic human code of conduct and not treat the service providers unfairly as unlike any other service provider they are simply doing their job. It is advisable to beware of pick pockets and touts.
Nightlife: From Night Club Bars, to Sunset Bars to Live Music Bars; Phuket has it all. Pick what interest you the most.
Few of my favorites are a) The Tiger Disco, Bangla Road, Patong Beach; Hollywood Phuket; White Room Night Club. Most of these are near Bangla Road, Patong Beach.
Food: Phuket is Food lover's paradise especially when it comes to Sea Food. Fine Dining Restaurants to eateries to Street Food there is plenty of options for everyone. Food platter varies from Western to Asian Food. One thing that I totally recommend is trying the Street Food Tour in Old Town Phuket by A Chef Tours. Not only do you get to relish local cuisine but the spread is an amalgamation of the mix of cultures that Phuket's history has witnessed.
Take a look at the video below to decide for yourself if this tour is miss able or not?
Among st my other recommendation would be The Blue Elephant Restaurant in Phuket Town.
Blue Elephant Restaurants are primarily known for their old historical heritage buildings. It has branches in over 12 countries. Located in Phuket Town in a splendid old Chinese colonial style mansion.
The Restaurant is quite popular among st celebrities and eminent personalities. The culture and philosophy of the Restaurant is what amazes me the most. The detailing in food, the curated menus by their chefs and blends of ingredients that put magic to their dishes is simply outstanding. Its worth an eating experience at this place.
Blue Elephant is also known for the Cooking School it runs along side the Restaurant so if learning cooking from best food curators is on your mind, don't forget to enroll yourself in one of their workshops or courses offered.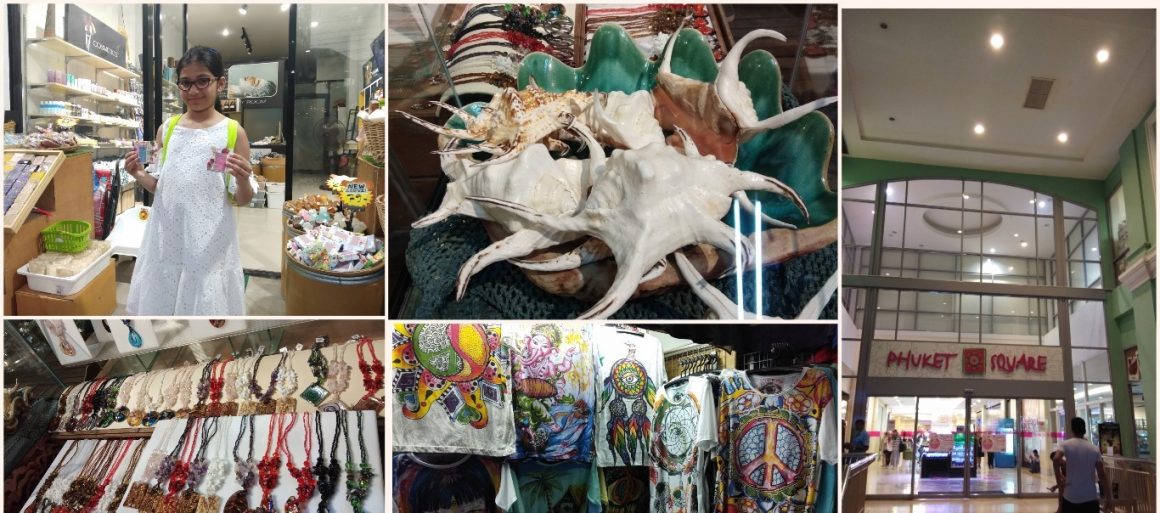 SHOPPING
If you ask me, I prefer shopping in Bangkok then at Islands unless something specific such as beach accessories. But forsake of shopping addicts here's my view on the shopping options available in Phuket.
Phuket has malls to weekend bazaars to night markets and street markets to sum it all. Few popular areas to shop are Patong, Kata, Karon, Phuket Town, Bangtao and Kamala.
Each of these places offers clothes, shoes, artifacts, food and more.
My personal pick would be Patong and Phuket Town simply for the prices and live wire environment these places offer. After all shopping shouldn't get mundane after a while. So, I prefer shopping at places that keep your energy and spirits up while you empty your pockets.
Click the image below to book Phuket Food Tour by A CHEF TOURS.