Bangkok indeed is a tourist's paradise. Whether you are a seasoned traveler or not there is one big question that we all face while choosing a destination for a holiday. And that big question often is "Does the place offer me a complete Touristy package"?
Have you wondered after all what is this Touristy Package?
I have been travelling for past 19 years and in my all escapades to various destinations, mingling with fellow travelers across the world. I can confidently state that while people do holiday for different reasons there is one thing that is common and that is "Big Expectation" from destination to offer Good Food, Shopping, Entertainment, Nightlife, Adventure and Scenic beauty and most important all of this at an affordable price. Sounds Good! Well good or not but it definitely is an overlong list of expectation.
So here comes Bangkok; a complete Touristy Package Destination. The city is high on tourism as it is also a convenient transit point to explore rest of Thailand. Travel Stats states that Bangkok is the most booked Asian destination of year 2018. Pattaya takes 10th position in the charts. Other popular Thai destinations are Hua Hin-Cha am, Phuket, Chiang Mai, Chonburi, Chiang Rai, Krabi. You can read about these spots in my other blog stories.
But for now, let's have a look at what makes Bangkok a Avant Garde Destination.
Girls Group Tour organized by Travel Tummy.
Accommodations
From Airbnb to hostels to hotels to resorts. Bangkok fits in everyone's budget and that's the best thing about the place. Best locations from accessibility, food and entertainment purpose are Sukhumvit, Silom, Siam, Pratunam and Riverside.
I prefer Hotels in around Sukhumvit Soi 11; for its proximity to various destinations, good spread of Restaurants offering Asian food and BTS Skytrain station just around the corner.
Personally, experienced hotels that I recommend are Grand Swiss Sukhumvit 11 Hotel Bangkok by Compass Hospitality and Citrus Sukhumvit 11 by Compass Hospitality. These two properties in Sukhmvit Soi 11 are best known for rates, proximity to eateries, clubs, BTS Skytrain station and massage parlors.
Bangkok for you.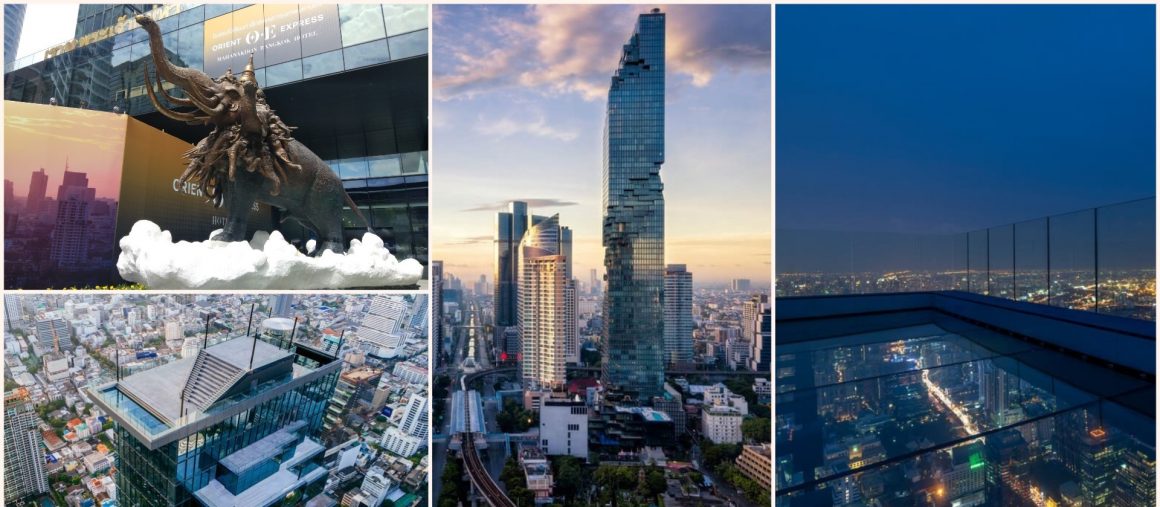 Mahanakhon Skywalk
Fear doesn't exist anywhere except in our minds. Dare to challenge it? Try exploring Thailand's highest observation deck at 314 meters offering 360-degree panoramic views of the city. One can experience world's largest glass trays at height of 310 meters from 78th Floor. Best views of the city. One is permitted photography from official photo taking area only.
A spectacular show offering a grand feast of sight, sound and taste. The show presents legendary stories of Thai Mythology and Culture. The entry starts at about 5.30 Pm in evening and one can enjoy early Dinner Buffet, Thai Massage, Elephant rides and Souvenir shops.
The show starts at about 8:00 PM. Performed on a huge stage listed in Guinness World Records. About 100 performers in more than 500 costumes. The show displays special effects using cutting edge technology. Must do for those who love to appreciate art and take a glimpse into Thailand's art and culture.
Pic Courtesy Bangkok.com
Floating Markets are quite popular amongst the visitors and tourists to Thailand. For first timers this seems to be a must do in their bucket list.
There are quite a few floating markets in around Bangkok. While most of the markets have boats piled with tropical fruits, vegetables, coconut juices and local cooked food. It's the ambience that makes a difference in the experience. Some are crowded with locals while some have mix of locals and tourists. Some Floating Markets are in Bangkok while others are in radius of 20-50 kms outside the city.
The one that's ringing the bell is Damnoen Saduak Floating market. Hollywood friendly this market has featured in James Bond Classic "The Man with the Golden Gun with Roger Moore as James Bond.
In 2008 the film Bangkok Dangerous starring Nicolas Cage shot a scene in the market place and thus making this market quite popular amongst tourists.
The market exhibits aquatic culture well blended with Thai architecture around the place. One can shop traditional puppets, noodle soup, bamboo hats and more.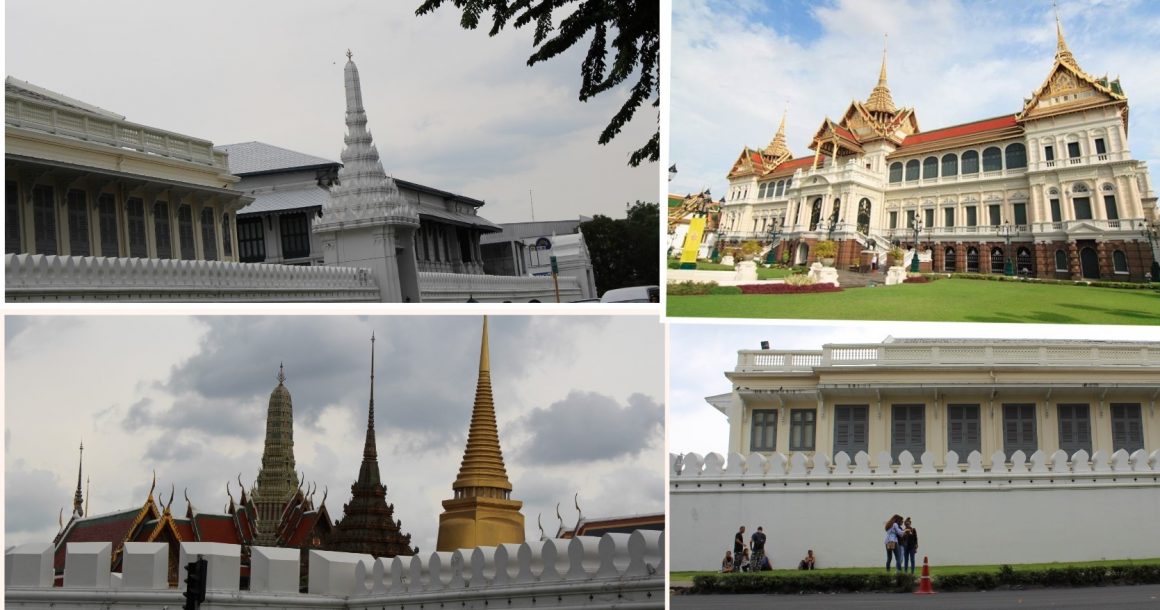 Grand Palace- Emerald Buddha-Reclining Buddha
Grand Palace is one of the spectacular spots of Bangkok. A must do in your first visit. Built in 1782 its been home to generations of Thai Monarchy for 150 years. The Palace also held Thai war ministry, state departments.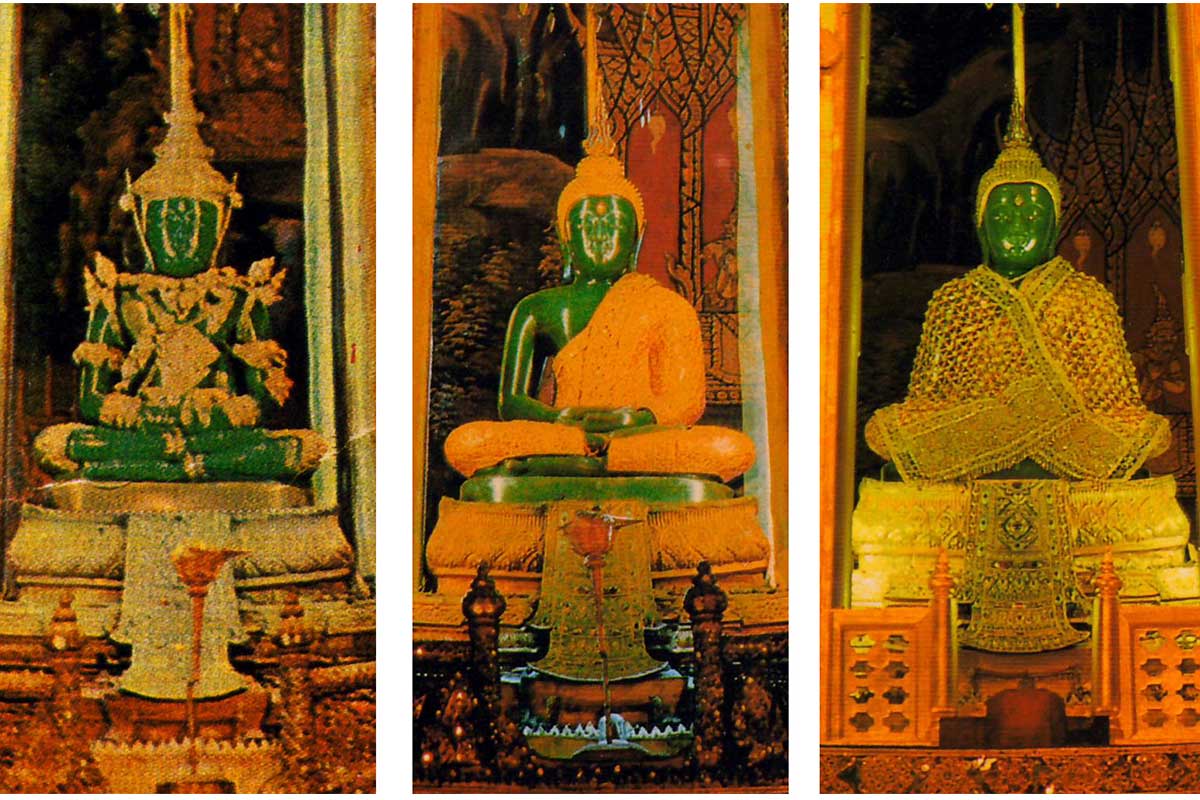 Within the Palace there are impressive shrines of Buddha popularly and locally known as Wat Phra Kaew or the Emerald Buddha. The Emerald Buddha (Phra Putta Maha Mani Ratana Patimakron) is a Buddha image in meditating pose in the style of the Lanna School of the North way back from 15th century AD. The robes of Buddha are changed by the HM The king of Thailand and is considered an important ritual of Buddhist calendar. Though the King doesn't reside here but most ceremonial and auspicious ceremonies are held in the Palace.
Wat Pho -Golden Reclining Buddha
The picture of Golden Reclining Buddha is the most iconic image used to promote Bangkok. Hence making it a must do spot. The Buddha figure is about 15 meters tall, 46 meters long; feet are about 5 meters long decorated in Mother of Pearl illustrations of auspicious laksanas of the Buddha. 108 is a significant number referring to 108 positive actions and symbols that helped lead Buddha to perfection.
One needs to be appropriately dressed which is no exposed shoulders or skin above the knee. Wat Pho also is known for therapeutic massages. Post temple visit if you wish to relax your feet or try various massages to relieve your stress and improve blood circulation.
Pic Courtesy- Bangkok.com
Envisioned by King Taksin in 1768, it is believed that after fighting his way out of Ayutthaya which was taken over by Burmese army at that time, he arrived at this temple. He named it as Temple of Dawn. Emerald Buddha was earlier stationed here before moving to Grand Palace. Rama 111 further added spires of porcelain to add to grandeur of this temple. One of iconic sites of Bangkok. The night views of temple are simply mesmerizing.
Chao Phraya River Dinner Cruise
Be it a honeymoon or a new year's night cruise ride on the Chao Phraya River is one of most intoxicating experience. One can enjoy views of some of the most iconic buildings, light music on the boat, riverside scenery, watch live performances, World class Thai cuisine buffet. In short simply splendid. One should definitely do this to carry back timeless memories. Ideal for private parties, wedding receptions or incentive groups.
Pic Courtesy -Blue Elephant School
Blue Elephant Half Day Cooking Tour: Love to explore the world gastronomy or are simply foodies; then this is the tour for you.
Upon enrolling you can expect a century old mansion opening its doors to you. One can learn about rich history of recipes and taste culinary delights of royal Thai Cuisine. You shall have a mentor chef greeting you with welcome drink. Then would be a discussion round together for you to curate your 4-course meal. One needs to head to market to get ingredients that chef has listed and then get back to school. Now comes the action time so get set into your aprons and start following instructions from the chef for your menu and after you put in all the hard work; its time to lay the food presentation and taste it.
If you are high on your adrenalin rush and possess martial art instincts then this is a must for you. You may choose to witness live action or may chose to learn the art but let me warn you this is no joke its real sweat in the ring.
Muay Thai in Bangkok is neon lights flood ring with two men's spiritual thanksgiving to their teachers, spirits and sport in a ceremony called Wai Khru.
The stadium witnesses loud Thai classical instruments playing music with boxers performing a Ram Muay-dance demonstrating their skills and styles. These pre match ceremonies are believed to bring in luck and protection to boxers. Post that match starts, stay tight as it does gets bloody and gore some to watch.
Most famous of Thai Boxing academy is Master Toddy's Muay Academy named after master himself. He is considered as "The father of Muay Thai Boxing"; one can learn Muay Boran, Krabi Krabong, Western Boxing, Women's self-defense and MMA.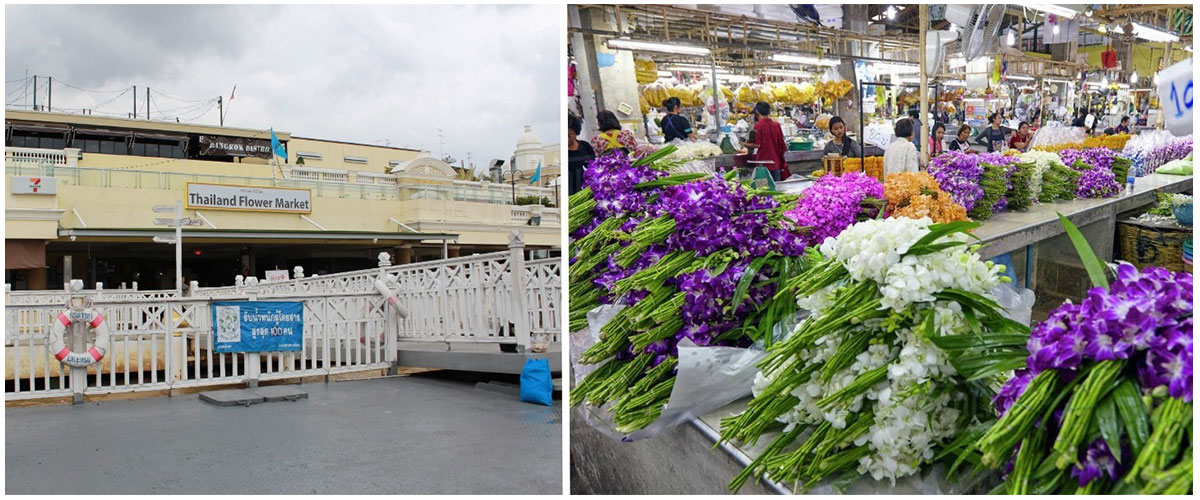 2. Thailand Flower Market-Chao Phraya Pier
Thailand Flower Market is not a typical bucket list spot but I would definitely suggest visiting this place. Be it with your family or a solo trip there is so much to learn from flowers. I personally believe in "Flower Sermons". Wanna try? Here you go take Lotus flower for instance it teaches-Trust in the Light; grow in the dirt and believe in new beginnings. Another One- look at Jasmine flower- smiles at darkness of night.
One can grace flowers like Jasmine, Chrysanthemum, Orchids, Lillies, roses, tulips and many more. It's nature's feast to one's sight.
Vacations are best way to detox your mind body and soul, one should often look at visiting places that are not necessarily must do's but do teach you life sermons unknowingly.
And don't forget to buy yourself a bunch because you are worth it.
Chao Mae Tuptim Shrine: There are many phallic shrines in the world with various beliefs and facts. This shrine in Bangkok believes in worshipping phallus to encourage fertility and marital bliss amongst couples. Women looking forward to pregnancy, young girls for wishing marital bliss or for general marital contentment offer beauty products, phallus in the shrine as offerings.
Bangkok is a hub for spa's and massages. There are innumerable massage centers offering beauty spa's, therapeutic massages to general massages for daily lifestyle requirements. One cannot imagine Bangkok without a massage so whether its your first time or fifth, leaving Bangkok without a massage is simply not a good idea.
One can chose to opt for a massage parlor outside your hotel or call masseur in hotel room via hotel. There are massage parlors inside hotels too or chose a parlor in any of the malls. There are many choices suiting your pocket and preference.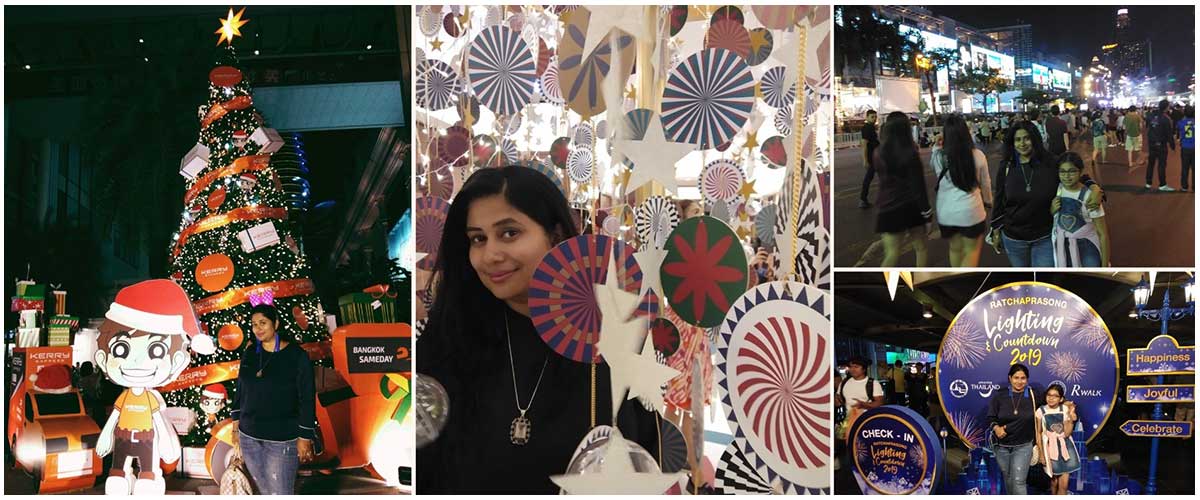 New Year is one time of the year that rocks indeed and witnessing this rocking moment is a lifetime opportunity one shouldn't miss at all. One such work trip to Bangkok during New Year's just made my day. The only low down is that the places are jammed packed with no space to breathe; at times becomes too claustrophobic but whose complaining with that kind of titillating backdrop. Children and those suffering from breathing ailments should be avoided.
Bangkok puts up a great show on New Year's; while there are many spots celebrating the New year's frenzy one such public event is held at Centre World Mega Shopping Complex. The mall is home to branded clothing, gourmet eateries, ice skating ring-though most of them shuts down early in the evening as the place turns into one mega venue to witness New Year's countdown.
Pre countdown festivity starts with live music bands playing popular nos. of Western and Thai Music. One can watch popular Thai TV & Cinema Stars coming and performing on musical nos. before the countdown onset starts. There are street food hawkers, people selling neon lit hair bands, new year body accessories to add to the season flavor.
Watch the Pre & Countdown video to decide if this event is for you?
-Pratunam: This is one of the most famous street markets of Bangkok selling clothes, shoes, accessories at wholesale prices. Popular with small local & international shopkeepers who buy in bulk. Prices are cheap at times unbelievable. The market operates on cash payments only. The area is huge spread across tiny by lanes and stalls sometimes get difficult to find your way out. It's quite a maze but who is complaining for the deals one gets to find here. If shopping is in your mind then carry lot of money and bags because you are definitely coming out with empty pockets.
Malls
Terminal 21 is a whole world in one place. The Mall is haven to shopaholics laid out in market street style inspired from 8 world class shopping cities. The Place is spread out on different levels with escalators flying you from one city to another. So Welcome to Caribbean, Rome, Paris, Tokyo, London, Istanbul, San Francisco and Hollywood. What's your pick? Accessible with BTS and MRT Routes.
MBK Center
Bangkok's most legendary shopping mall amongst tourists and locals. There are 8 floors with 2000 shops that sell almost everything from clothes, make up, fashion accessories, handbags, food eateries with level full dedicated to electronics. One can sell and buy electronic items here. It's not as upmarket or plush as Siam Paragon but it offers great products and considerably less prices. Easy access via sky train or TukTuk or cabs.
Products are value for money and bargains do work here. Try your luck.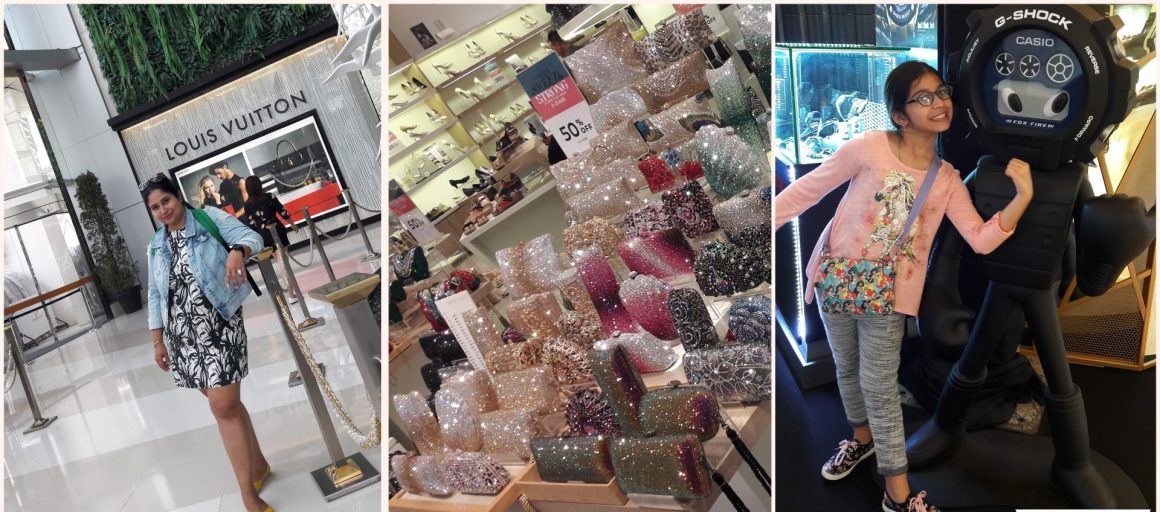 Siam Paragon
One of the high-end shopping destinations in Bangkok. The mall houses a host of international brands, South East Asia's largest aquarium, 16 screen cineplex and a comprehensive world cuisine.
Located conveniently in front of Siam BTS sky train station. The mall has a collection of over 250 international brands so if something exclusive is on your mind then this is the place for you.
Asiatique
Asiatique is one of my favorites shopping spots in Bangkok, a night bazaar and a vintage mall. One can ride a ferry from Saphan Taksin BTS station. With over 1500 boutiques and 40 restaurants this place is splendid. What I like most about this place are the views down river with ferries doing rounds, the big Ferris wheel and the buzz that's so much fun. The place for sure gives a great shopping orgasm.
Bangkok for Kids
Bangkok has some great spots for Kids to enjoy too such as homeland's famous KidZania situated in popular Siam Paragon Mall on 5th Floor;
Bounce Inc. is an action-packed trampoline park and Climbing Centre.
Most popular amongst kids is the Safari World Park offering fun at Animal Kingdom and Marine Park both. One can feed animals and also watch great shows put up by these animals.
I have always said that while they put a great show for us; we too should be compassionate and treat them with love and care. Never hurt animals.
Gypsyescapade does not promote nor encourages any sort of recommended fun activities that involves or promotes cruelty against animals.
Nightlife
–PatPong
World's most glorified red-light district. Patpong is where Thailand's Go-Go Culture started. The same came in spotlight and was immortalized in James Bond Chase sequence. Patpong is spread between two parallel side streets between Silom and Surawongse road. With neon lit strips bars, pole dancing; go go bars and naughty shows openly offered to visitors and tourists. This street is indeed having some electrifying pleasure waiting to be consumed.
Patpong undoubtedly is the King of the scene compared to Soi Cowboy its counterpart in Sukhmvit area. The place also sells street junkies to tourists and visitors. Dull and dumb in the day and in the night its completely opposite -unrecognizable.
Need we say more as to why Bangkok is rated as Top Tourist destination?