Switzerland has long been famed by Indian Bollywood Industry as destination of love birds. The place holds both pride & joy in its snow-capped mountains, manicured hill gardens, fresh breeze and lakes all around the this dreamy landlocked mountainous country.
Switzerland is also famously known as the "Banking Capital of the world".
With so many whimsical and panoramic views to watch, it's rather challenging to narrow down the itinerary for any first time visitor.
Here's a snapshot of my first time visit itinerary for Switzerland with a focus on must visit places. So get going and derive your own itinerary to explore Swiss attractions.
1.ZURICH
Zurich is Swiss cosmopolitan city with a well-known banking sector mushrooming around the city. For me Zurich was my base camp to explore the popular booming towns of Switzerland. The major advantage that the place offers is the connectivity via trains every minute to various sectors making it convenient to plan a lot more destinations when on a short itinerary visit. I stayed with Park Inn By Radisson Zurich Airport Hotel for its sheer proximity to airport and the Train Station at airport Zurich Hbf.
Things you should know
SWISS TRAVEL SYSTEM
The best way to explore Switzerland is with the highly efficient Swiss Pass. Holders of this pass have access to all trains (including panoramic trains), buses and boats as well as entry to more than 470 museums across the country. Also, holders are entitled to 50 percent off mountain rails, and children under 16 years old travel for free. Bonus for families!
Swiss Travel Pass: Best one can get. Passes are available for 3, 4.8,15 days Continuous journey.
More info: www.swisstours.com
Safe City: Zurich is safe, one can travel safely in night as a solo traveller too. However take caution of pick picketers' like in any other European city.
Smoking: legal age is 16 for smoking. Smoke only in designated areas.
SIGHTSEEING – 24 hours x 7 cities
ZURICH
Zurich is largely a medieval town with a spectrum of places to look into from architecture worth admiring from museums to galleries. Zurich showcases International Art at a different scale altogether.
Must Visits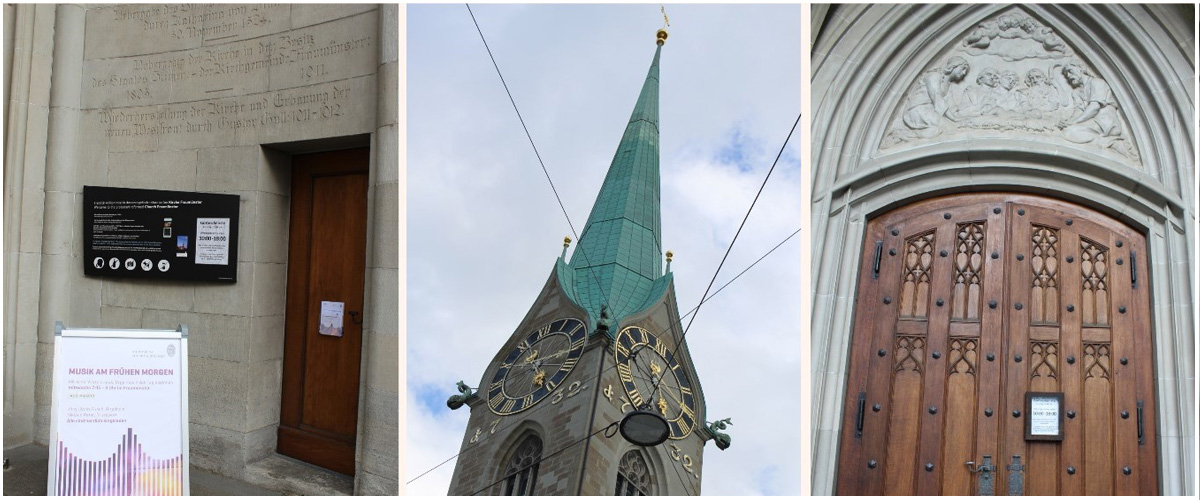 FRAUMUNSTER: Fraumunster is a stained glass window in the choir created by French artist Marc Chagall in early 1970's. Fraumunster literally means women's abbey, it belonged to Benedictine convent whose abbess had wide powers in Zurich.
Pic Courtesy: mntviews.blogspot.com
UETLIBERG: It's Zurich's own little mountain marking the end of the Albis mountain chain on the western side of the lake Zurich. The lookout tower is the highlight of this place giving amazing views of the city, the lake and the Alps.
LAKE ZURICH: Lake Zurich is one of the highlights of the city. One thing that one shouldn't miss doing is walking along the shores; it's such a cool breather for your senses. Lake Zurich has a park few metres away called Chinese garden where one can relax, sunbath & play sports.
Lake Zurich Navigation Company operates ships on Lake Zurich & River Limmat, One can enjoy 10 minutes of captain's uniform and brass foghorns. Different cruises available all year around. A short cruise of 90 minutes starts every 30 minutes (May-Sep).
ZURICH UNIVERSITY University of Zurich is Switzerland's largest university founded in 1833. With 7 faculties covering some 100 different subject areas, the university offers wide variety of programmes such as Bachelor's, Master's & PHD's. University of Zurich is recognised as Europe's most prestigious research institutions. To date the Nobel Prize has been conferred on twelve UZH scholars.
Take a sneak view of the University in the video below.
Video Courtsey@www.uzh.ch
RHINE FALLS
Europe biggest waterfalls, serene, mesmerising and an astounding force of nature. One can explore castle Laufen above the falls. Walk through ancient walls and learn all about 1000 year history.
One needs to take a boat to central rock and then climb up.Boat ride gives a 360 degree view of the falls. There is an Art gallery called Rhein Art. Souvenir shops and cafes to enjoy some coffee while watching the falls is an experience in itself.
ST. GALLERHOF RESTAURANT
This cosy and warm restaurant is situated at the Sihlquai tram station in Zurich. The restaurant opened in 1998 and belongs to the Hotel Schweizerhof. The speciality of the restaurant is defined by its menu. The menu serves home style dishes prepared using regional products. From meat to cheese to vegetables; everything that is a local produce is used to prepare delicacies worth a try. Another highlight of the menu is that it changes daily and that's not all its 4 different menu's daily with a special focus on vegetarian & vegan menu. One can enjoy indoors as well as outdoors in their beautiful beer garden.
Recommended for sure.
DOLDERBAHN COGWHEEL TRAIN RIDE
A cogwheel train is a train fitted with one or more cogwheels. It is built to overcome a steep gradient in an urban environment. A short rack railway in suburb of Zurich is Dolderbahn Station. The cogwheel train goes from Romerhof Station to Bergstation Dolderbahn where The Dolder Grand Hotel is situated. The entire ride is for about 5-7 minutes with 2 stops on the way up. One can enjoy the lush green city views and the magnificent Dolder Grand Hotel.
Enjoy the Ride video
LINDT CHOCOLATE FACTORY
Chocolate is a weakness. After all who doesn't like a chocolate? Swiss chocolates are world famous for its taste and flavours. One of the reasons for Zurich popularity is the famous Lindt Factory & Plant. As one approaches the factory, one can smell the scent of chocolates in the air. This is because the production plant is based there.
Plant & factory has a small retail shop selling various varieties& flavours such as chocolate balls, pralines, bars etc. There is small production model for those who wish to admire the process of making Swiss chocolates from the stage of cocoa beans to creating the final product.
From May- September visitors can also register for a 40 minute Chocolate Experience with a Lindt Maitre Chocolatier.
| | |
| --- | --- |
| Various courses available are | |
| Occasion |   Program |
| Easter | LINDT Bunny & pralines |
| Mother's Day | Chocolate Heart filed with pralines |
| Summer Holidays | Chocolate tablet and fun filled lollipops |
| Christmas | LINDT Teddy and pralines |
Courses are suitable for children ages 5 & up accompanied by an adult.
Registrations can only be submitted online-
https://www.lindt.ch/en/die-welt-von-lindt/live-chocolate-experiences/chocolateria/
Zurich is full of attractions, some more interesting spots like
FIFA WORLD FOOTBALL MUSEUM- Zurich is hometown of international Federation of Association Football or FIFA. Its own museum tells the history of Football, FIFA & world cup.
SCHWEIZER FINANZ MUSEUM– With banks Zurich is known as city for finance and money with a museum dedicated on the same.
TRAM AND VINTAGE TRAM MUSEUM Uniforms, train tickets, model trams and lot of old trams are on display. Good place for kids to relive the past.
VICTORINOX STORE Zurich flagship store by Victorinox the Swiss family owned business. World famous for Swiss army knives, cutlery, watches, travel gear & watches.
FLEA MARKET-KANZLEI Switzerland's biggest year round flea market, up to 400 people put their second hand goods on sale.
ROSENHOFMARKT- Incense sticks, trinkets & hippie style clothes are on offer on Thursdays & Saturdays.
Little Gypsy Disha #recommends Best of Switzerland Tours AG
Choose to make your own itinerary and travel at ease by Swiss Travel Pass or one can opt for City Tours by service providers in Zurich.
Recommended by us is www.switzerland-tours.ch
info@switzerland-tour
LUCERNE
2. LUCERNE
An hour's train ride south of Zurich is the stunning city of Luzern, home to the iconic Chapel Bridge. Where history meets festivals, economics to culture; this place is the most populous town in central Switzerland.
SIGHTSEEING- 24 hours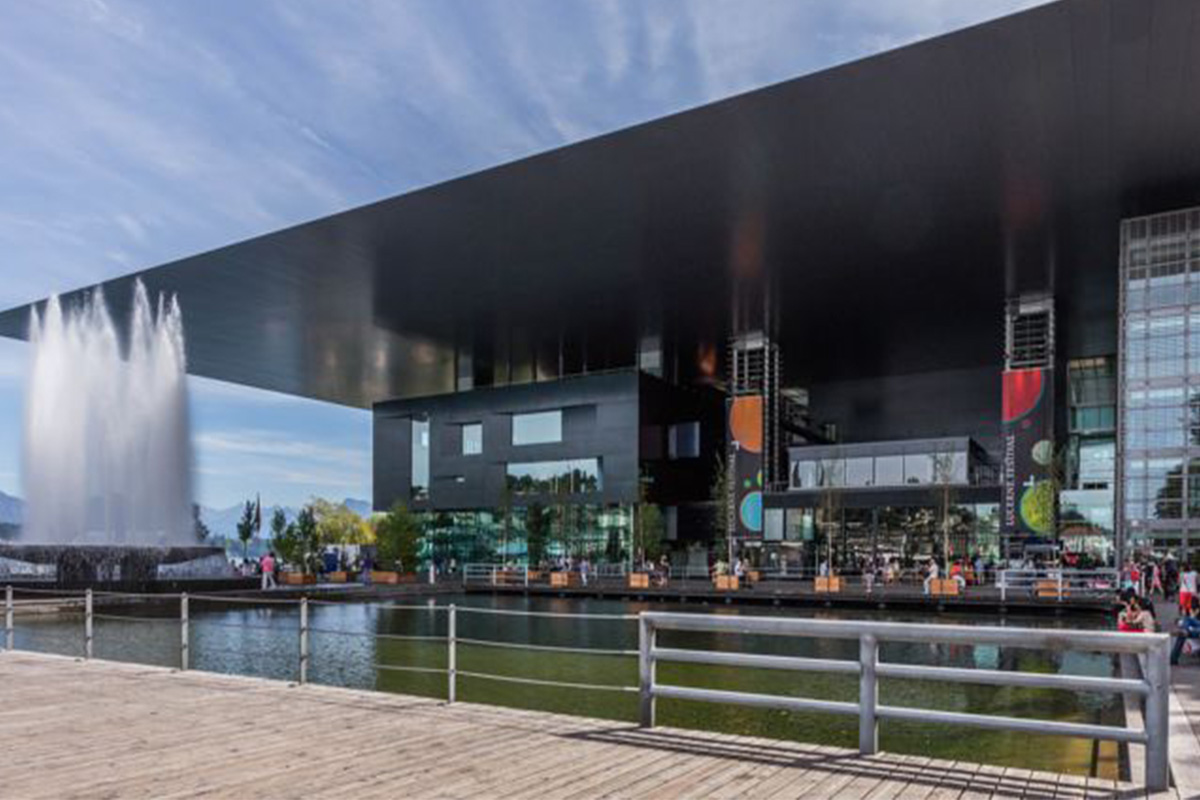 LUCERNE CULTURE & CONVENTION CENTRE: Located just outside the Luzern Bahnhof is culture & convention centre. A work of the Parisian architect Jean Nouvel. The main concert hall has 1840 seats and is world's best hall. The auditorium and museum is also a part of this centre.
BOAT RIDE – VIER WALDSTATTERSEE
One can enjoy boat ride on paddle steamers across Lake Lucerne to enjoy the breath-taking natural beauty of Alps. Vier Waldstattersee runs fleet of vintage paddle steamers & motor vessels at various intervals throughout the day. Swiss Travel Passes are valid on entire lake.
CHAPEL BRIDGE
The bridge was constructed in the first half of the 14th century as part of city's fortifications. The painted parts on the bridge depict the local Swiss culture & history including lives of Lucerne patron saints.
One of the most instagrammed picture spot in Lucerne.
Water Tower
This is an octagonal tower, over 34 meters in height. Used as an archive, treasury, prison and torture chamber. It is part of chapel bridge, a trademark attraction and Lucerne most photographed spot.
Ritterscher Palace
The palace was built as a palazzo in style of Italian renaissance in 1557. It served living quarters for Jesuits. Served as the cantonal government, palace inners can be viewed on workdays.
OLD TOWN SQUARES
The old town in Lucerne is spread across picturesque by lanes with amazing artworks on the buildings exteriors with historical frescoes. Some of the must visit spots are Muhlenplatz, Guidhall, Kornmarkt.
LION MONUMENT
The dying Lion of Lucerne is one of the world's most famous monuments. Carved out of rock it memorializes the heroism in 1792 of Swiss soldiers. Mark Twain described the Lion of Lucerne as the "saddest and most moving piece of rock in the world."
CULINARY ARTS, LUCERNE
If Culinary Arts programme post your high school or graduation is what you aspire to pursue then Culinary Arts Lucerne is the institution you should be aiming to be in.
They offer 1 week programme's for 16-20 years old who are looking at taking their first steps into the world of culinary arts. The 1 week programme offers learning basics of culinary art including chocolate and pastry- making.
More info https://www.culinaryartsswitzerland.com/en/
HOF CHURCH
Dedicated to patron Saint Leodegar, it is today Lucerne parish Church. Noteworthy spots in the church are the façade, Mary altar with relief panel dating 1500 and the soul's altar.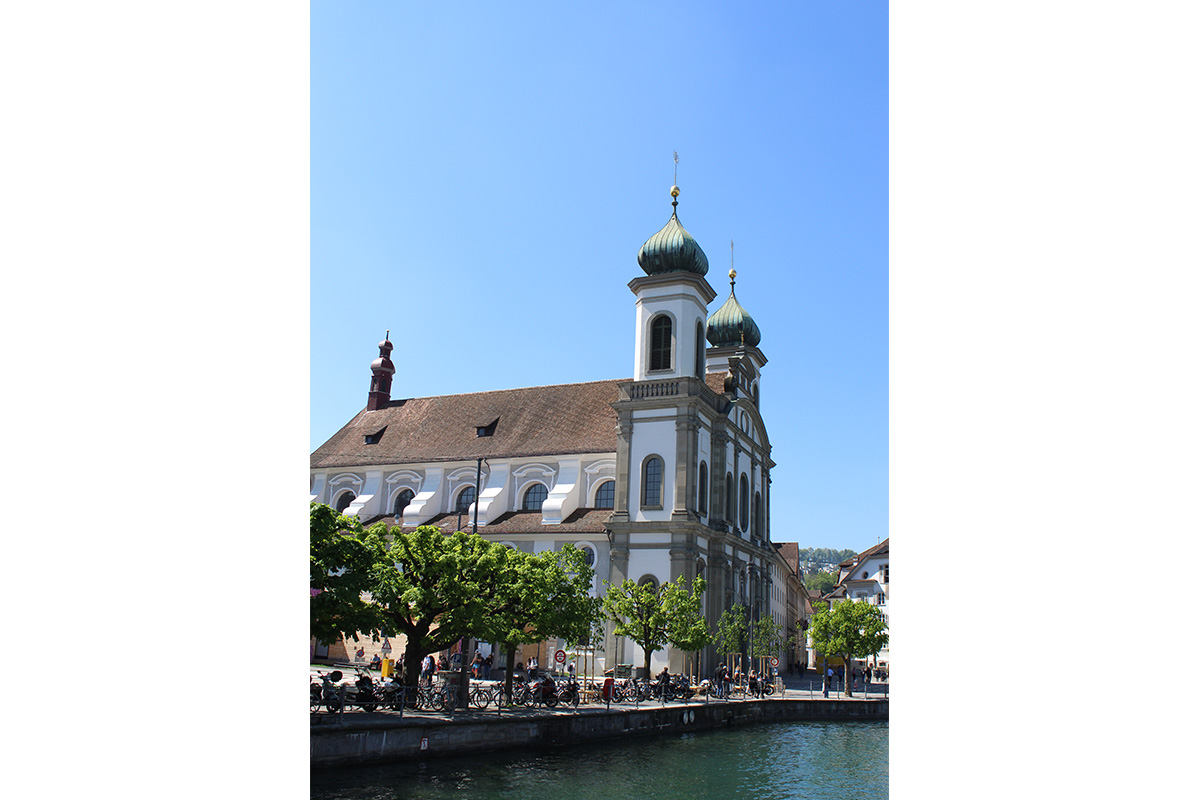 JESUIT CHURCH
Established around 1666 by father Christoph Vogler for Jesuit. The domes were embellished in mid-18th century & worth noticing are acoustics of the church.
The views from the lake and chapel bridge look surreal.
For those travelling from India, food at times becomes a tricky situation. Well here's an Indian restaurant to your rescue especially or vegetarians.
Kanchi Indian Restaurant is located in heart of Lucerne near the Lion Monument. From North & South Indian dishes to traditional tandoori clay stove, this offers a great Indian platter of Indian Cuisine. Monday to Friday cheap buffet for vegetarians and meat lovers.
Food parcels as take away option available too.
3. MOUNT PILATUS
Around the corner from Lucerne city is its very own mountain Pilatus. One of the legendary places in Central Switzerland. On clear days this mountain offers panoramic views of 73 Alpine peaks.
As the legend speaks a dragon rock fell from the sky in the year 1420. Even today Pilatus is a source of mystical discoveries and tales. The mountain can be reached from Lucerne by gondola lift and aerial cable car and from Alpnachstad with the world's steepest rack rail road. The mountain also offers various sports, hiking tours and visit to summer toboggan run.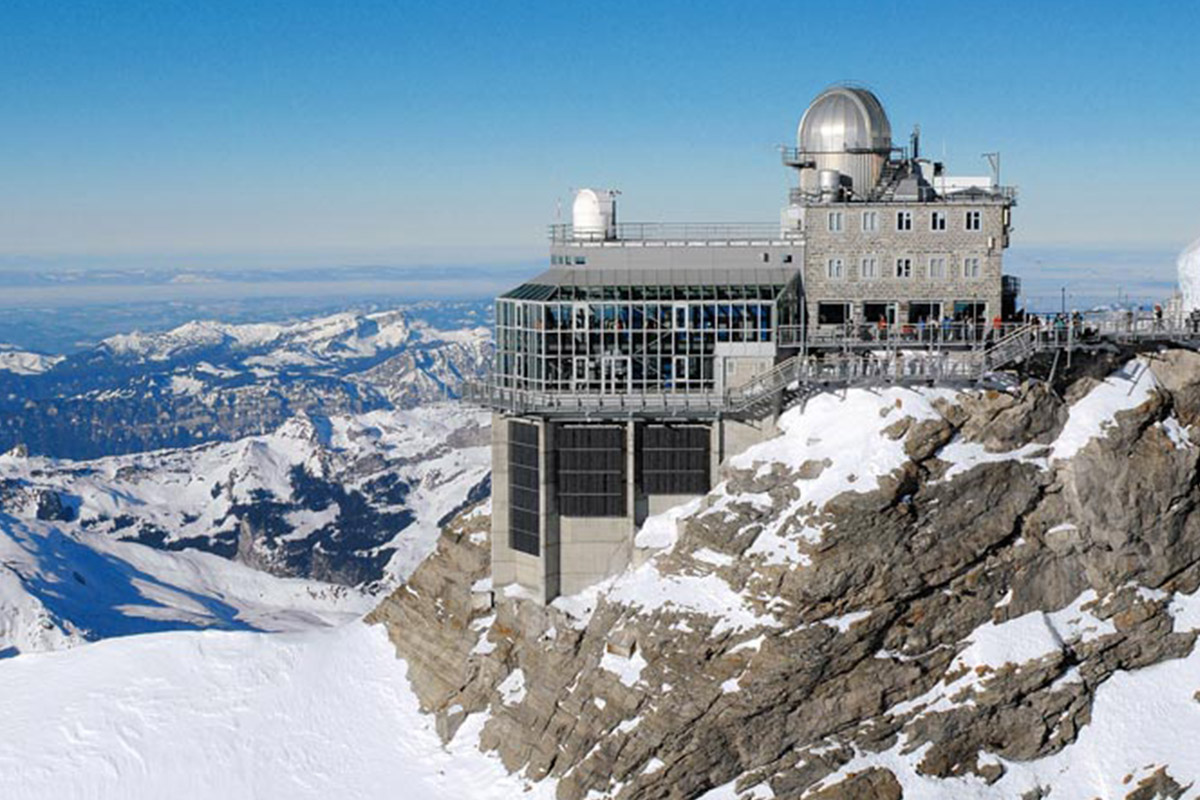 4. MOUNT JUNGFRAU
Mount Jungfrau is home to Europe's highest railway station. The journey to this mountain standing 3,454 metres above sea level, can make you feel surreal.
The journey embarks an unforgettable experience towering through Eiger & Monch Mountains. One can enjoy Alpine beauty and an astonishing tunnel experience that showcases history of world's highest railway service.
Icy air rushes across your face, snow chunks under your feet and the sheer silvery milky carpet views nearly takes your breath away; on one side the view of the Mittelland up to the Vosges, on the other the Aletsch glacier, bordered by four thousand metre peaks makes Jungfrau is must do on your itinerary.
5. BERN
Bern is the capital city of Switzerland. Not many cities have retained their historical features while Bern successfully maintains the same. The old town of Bern is a UNESCO World Heritage Site. The high point of the city is the 6 kilometres Lauben or the longest weather sheltered shopping promenades.
Must Visit Spots in Bern
– Rose garden: Rose garden is a mecca of flowers with a large park with wonderful views overseeing the Old town & Aare Loop. The park is pad to 220 different types of roses, 200 types of irises and moor beds with 28 different types of rhododendrons.
– Bern Bear Park: The Bern bear pit is a world tourist interest point. Since 2009 the bears of Bern have access to a 6000 square meters park just for them. Visitors can take a tour of old bear pit as well as the new park with green hilly terrain that includes caves and the Bear Bath in the Aare River.
– Old City of Bern: Accredited as the Unesco World heritage site, the capital city of Switzerland has a lot to offer. Its quaint old town around River Aare offers splendid views of Alps. 6 kms of limestone buildings and medieval architecture arcades. Renaissance fountains, colourful statues and royal cathedrals surrounded with embellished rooftops. Bern is indeed a gem of medieval architecture in Europe.
6. ENGELBERG & MT. TITLUS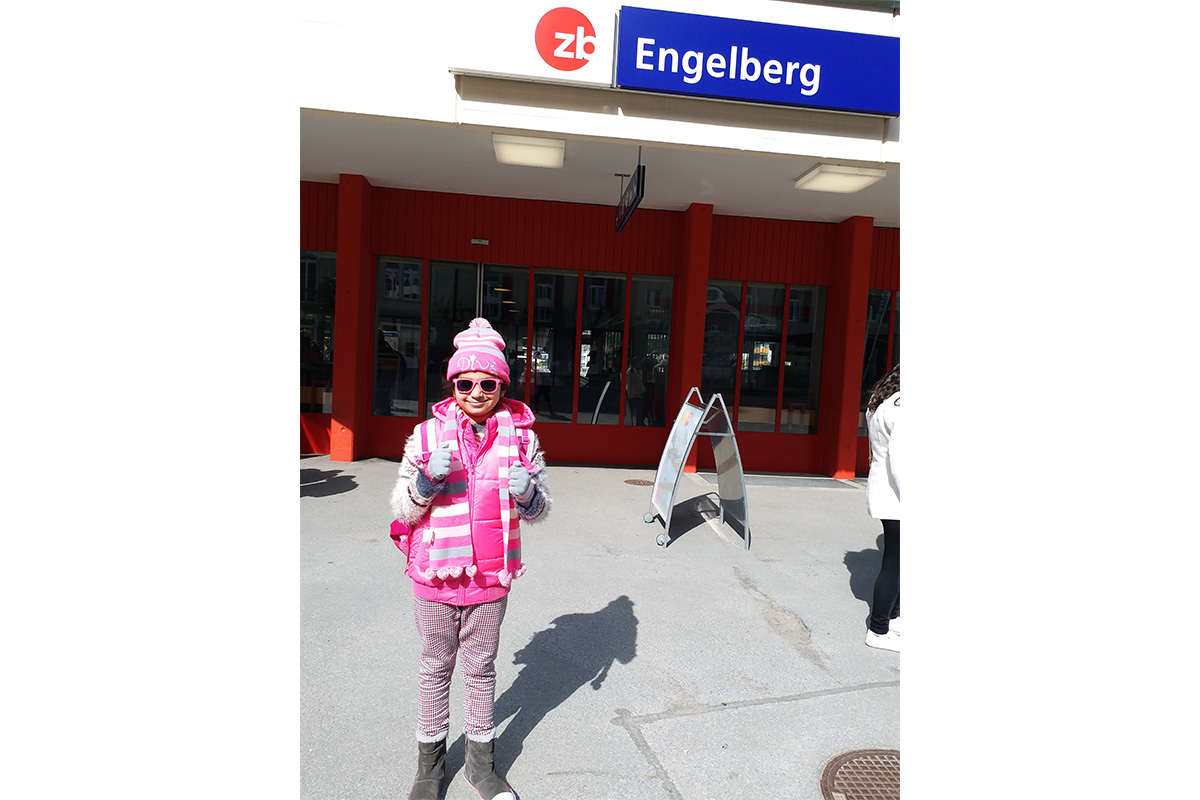 Engelberg is situated 25 kms south of Lake Lucerne in a wide valley of about 1000 metres. Adjoining to this at about 3239 metres is Titlis Mountain with its glacier and Hahnen Mountain at 2,600 metres are standing tall over the surrounding peaks.
Engelberg is one of the top 10 ski regions in Switzerland known as free ride area too. In summer the place offers mountaineering, climbing, biking and playing golf.
Mount Titlis: Touring Mount Titlis at about 3,020 metres above sea level is an incredible experience. Titlis is a sparkler in Central Switzerland and the only glacier in that area.
Popularised by Indian Cinema and featured in some of the Bollywood blockbusters, this glacier is quite adored by visitors.
Activities at Titlis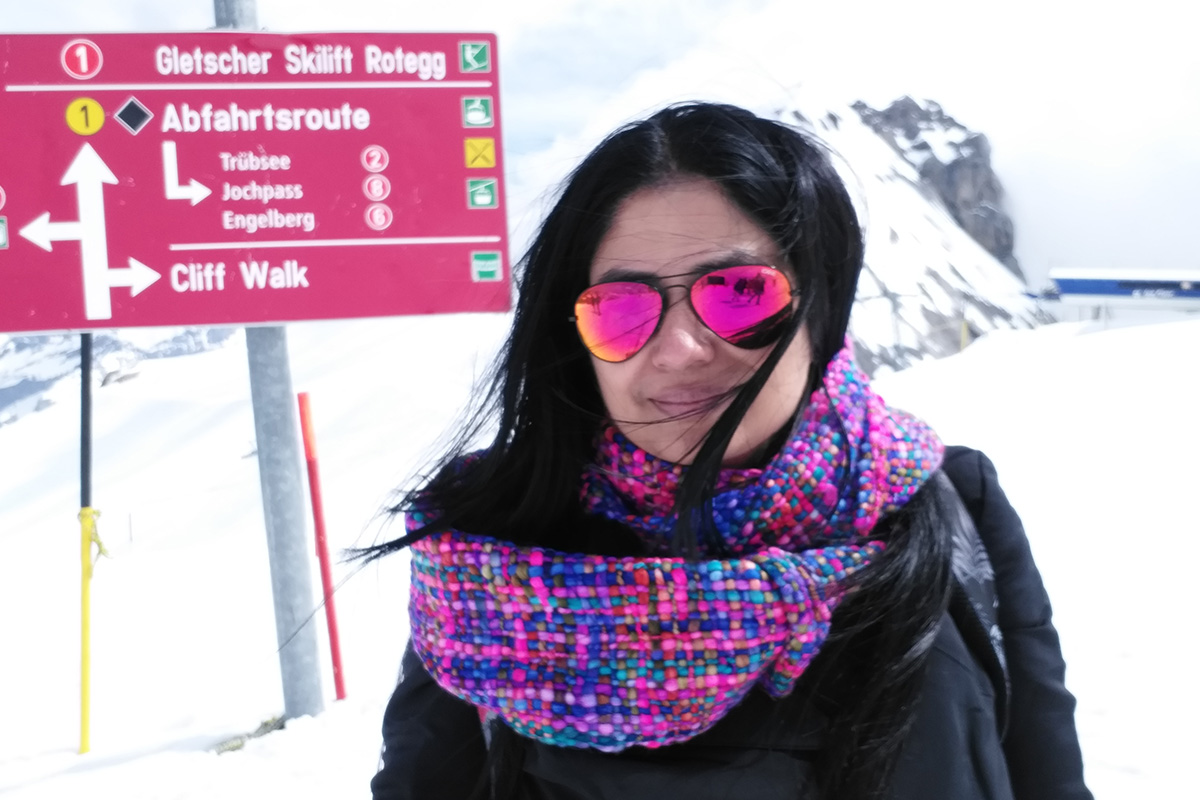 Titlis Cliff Walk: Elevation of 3020 metres, 500 meter drop. 150 steps to walk through & icy breeze rushing literally freezing your senses. One can find this exhilarating at the same time, lifetime opportunity to enjoy amazing snowy views of Alps.
If spine chilling adventure is on your mind then a must do is Titlis Ice flyer. One can experience the snow all around with spectacular views of peaks at more than 3000 metres to give you that hair raising experience.
TITLIS GLACIER CAVE
One of the focal points on Titlis peak is the Glacier Cave. Right in the centre, the cave has slippery ice walls and floors. The 150 meter long tunnel goes down to 20 meters under the glacier surface. There are few spots with ice peaks fabricated to give a real time experience of the glacier. The tunnel ends up to a souvenir shop.
Walk slow and carefully as floor is quite slippery. But the experience is worth it.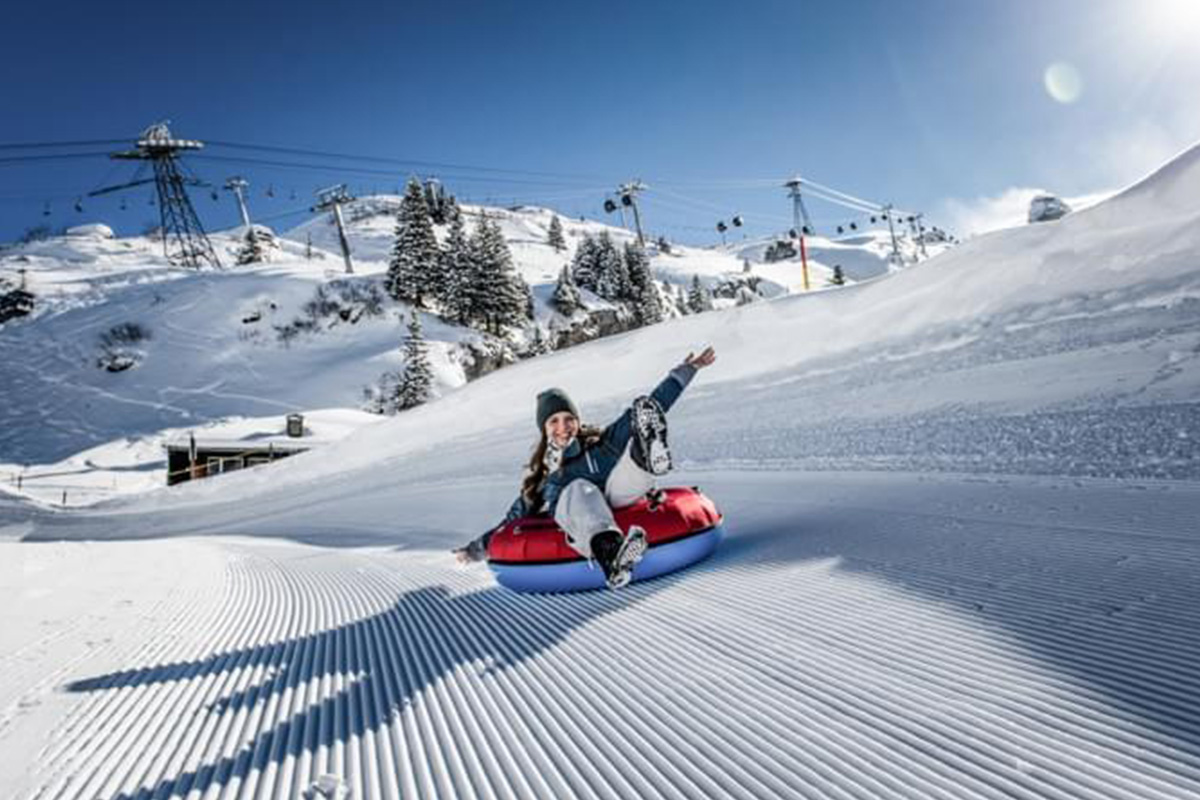 TITLIS GLACIER PARK
This offers all snow based activities all around the year. One can slip through snow toy fun balancer, snake gliss or minibobs and magic carpet conveyor belt swing you up and down.
7. GRINDELWALD –MT. EIGER & INTERLAKEN
GRINDELWALD
This is one of the most stunning and bewitching village in Switzerland. Right in midst of alpine landscape at foot of the Eiger North face. The region offers diverse adventure activities and recreational opportunities.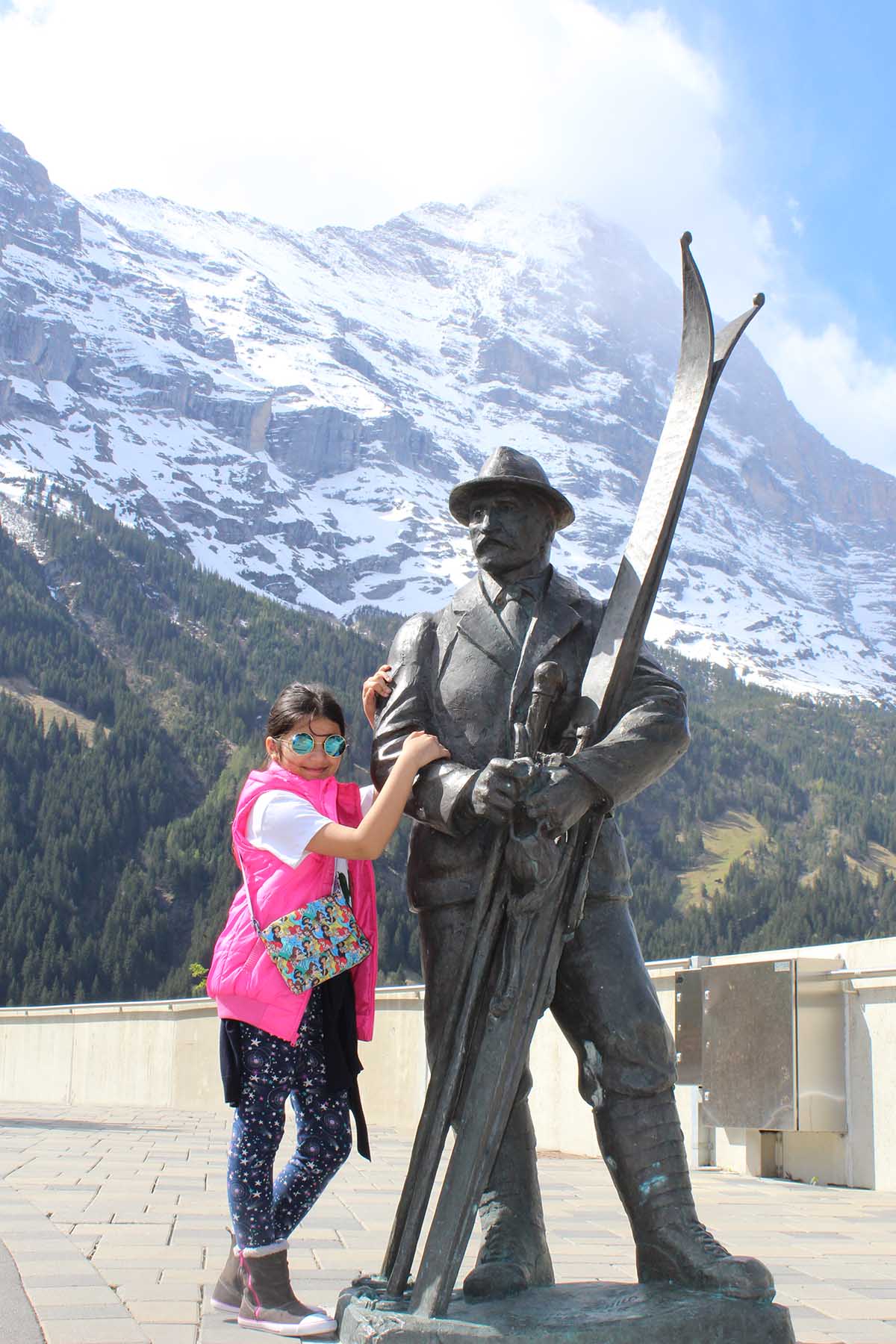 Virgin beauty, one of my personal favourite spot that refuses to leave my mind. Must Visit place on your itinerary. The other focal spots in Grindelwald are First, Kleine Scheidegg, Männlichen or Pfingstegg.
To Reach Grindelwald by rail Via Bern or Lucerne to Interlaken-Ost. Change to the Bernese Oberland Railway to Grindelwald.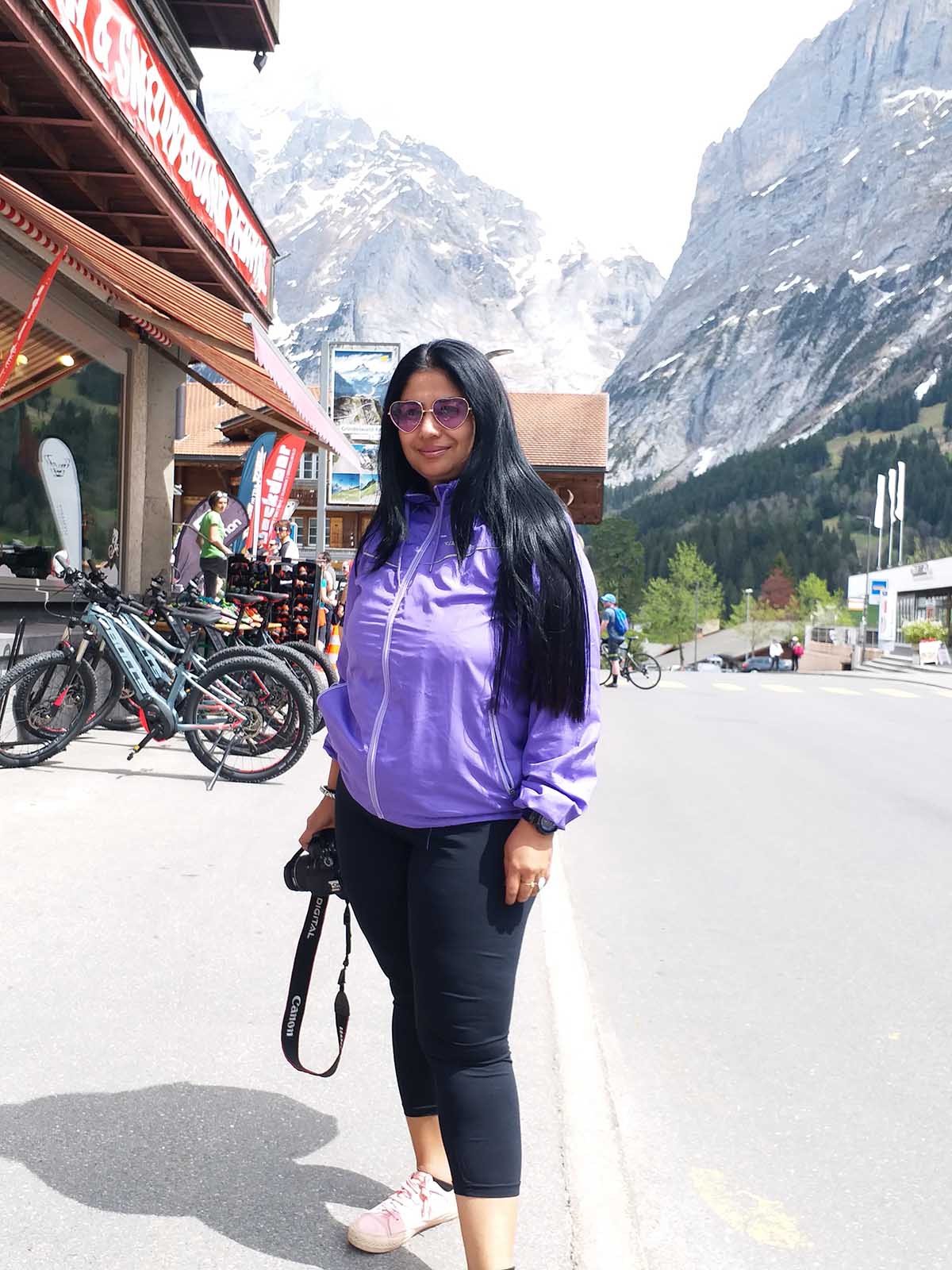 Grindelwald is a showpiece of beauty, wild romantic glacier gorge with mills and marble blocks. Also famous for Hollywood flicks James Bond movie "Your majesty Secret Service" and Star wars Episode 111- Mountain scenery for the planet Alderaan.
Must Do spots in Grindelwald are
– First Cliff walk by Tissot
Eiger walk
Eiger Trail
Bike walk
Boat Alpine playground
INTERLAKEN
Another feather in the cap of Swiss beauty is this place called Interlaken, surrounded by mountains and an enchanting lake. Interlaken is a madcap's playground. One can enjoy paragliding, boating in the lake or simply taking strolls on these cosy by lanes or spending some swiss francs on shopping at Hohematte.
One can arrive at Interlaken via train running on Bern or Lucerne sectors to Interlaken OST or Interlaken west.
Interlaken is quite popular with visitors from India. One can spot quite few Indian Restaurants in close proximity.
One such Restaurant is India King Restaurant. Just thrown stone away from Interlaken Train station, this restaurant serves Halal, Indian, Arabic & vegetarian options. Food tastes authentic and the portion size is okay. Fairly priced the place hospitality is undoubtedly good. Must visit.
Must see spots
old town & castle
Interlaken gallery
Picnic on the lake
kayaking on Lake Brienz
Wakeboarding on Lake Thun
Shopping
– St. Beatus Caves near Lake Thun: Dragon hunted by Saint Beat took shelter in this geological site as per the mythological folk lore. St. Beautus Caves are deep in heart of the mountain along with well-lit walkways. Worth a watch are the stalactites and stalagmites formed over millions of years and a cave museum bring history to life.
For more information on Switzerland visit myswitzerland.com;