COTE D AZUR VILLAS
South France the name sounds synonymous to a concoction of nature's beauty, medieval villages, super stylish retreats, luxury shopping and mesmerizing hilltops. The area is wide spread, colossal and worth passing through. Cote D Azur ignites your imagination beyond boundaries of ethereal beauty.
The place was 19th century abode for European aristocracy and royalty. It attracted many eminent composers, artists such as Pierre Auguste Renoir (French Painter) lived in Cagnes, Jean Cocteau (French Writer & Filmmaker) in Menton, Marc Chagall (French Artist) and Henri Matisse(Painter-Sculptor) in Nice. Pablo Picasso (Painter –Sculptor) chose Antibes for spending most of his adulthood. In today's time Paris is the only city that has more museums than Cote D Azur.
To know a place one should know its culture, people & food. It's always overwhelming to familiarise yourself with facts & figures as I firmly believe that they help you understand the place better.
CANNES
Cannes Public Beach
Invited as a Press representative from India for Yacht Festival around the corner, exploring Cannes was a bonus in return. My mornings were busy with the Yacht Festival happening at Palais Des Festival. And with whatever time I had in hand post festival, I decided to explore the place. In a very short time, I realised that Cannes is a hub to international festivals and a shopping destination endorsing world's most luxurious brands.
In all my solo trips there has been learning, this one was no different. Lost amidst strangers and in a season where Asians are less around the corner it was quite a task to keep going and not feeling home sick. I wouldn't disagree with the fact that my first two days were gloomy before the onset of the festival. It taught me though how to survive and start liking one's own company amongst all unknown faces. In our daily lives surrounded by family and friends we often forget to spend time with one's own self and trust me it's not easy. Travelling solo is exciting and challenging but living all by yourself in an unfamiliarised environment is no cake walk.
The first thing I did was to hit the office of tourism just next to Palais Des festival building to see what the place had in store for me.
The office of tourism has a friendly help desk offering the complete information you are looking for. My next 4 days itinerary was all set by end of my conversation.
Here are my top recommended places one shouldn't miss when in Cannes.
Cannes offers enjoyable weather, massive choice of luxury hotels, modest apartments, restaurants-road side cafes and entertainment to suit all moods. One can shop basis ones pocket however there is wide table spread for luxury out there. You can venture into sailing, diving, fishing, golf, tennis and ballroom dancing as well.
What to do when in Cannes?
Enjoy morning and evening strolls on the La Croisette or start a morning in traditional French style strolling Forville market in Le Suquet (old town) which sells vegetables and local fish Tuesdays to Sundays. Mondays are switch over to Marche Brocante or antiques flea market.
The Promenade & la Croisette are lit up in the night that makes the walkway look so romantic and composed. Sit back and enjoy world's tastiest ice-cream cones with your beloved.
The promenade is lined up with designer boutiques like Cartier, Chanel, Dior and row of luxury brands. Stretching for nearly two miles one can savour luxury in every nook and corner.
There are many other shopping arenas essentially between La Croisette and Rue d Antibes in Cannes; it's a long street with stores on both sides of the road. One can find stores like Zara, Claire's, Desigual that suit the modest pockets. Rue Meynadier is popular for local produce, artefacts and discounted deals. There are flea markets on Mondays as well.
Beaches in Cannes are situated along with the La Croisette and Boulevard du Midi. They are splited up between private and public. You can opt for the most popular swimming spots like Plage du Palais Des Festivals or book your own beach bed at the Grand Hyatt Cannes Hotel Martinez Zplage. This one is known for being the largest private beach on the croisette. Public parks are not behind. One may find few carousels and tiny parks near the Palais though one big one Cannes Rally Park at the other end offers amazing panoramic views of the bay from the pier.
The Old Town in Cannes is known for the mesmerising views of the bay and the whimsical Cathedral Notre Dame D Esperance that stands on the hill top. The church and the surroundings are lovely, calm and serene. It offers massive literature for those who wish to well verse themselves on Christianity. The narrow brick lanes with typical French style villas and apartments look enchanting.
Bang on the bay is the super structure Palais Des festival famously known for its glitz, glamour & business. Focal Point of economy;this global village of Cannes is a successful business networking destination in France after Paris. The structure has been renovated over years, the latest is the grand auditorium Louis Lumiere, the foyer and the glass window. It holds number of international events year after year the most iconic being the International Film Festival, Cannes Lion, TFWA and the Yacht Festival. Palais is also popular for its iconic hand prints of Hollywood stars from likes of Sharon Stone to Pink Panther.
The place is known for its Road side Cafes & Restaurants, the most popular of them are the Ice Cream kiosques on the Croisette. Film festivals, Designer stores, International events, fancy hotels definitely not a budget destination however one can indulge in budget eating by avoiding restaurants located along the waterfront.
There are roadside cafes and restaurants in narrow cosy lanes that offer meal/dish for 15-20 Euros. Promenade is full of many places to shop & eat. The most affordable is Croisette Corner around the Croisette Fun Zone. This small outdoor café serves crepes, croquet monsieur, croissants, hot dogs and salads. Dishes are accompanied with French fries or chips.
If adventure is what you are seeking then sail away on a 15 minute ride to Lerins Islands across the bays. The Island is quite famous for its history of former 17th Century prison where Man in Iron Mask was held. One can take a stroll around the island green surroundings, enjoy Lunch at waterfront Restaurant la Guerite. The place also has smaller islands that offer wine tastings.
History of Cinema, Hotels, Glitz & Glamour in Cannes
Cannes saw a period of development during 18-19th century when it flourished. The British Lord Chancellor paved the way for royalty by building Palatial holiday villa in Cannes. His actions and lifestyle laid way to Europe's wealthy citizens exploring the city and led to it soon becoming trendiest & wealthiest spots on Cote D Azur. The first film festival took place in 1946 and still counting.
The best way to understand the place is to take a Cinema Tour on a Toy Train that commences its tour just at the entrance of Palais Des festival building. The 45-60 minute tour helps you understand the small geography that can be easily explored on foot.
There are lovely city busses with amazing piece of art on their body; one should definitely board to experience the ride. I preferred a foot walk to connect with place & the people. Most of the places are accessible on foot.
The promenade has row of luxury hotels lined up but the most iconic, historical & luxurious Hotels that caught my attention are
Intercontinental Carlton Cannes: The backdrop to Alfred Hitchcock's 1955 thriller "To Catch a Thief," the century-old hotel still pays tribute to the film's leading lady, Grace Kelly. Guests can stay in suite 623 where the film was shot, or opt for Kelly's sea-view namesake suite, one of the most opulent of the personal favourite of Brad Pitt and Angelina Jolie and features its own private elevator for VIP entrances.
Hôtel Majestic Barrière: With its landmark Carrara marble staircase and pool crafted from Murano mosaics, Views look straight across at the steps of the Palais des Festivals—where the stars walk the red carpet—and the seventh floor Majestic Barrier Suite (one of the most luxurious penthouses on the Riviera) shows off vistas of the Lérins Islands. Just one floor below, the Christian Dior Suite's décor is inspired by the brand's Parisian headquarters with replicas of the late designer's furniture.
Grand Hyatt Cannes Hôtel Martinez: The seventh-floor penthouse here is one of the largest on the continent and most expensive in the world, with two Jacuzzi tubs and a 2,900-square-foot terrace lined with 200-year-old olive trees. The Art Deco-style sea-view rooms feature pearl-white satin accents; bathrooms with saunas and Turkish bath showers; and chaise lounges on balconies looking out to the Estérel Mountains. Even if you can't swing a room here, try and make time for one of the signature oxygen treatments at the L.RAPHAEL Beauty Spa.
Post spending time in this luxurious city; with my eyes stuck on the stars, it was time my feet reminded to get back to the ground. Yeah, you got it right,it was time for a reality check and continue on the journey to my next destination Nice.
Yes, Nice was calling……
Nice is Nice;Uncover Nice…….
Panoramic View of Nice
So much I had heard about French Riviera, that when I stepped at Nice Airport my distant dream now had become reality. Coming out of the airport Nice looked to me just like any other small city. But soon my apprehensions were put to rest as I checked into the Hotel.
It was time to unveil the treasures of the city and there I was walking down lanes, hip hopping busses, boarding trains & exploring the place.
From Left Promenade De Anglias & Right Old Town (Vieux Nice)
I recommend choice of hotels near Promenade De Anglais & Vieux Nice– Old Town in Nice which has hardly changed since 18th Century.
Nice is a vibrant capital of Cote D Azur. Bright blue sea, great sunshine, lively and buzzing with people through the year. Going around the place I felt that Nice is more of a resort and a honky tonk which still resonates 18th Century culture.
For those on a vacay mode the main promenade popularly known as Promenade Des Anglais is yet another interesting place for shopping and eateries. Nice indeed has some finest restaurants in Europe.
Cours Saleya
Shopping and Food in Nice may be injurious to your wallet but trust me it's worth it. The Cours Saleya & the Marche Aux Fleurs are quite popular amongst the visitors.
Blue Bay- Monaco
French Riviera has more than 50 Michelin stars across 38 restaurants. Blue Bay in Monaco shows mesmerising views of waterfront terrace at Monte Carlo Bay Hotel & Resort. It is good place to dine.
LA CHEVRE D OR- EZE
My personal favourite was la Chevre d Or in the medieval village of Eze. Located 1300 feet above the Mediterranean, this seasonal restaurant (opens March- Nov) is worth exploring. The panoramic view windows and the rustic charm of the restaurant is boundless. During the Grand Prix this perch is a hub to celebrity yacht spotting as boats cruise in and out of the bay down the cape.
The nightlife in Nice is quite lively. I personally prefer rustic old charm when it comes down to drinking and socialising. My thumbs up would be to bars and pubs in Old Town (Vieux Nice). One can just sit and sip a glass on terrace, hideout in woods with beer and some English music. There is plenty for everyone to suit any mood.
Well one can also opt to sit on the Promenade De Anglias and enjoy views in a calm environment.
Nice is the place for art lovers. An esoteric reality featuring over 100 museums, few dedicated to sole artists who lived and worked in Riviera. In Nice eminent museums worth a visit are Musee Marc Chagall and Musee Matisse (closed on Tuesdays). Museum of Fine Art & Modern Art is also recommended.
LE NEGRESCO HOTEL
If Luxury Stay is on your mind then I recommend the Pink & white domes Negresco Hotel. The hotel has been a vacay haven to everyone from Vanderbilts to the Beatles. It has a majestic display of original artwork by greats likes of Salvador Dali & Raymond Moretti.
HOTEL LA PEROUSE NICE
Location is important for some travellers so keeping this in mind I would suggest Hotel la Perouse. It is unbeatable for its location which is right at the edge of Promenade de Anglais underway Castle Hill with views of old Town & Nice Pebble struck beaches.
HOTEL WINDSOR, NICE
And last but not the least for the art lovers in the city Hotel Windsor is an exemplary option. It's a nest to fresco –pops of modern art with artists rooms featuring varied original masterpieces from Artists who have used the venue as their studios.
My trip to Nice was indeed a heart-warming experience, things that I had read in history books or seen in books of art were just right in front of me so much alive and accessible. I felt ecstatic and numb all the time experiencing beauty, art and culture that was so soulful.Especially the climb up the castle Hill where former citadel use to be. A hodgepodge of cosy lanes up from Place Garibaldi and the Old Town. The calm and quiet walk on the Promenade De Anglais with views over the port Baie Des Anges & Old town just refuse to leave my mind.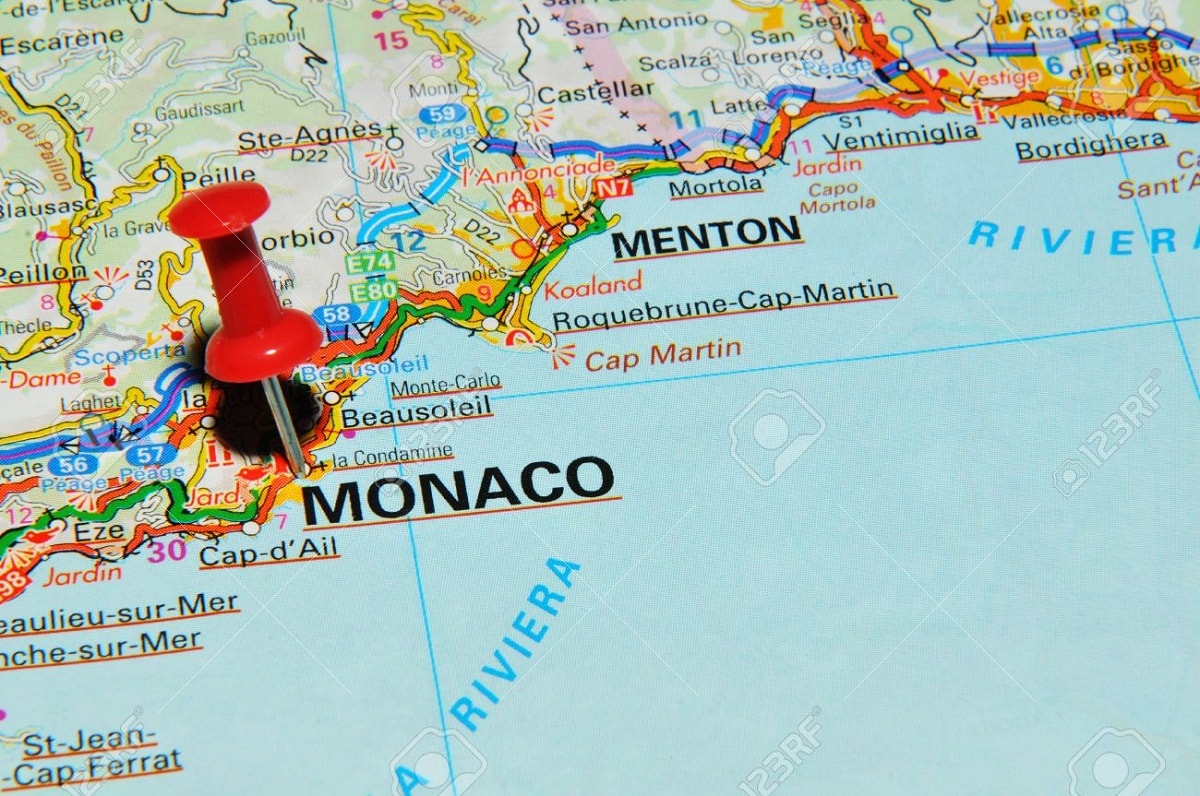 Alas! It was time now for the meandering gypsy to make a headway to Monaca yet another French flavour.
Monaco is smallest independent state in the world, second only to Vatican. It is known for its opulence and razzle dazzle throughout the year. Well a worthy piece of information for regular travellers is that the place offers lot of free attractions and sight-seeing. My foray to Monaco was part of my must visit destinations on the French Riviera. Not to be missed for sure.
City Views of Monaco
Monaco is situated on a broad steep peninsula that blobs out into the Mediterranean and is quite popular with the rich and famous. The harbour oozes shimmering yachts and the lush luxurious posh properties encircling the same with immortal sun shining away to glory.
With such glitz and glamour comes a price which is indeed expensive hence eating is not cheap, even the modest hotels are expensive as compared to Nice. My recommendation one can explore Monaco as part of a day tour easily doable via train or bus.
Here are places that I recommend few being my personal favourite.
Enroute to Monaco is the famous Medieval Village. Nestled on the Nietzsche path leading from Eze's seaside up to the village.
Village the Art -EZE
Cosy narrow by lanes with artisan shops, studios and restaurants. Stopping by for a glass of wine on terrace of 400 year old Chateau Eza built on city's thousand year old walls is truly enchanting.
Monaco Exotic Garden
Monaco Exotic Garden is located in La Condamine on a Cliff side. One of the several botanical gardens in Monaco this was established by Prince Albert I. It was during the landscaping and planting of the garden that hidden grotto was discovered in 1916. Today the grotto is open for public views as part of tours and one can enjoy prehistoric cave paintings on the walls of the cave. One needs to buy a ticket at entrance of the garden which includes the tour of Observatory Cave and the Prehistoric Anthropology Museum.
Prince Palace Monaco
The Prince Palace is built on the site of former Genoese fortress dated back to 1215. The residences over years have seen remarkable makeover. The current look of the Palace is grand & luxurious patronising style of Louis XIV. At times witnessing history is more interesting and exciting especially when you are exposed to various facts like during French Revolution the palace was turned into a hospital for Italian soldiers.
The Palace has a chapel dedicated to St. John the Baptist dating back to 1665.
State Apartments in the Prince Palace are open to public during a set part of the year. Details are available online on Palace website. For rest of the year they are used as the private residences of ruling Prince.
A guided tour of the Palace Apartments takes about 40 minutes.
The Roman Catholic Cathedral famously known as the Notre Dame Immaculate or the Cathedral of Our Lady of the Immaculate Conception is extraordinarily divine and celestial. Built in 1875-903 in Monaco Ville.
The Cathedral holds the tombs of Monaco's sovereigns including Prince Rainer III and Princess Grace. This is also the funeral chapel of Monaco's archbishops and bishops.
Institute of Oceanographique, Monaco
The Institute of Oceanographique is yet another must do in your itinerary. Established in 1910 by Prince Albert I. The museum was run by famous ocean explorer Jacques Yves Cousteau. The museum is situated in an impressive baroque building on a cliff overlooking the sea. The Institute exhibits marine life that consists of over 6000 species such as jellyfish, star fish, crustaceans, shark and many more. The place has on display model ships, submarines, and artefacts recovered from the sea.
One of the Products that completely bowled me over was Fragonard. We all have heard and probably used French fragrances but my visit to factory of Parfumeur Fragonard left me awe stuck. The passion and the zeal with which Eugene Fuch an entrepreneur started to set up his factory producing perfumery based products shortly after First World War is a fascinating tale in itself.
Parfumerie Fragonard was opened in 1926. Eugène Fuchs chose to name it after the famous Grasse-born painter, Jean-Honoré Fragonard (1732-1806), as a tribute to both the town of Grasse and to the refinement of 18th-century arts. Fragonard this very beautiful factory established in a 19th century building sits in the heart of the old town where the perfumes and soaps are crafted every day. It is one of the oldest factories in Grasse.
Products offered are for both Men & women from soaps & shower to hand & body care cosmetics.
Take a free guided visit of workshops and laboratories to see how the products are crafted from only the best raw materials. The premises are open every day including Sundays and public holidays from 9 am to 7 pm.Products are sold at factory prices.
I picked up my favourites don't forget to pick yours.
Legendary spots are tough to ignore and Monaco offers quite a few of them. One such is Monte Carlo Casino. Though I am not much into gambling but I do believe what is life if not a gamble. A visit to this royal casino was worth every second.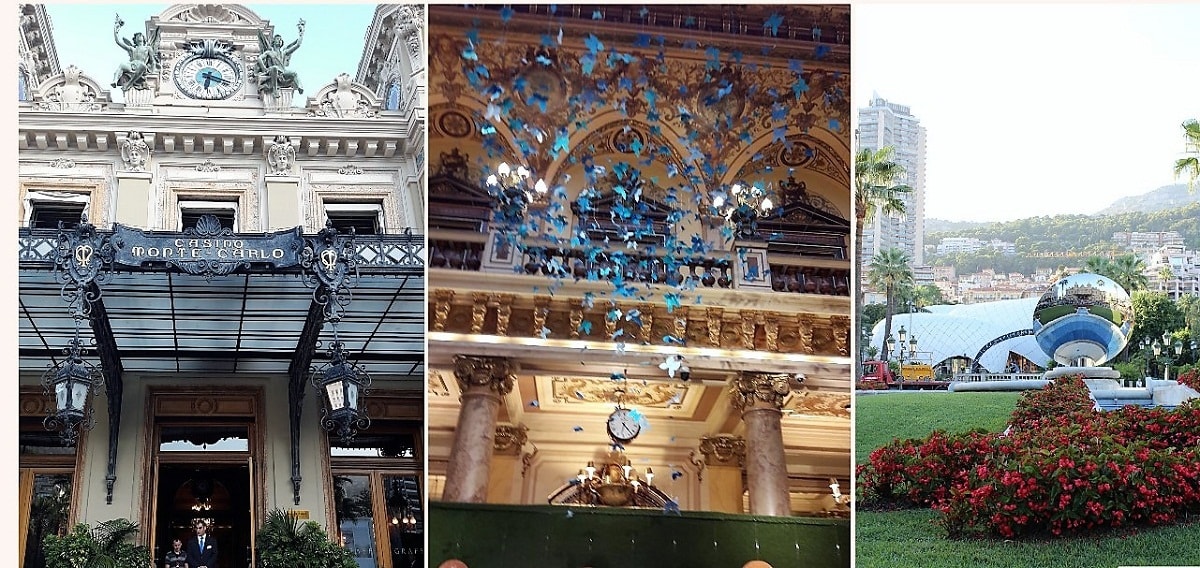 The place is as grand as a palace with a Casino, Grand Theatre of Monte Carlo and the offices of Monte Carlo Ballet.
Primarily conceived as a source of revenue to save royal family from bankruptcy. The building has a atrium paved in marble with 28 onyx columns. The gaming rooms are elaborately decked up in rich fabrics, sculptures, statues and stained glass windows.
One needs to wear a jacket, shorts in the evenings, sports shoes and flip-flops not permissible. Surprisingly Monaco citizens are not allowed in casinos. The casino has been quite favourite of Hollywood flicks including James Bond movies.
One can access Monte Carlo Casino as part of the Monaco Hop-on Hop-off Tour. This tour is an extremely convenient way to get to know Provence & Cote d'Azur.
My two days in Monaco made me witness the rich history of the Provence and I can undoubtedly confess that one can't stop falling in Love with French Riviera. It was time to head back home with such fragrant memories of beauty, culture, food and all the three cities architectural grandeur.
Totally In Love with Cote D Azur. Recommended beyond words.