Relaxing while sipping a hot cappuccino by the seaside can be enthralling for your senses. At times because of our busy lives, we just feel tired, over consumed and helpless. It's time to pack your bags and fade out.
One such destination closer to the fast paced Mumbai City is Whimsical Daman, one of two districts of the Union Territory of Daman & Diu in Valsad District of Gujarat.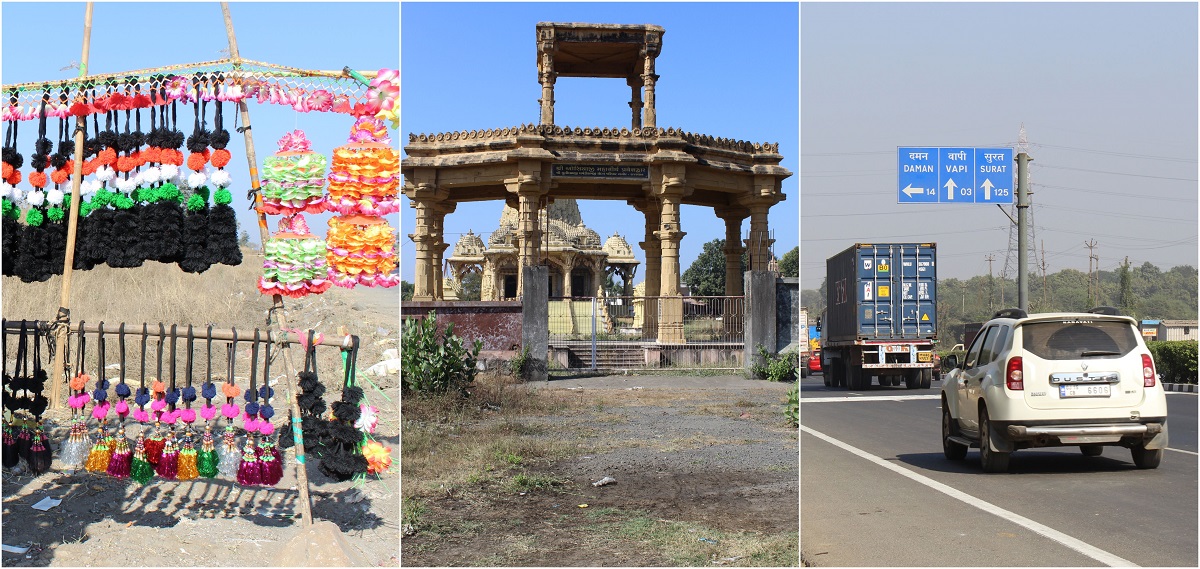 Mumbai to Daman is a 2-hour drive covering 170 Kms through the Mumbai-Ahmedabad; National Highway 8.
Quite a drive it is, a smooth & comfortable one and en-route you can find a number of temples, colourful prandis (thread lengths for tying hair braids) for adorning your hair and stuff to avoid evil eye.
Daman is popular for its beaches, Portuguese-colonial architecture, churches and for the rustic beauty of the little twin towns Nani-Daman & Moti- Daman lying flip side of each other across the Daman Ganga.
By now, you all must be familiar with my spontaneous getaways; Daman was my one such way fraying, it's indeed a stress buster.
QUICK LOOK AT DAMAN
Daman's focal trade point is fisheries mainly comprising of Pomfret, Prawns, Ribbon fish, Hilsa, Squids, Cuttle fish, cat Fish, Tuna & Bombay Duck etc.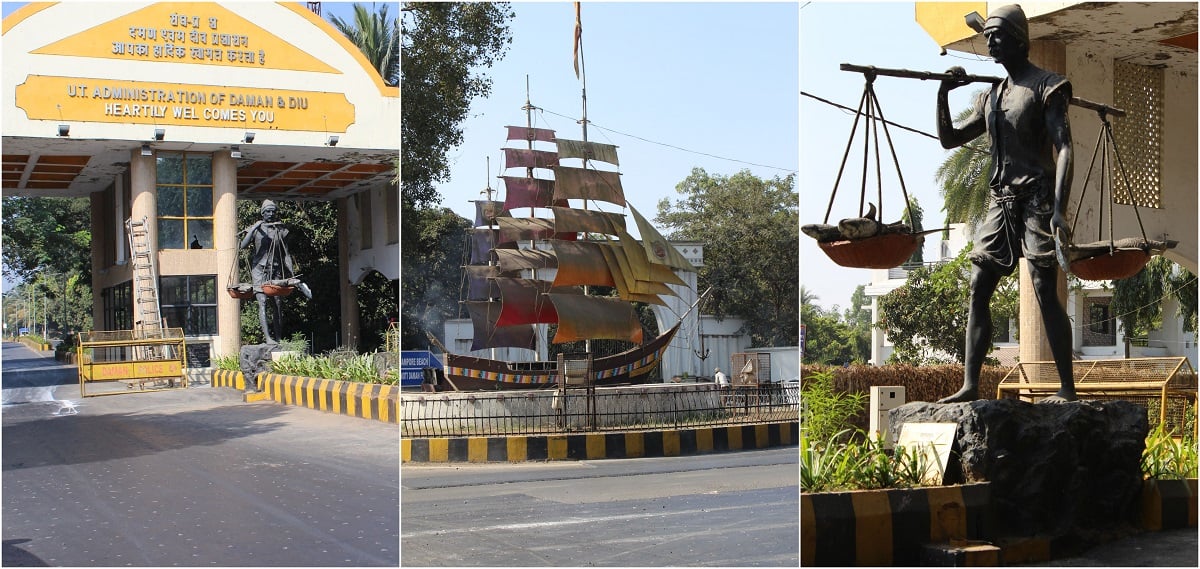 You can move around and enjoy the serene ambiance, fresh air, calm and cool beaches, forts, churches, lighthouses essentially abode for soul revivals. Not much crowded or played out; the place offers complete rejuvenation for your mind, body and soul. I must admit with great pride that Daman and Gujarat as a state is one of the cleanest in the country. Kudos to the local people for setting the right example. "Swachh Bharat" truly begins from Gujarat.
WHAT TO DO WHEN IN DAMAN?
Take a walk on Jampore, Devka & Nagoa Beach: I'm a water maiden; love sandy beaches and surely believe you can never get tired of them. A soothing stroll, breeze touching your skin, sand beneath your feet, summer sunshine- all put together just makes it a perfect concoction to rewind your senses.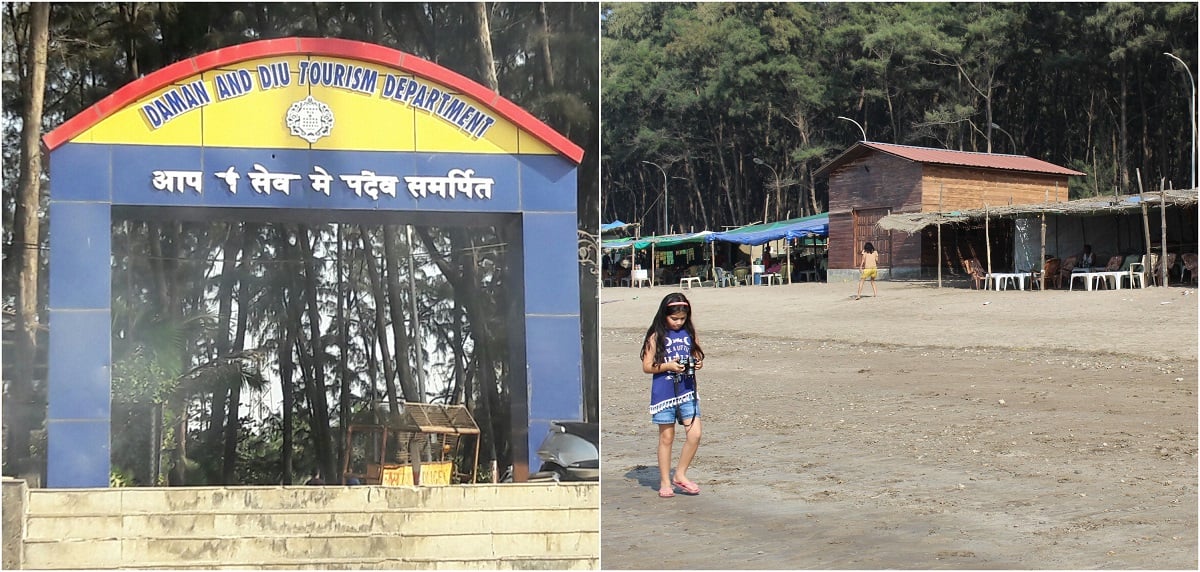 My personal favourite was Jampore Beach and Devka beach as this was closer to my resort. Both the beaches are clean, fresh and mesmerising. One can enjoy adventure activities, camel buggy rides or simply relish some chilled beer or enjoy hot corns sitting in the shacks.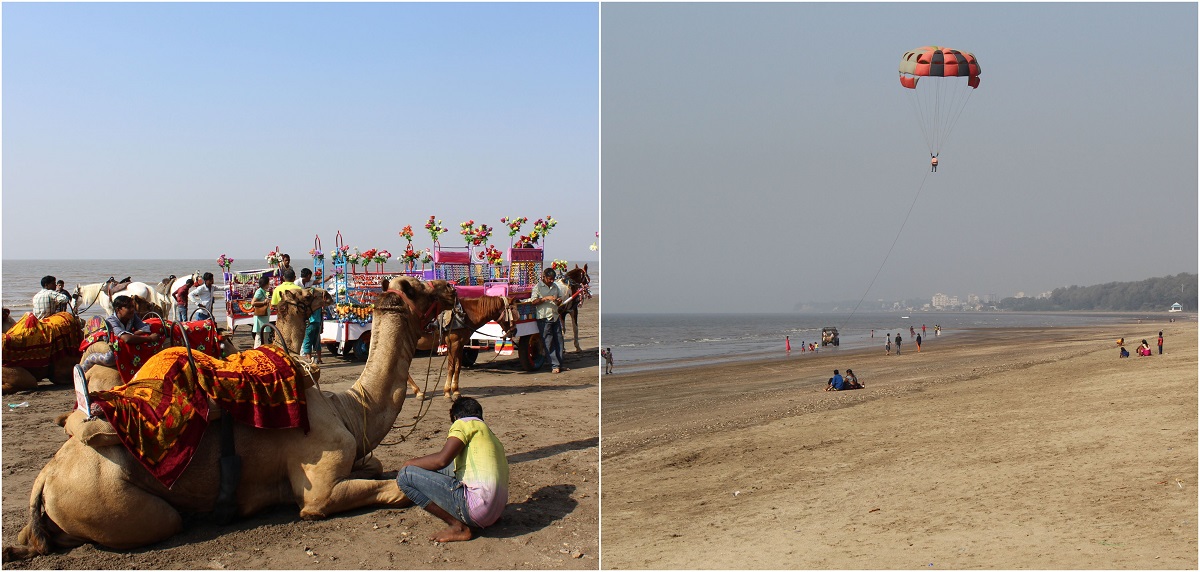 Kids too can enjoy their uninhibited proximity with nature and time away from gadgets.
There is plenty to indulge in from candy floss, steamed corn, coconut water, sand art, adventure activities to quick swim on the shores.
One can sit by the shacks, watch the vibes of the sea and hear the rhythm of the waves with closed eyes. The aura of the mystical beaches in Daman is simply enchanting.
CAPTIVATING SPOTS
One can spot ancient & Colonial Forts, Churches, Lighthouses and Monastery.
Moti Daman Fort: There is something that I love about forts, their architectural grandeur, texture and the smell of flora and fauna around it. Moti Daman Fort is one of the oldest forts established by Portuguese colonial rulers. The fort runs around huge walls and has two gateways, one near to Daman Bus Stand and the other facing the river that connects to the sea. There is a 17th century Cathedral of Lord Bom Jesus, the Pargola Garden in memory of the Portuguese Soldiers who lost their lives in battling for Dadar & Nagar haveli. The fort now is a venue for Modern Secretariat and Collectorate Offices. One can find small eating joints and municipal cafeteria near the gateway facing the river that connects to the sea.
The beauty of the pier opposite the ancient & mystical gateway is a sight. The views from pier are simply whimsical and give you the essence of a coastal area.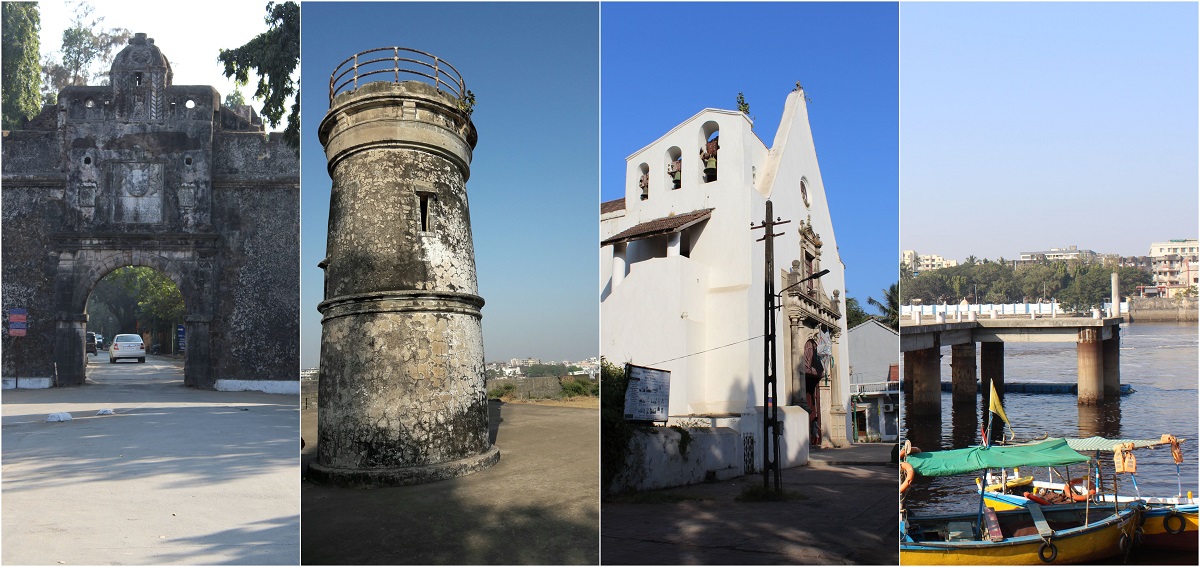 POTPOURRI OF FOOD
Predominantly, a vegetarian town owing to its proximity to Gujarat, Daman offers mouth-watering food platters and a variety of Gujarati, Portuguese, Parsi & Sea Food. A host of street food joints and liquor is widely available.
Popular Dishes Chicken Bullet and Fish Koliwada spicy fried prawns have its origin in Daman- a must try for non-vegetarians.
Rotli with tea is another popular local breakfast.
Jetty Roll similar to Kathi Roll is a street food speciality of Daman.
No. of Omelette kiosks offering innumerable recipes are something to opt for. Popularly known as the "Anda Party", Gujarat is known for this egg feast.
Toddy & Tari palm wine is a popular drink sold in earthen pots.
All these can be savored across the many food joints along the beaches and hotels lanes.
Personal Favorite Restaurants
'Spice Galleon' in the Gold Beach Resort – just by the sea, has live music and delicious food.
Punjabi Tadka
Daman Delite Restaurant.
SHOPPING IN DAMAN
Shopping is always a good idea, especially on trips to newer places. There is so much for the eyes that you just can't stop at one particular thing. It's not always about buying things but exploring the local flavor.
If you ask me what grabs my attention- it is the small little things that depict the art, culture and tradition of Daman.
I simply love collecting the world in my palms. The place offers cool and trendy beach wear, hats, local printed apparels and sea side jewelry. I bought my pick, you don't forget yours. The stuff is of good quality and reasonably priced.
REFRESHING WEEKEND ABODE
FEATURED
The GOLD BEACH RESORT
Nani Daman
Spacious Rooms, well equipped with basic and modern amenities with sea and pool facing views. There is plenty of sunshine that makes rooms vibrant and energized. Room Service is modest but the food is good and overall the resort is value for money for a quick weekend getaway.
There are two main restaurants; Spice Galleon which is sea side with an open bar, there is live music and serves both Indian and international cuisines. The Other restaurant is 19 Sixty one serving a combination of Continental, Chinese and Indian gastronomical delights, mouth watering sea food and cocktails to have a sumptuous time.
The resort offers a Convention Hall, Sea Side Spa, Health Club, Swimming Pool and a nicely laid-out gaming zone for families and children to enjoy.
A great place to stay. Located near to the beach and local market & eateries. Resort has good hospitality and a spacious beach overlooking rooms with private access to the beach. Overall value for money.